By JANE (Guest Post)
June 13, 2007
0

found this helpful
By all means take it outside. It needs the sunshine. But be gradual with it. Don't put the poor thing in the full sun to start with. And let the dirt dry out before watering again.
60 degrees at night is fine. When you get the first frost is when you should bring it in. Good luck!! It seems to have a caring owner!!!

June 13, 2007
0

found this helpful
I grow Aloe plants all the time and have no problems. I use regular potting soil, they do not need sand and all that other stuff. Mine grow big and multiply greatly, in fact I transplant small ones and sell them at yardsales. Water when the ground feels dry to your finger. Do not let ground get bone dry. As for temperature, I do not place mine outdoors as we have a large sunroom, but I think you could as long as they are not in the hot sun all day. We keep our sunroom at 50º at night in winter. My plants all do well at this temperature.

June 13, 2007
0

found this helpful
Well I have an aloe that has survived my inattention for 5 yrs now. I let it go sometimes 3 months with no watering. Then I think about the poor ting n water deeply. I have had to transplant it 4 times and need to do it again.
It has never been outside but sits in a west window with muted sun in the summer and full sun in the winter. In 25 yrs this is the only plant I haven't killed.

June 13, 2007
0

found this helpful
Okay, I am so glad not to be the only one mystified on the care of my aloe plant! I would think it would be good to take it outside.
By Melinda Australia (Guest Post)
June 13, 2007
0

found this helpful
Ok I live in a really hot country and I put a tiny aloe plant in to a pot leave it outside never inside and I do't water it. The plant is big now. in Australia we have to have plants that don't need watering.
It is growing great for 4 years now and it has little plants that grow and you can pot them and give to friends. My advise leave it outside and leave it to nature bye
By octoberbabye (Guest Post)
June 13, 2007
0

found this helpful
I took some shoots from a large plant that was too big for the pot and put the new ones in a wooden planter I made with rocks on the bottom and a combo of dirt and sandy dirt.
They were pink for the longest time, but finally have started to turn the usual green color. I water them only once a week very lightly, and they have now been outside under a tree about a month.
I have a few shoots in water inside the house. They haven't grown, but they have hung on and are a good green color.
I am on the west coast of Florida.
Someday I will have a green thumb like in the picture.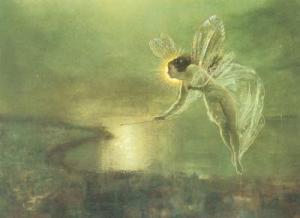 By Dar (Guest Post)
June 13, 2007
0

found this helpful
Just replant your aloe in a bigger pot make sure to use miracle grow.Aloes need lot's and lot's of sun and water here and there they do not take as much as other plant's.But keep it indoor's and give it as much light as possible.You can start new plant's now by putting them in water and it does not take long for them to root.Then, plant but give it space because they will grow .Also I found out the hard way that if you set your inside plant's outside they end up with bug's that will also attack them and kill the plant if this is your problem clean pot's out with bleach and buy somthing to kill the bug's.
By Shelly (Guest Post)
June 13, 2007
0

found this helpful
Aloes are succulents! They can't stand full sunlight. They need very little water. Over watering will cause them to rot.

June 13, 2007
0

found this helpful
Aloe plants should be allowed to dry out between waterings. When it needs a drink, water enough to keep soil moist but don't saturate it too much. Drain any excess water from the bottom. I always added sand for any succulent plants that I grow. Also, aloe plant have a small root system.
They should be kept in a small pot. Use a heavy pot with stones at the bottom. This plant will get top heavy as it grows. It likes bright light but not direct sun. I would keep it outside while the weather is warm, and bring it in when the temps are in the low 50's. Hope this helps you.

June 13, 2007
0

found this helpful
Put it under a tree or under a bench out of the direct sun. It will turn around. And as stated, let it dry out between waterings.
TC in MO

Vi Johnson
Silver Post Medal for All Time! 288 Posts
June 14, 2007
1

found this helpful
Here is my Aloe taken from a mother plant several years ago. I started many plants from a grocery store 4 in. pot. Cost was $2.95 about 30 yrs. ago.I have "pups" from that same plant growing in pots still.
Dirt, water well, let dry and water well. Water well means soak it in a larger container (if it is in a pot) until it stops bubbling, an hour is good. Then do not water for 2-3 weeks maybe 4 if it is in the house. If in the ground water to a 3-4 inch depth once or twice a month. They do best in morning sun/afternoon shade outside.This is for Southern Ca.
Good Luck, Great Granny vi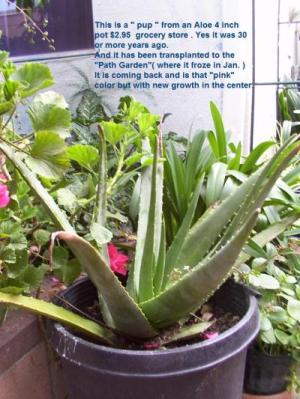 By emerald (Guest Post)
June 27, 2007
1

found this helpful
question I have a aloe leaf from someone do I put it in water to root or just plant it?
Editor's Note: Put it on top of some moist sand and it will root itself. Don't put it in water.
By Cactus Pete (Guest Post)
September 14, 2008
1

found this helpful
Well if you can glean anything from the huge range in the above comments, it is not to over water. Here are a whole slew of other opinions that range from ok to dead wrong.
The first thing I would mention is not to jump from such a small pot to such a large one. Second you will not be able to keep the aloe outside through the winter in zone 6a.
I would not recommend anything below 40F but many people do allow them to freeze with temps down to 20F apparently with little ill effects. Aloe can tolerate partial sun but does best in the light shade. (some succulents cannot tolerate partial sun while some do well in full sun there is no golden rule that covers all succulents) The soil can be a good grade of potting soil (Miracle Gro etc.) or a succulent/cactus mix again Miracle Gro I would highly recommend you do not use Schultz Cactus Mix for any Cactus or Succulents.
I am very stumped by their idea of fast draining. Their soil retains moisture for weeks on end and requires a balancing act that most will find too challenging. (We have had more customers lose Cactus/succulent plants to Schultz CACTUS Palm/Citrus soil than any other factor including over-watering, a close second)So we recommend Miracle Gro, it drains well and does seem to provide an advantage over other mixes for the first 3 or 4 months of use. After that we recommend a supplement like Schultz Cactus Plus liquid plant food. I suspect the real problem you were having was due to a poor soil.
We have had many folks bring in a half dead aloe plants they bought at a tag sale, the soil often being out of someone's yard. One of my Grandmothers was famous for killing plants, she used soil from her woods for transplanting. Because Aloe plants often sprout "babies" they are a frequent Tag sale item. I bought my first plant as a child at such a sale, and yes it was a Aloe in the local soil (heavy clay) sold in a Dixie cup. My dad taught me right off this dirt was not for house plants.
I wish I could be more helpful, but I would suggest a great site for plant questions: davesgarden.com we are listed as a seller there as well.