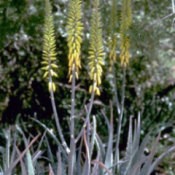 Botanical Name:
Aloe Vera, Aloe Barbados
Common names:
Aloe, Barbados Aloe, Curacao Aloe, Indian Aloe, Ghi Kunvar
Description:
Aloes are succulent plants belonging to the lily family, indigenous to East and South Africa. They have thick, fibrous roots and numerous, fleshy narrow leaves with toothy edges that protrude out from all sides of the root.
Life Cycle:
perennial
Exposure:
sun
Cultivation:
Aloe can be grown year-round in warm climates or indoors.
Propagation:
division and offsets
Parts Used:
leaves, roots
Harvesting and Storage:
Cut off leaves as needed and discard when finished.
Medicinal Uses:
Gel from the leaf blades can be applied directly to skin ulcers, burns, sunburns and fungal infections. Aloe is also used in veterinary medicine as an equine purgative. It is usually prescribed in combination with other herbal remedies to aid in digestive ailments.
Culinary Uses:
none
Other Uses:
decorative houseplant
Notes:
related species are used as antidotes to arrow poison.