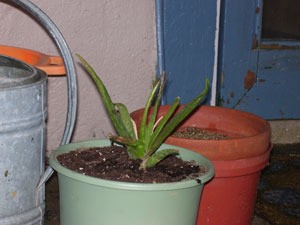 What is the best way to grow aloe plants?

I have one plant and I'm afraid I've over-watered it since it is a semi-desert plant. It just kept on getting browner and browner. One of the leaves has fallen off, so I immediately took it outside and put it into a bigger pot with rocks in the bottom, then sand mixed with fertile dirt, then some of that Vermiculite stuff on top. I transplanted it into that new pot and am about to put a plate or tray underneath it and keep it in the house for now.
How long do you think I should let it go without water? It was dying, but when I cut open the paper planter-cup that it came in the dirt seemed bone-dry. What shall I do? To water, or not to water?
What about taking it outside? Right now it is still getting down into the 60s at night. Is it safe outside or should I keep it in a windowsill?
Hardiness Zone: 6a
Thanks
Answers
By JANE (Guest Post)
June 13, 2007
0

found this helpful
By all means take it outside. It needs the sunshine. But be gradual with it. Don't put the poor thing in the full sun to start with. And let the dirt dry out before watering again. 60 degrees at night is fine. When you get the first frost is when you should bring it in. Good luck!! It seems to have a caring owner!!!

June 13, 2007
0

found this helpful
I grow Aloe plants all the time and have no problems. I use regular potting soil, they do not need sand and all that other stuff. Mine grow big and multiply greatly, in fact I transplant small ones and sell them at yardsales. Water when the ground feels dry to your finger.
Do not let ground get bone dry. As for temperature, I do not place mine outdoors as we have a large sunroom, but I think you could as long as they are not in the hot sun all day. We keep our sunroom at 50º at night in winter. My plants all do well at this temperature.

June 13, 2007
0

found this helpful
Well I have an aloe that has survived my inattention for 5 yrs now. I let it go sometimes 3 months with no watering. Then I think about the poor ting n water deeply. I have had to transplant it 4 times and need to do it again. It has never been outside but sits in a west window with muted sun in the summer and full sun in the winter. In 25 yrs this is the only plant I haven't killed.

June 13, 2007
0

found this helpful
Okay, I am so glad not to be the only one mystified on the care of my aloe plant! I would think it would be good to take it outside.
Read More

Answers