May 29, 2009
0

found this helpful
Try:hallmark.com, go down to the bottom of the home page under"customer service"and contact them with your question.Or you could try ebay. Hope this helps.
May 30, 2009
0

found this helpful
If you like to go to garage sales, you just might find one really cheap.
June 3, 2009
0

found this helpful
Is there anything on the cup that indicates who made it ie a china mark? If so,then try an web search for the manufacturer if keeper60's idad doesn't work.
You could also try your local freecycle site and put in a request.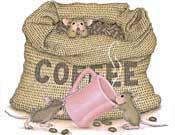 June 3, 2009
0

found this helpful
I think you'll love this link! Nextag is a comparison shopping site and there are dozens of ceramic, porcelain, aluminum and paper coffee and tea mugs with lids to choose from :-) Even a couple of Christmas ones ;-)
www.nextag.com/coffee-lid-mug
Okay, I have worked for a local Hallmark store since 1990 and I would love to see a picture of what you purchased. Some gifts may be found in a Hallmark store, but come from other companies. If it's marked Hallmark by name, then it definitely came from Hallmark.
You could contact them to see if it's still available or if there is a price code. A local store clerk could check for you. Not all clerks have access to a catalog and some items are discontinued, but you really have me stumped based on the short description of what you are looking for. :)
Well, I have been thinking. If it is a regular mug with a thin ceramic lid that could double for a coaster and yes, they came in a gift box. Well, I'm sorry to say that Hallmark doesn't make those anymore. So, it's up to ebay and garage sales. If that's not the description. Please post a picture.
I clicked on Ebay and typed in (mugs with lids) and a Hallmark one popped up (thin flat lid) and someone had a starting bid of $3.50 (0 bids). I didn't look any further. Originally, they sold in stores for about $6.50.
December 10, 2009
0

found this helpful
Angelheart: They were called Mug Mates. Hallmark doesn't make them anymore and that's too bad. They were adorable and made great gifts.
I've seen a few on Ebay. I'm looking for the one that said "As for Me, Make Mine Tea". Each mug came with a matching lid that also served as a coaster.