My mum worked two jobs to keep me and my bro. I did the cleaning, washing, ironing from an early age.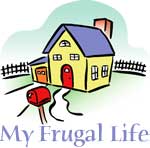 I gave up the opportunity of University so my bro could go as he has a fantastic mathematical mind (mum couldn't pay for both of us to go).
As my bro was taller than me, I had his hand down shirts, t shirts. Mum and me went to the Charity Shops together and on Saturdays, to Jumble Sales, great bargains and loads of entertainment, people throw out some strange things. In fact, the jumbles became a meeting place for like minded people and we would compare bargains and where to get the best deals from.
Mum was good at sewing so the old boy down the road would give mum spare veg and she would repair his clothes, although one year I remember being really fed up with marrow! Where I live in Suffolk UK now, I see that Jumbles are starting to appear again in the local churches, yay!
So, struggling for cash from an early age meant that cutting costs is a way of life. This year, I have saved money by renegotiating on my gas, electric, phone, water (I pay per month and have just had a rebate for 2009 that covers my monthly bill, whoppee!) and house insurance. I don't grow my own fruit and veg as I planted my garden about 12 years ago with plants for wildlife. I have so many different types of birds, foxes, bats, munkjack deer, frogs, toads, hedgehogs that I would not want to destroy their habitat now. Besides, as I do not have to water the garden, it is low cost gardening for high return entertainment.
Like many of my fellow frugal life fans, I shop in charity shops, car boots, keep an eye open for BOGOFs at the supermarkets and shop there at the end of day for cheap lines. I use the library for books, computer games, films and also I discovered here, free education! Yep updating maths, english, IT, first aid, and I am waiting to see what other courses are coming up. Does your Library offer this? Ask, you may be surprised.
When I was very short of money two years ago, I rented out a bedroom. This helped me from losing my home but after a year, I asked my lodger to go. I would do this again if I needed the money. I do my own decorating, DIY. I have learnt to lay slabs, build brick walls, put together flat pack furniture, put up a shed etc., all my own gardening, and sewing. I would like to be more efficient on the energy front and from research, a new style of solar energy is being developed which means it will be cheaper to buy and install.
Am hoping to be able to afford this! I only have lights on where I am in the house and only heat the rooms which I use. I dry my clothes outside as much as possible and indoors on a clothes horse when it's wet. My electric use (ie washer, dishwasher) are used at cheap rate overnight.
I take my own food and water when I go out and have always cooked from scratch; its cheaper and I want to know what I am putting into my mouth/body. I go out at night maybe one or two nights a month to meet friends for meals/drinks. Left over food is always recycled for next day/different meal eg spag bog becomes chilli, left over meat is curried, veg going a bit soft is soup or curry, left over bread becomes bread and butter pudding, best of all, left over spuds, cabbage becomes bubble and squeak and I add onions, corn beef !
It will soon be time to go foraging for free foods; cherries will soon need to be picked, then blackberries and then sloes. I am also going to try and use nettles, dandelions and wild garlic this year.
Well I hope that's not too boring but I know there must be other ways to reduce my costs but I have yet to find them. Any you want to share?
By meshelle from Haverhill, Suffolk, UK
Do you have a frugal story to share with the ThriftyFun community? Submit your essay here: http://www.thriftyfun.com/post_myfrugallife.ldml