I have been frugal all my life - first because I had no choice, and now because it's a choice I've made. My father died when I was young, and left no insurance.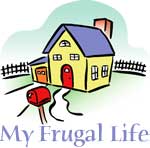 With what little money we did have coming in, my mother chose to "keep up" with the neighbors, buying new furniture and nice clothes. She didn't work outside the home (not that there were many options for her in the 1950's anyway) and consequently, there were many times when the power was off at the end of the month and we ate canned spaghetti. I vowed never to put myself in that position when I grew up.
When I got out of school, I started working for New York State, and when my friends were out traveling and partying, I kept working hard for promotions and stability. I bought my first house, as a single mother with a 6 year old son, when I was 27. It was a solid house house, in an old but decent area, and I did most of the decorations and repairs myself, with friends. It was near where I worked, and there were stores and services near too, and I didn't need a car.
At that point, my contemporaries were starting to settle down, in big houses with bigger mortgages, expensive furniture and new cars every year. Meanwhile, my house was paid off when I was 38, and I bought my first car - VERY used but functional. My son went to college with what I had saved, and by living on the cheap, was able to graduate with only $6000 in loans. Sadly, my little house burned down, but I took the insurance and bought another solid little house. As I've gotten older, my health has deteriorated and I'm not able to do as much myself, but I've saved enough money that I can pay someone reliable to do the major repairs, and then I finish things up as I can.
Because of my health, I was forced to retire at age 55, but because of my frugal lifestyle, I haven't really had to worry about money. I did as many major repairs on the house as I could while I was still working. The house will always be a work in progress, and it will never be in a decorating magazine, but it's paid off and in decent shape.
With the exception of a small car loan, I have no debt. I buy everything on one credit card, because it's easier to keep track. The card I have is an Amazon reward card, and I get gift certificates after I send a certain amount of money. I pay off the bill every month. If I can't afford something, I simply don't buy it. I research ever purchase, whether it's a refrigerator or a bathing suit, very carefully to make sure that I'm getting a quality item at the best possible price. Most things I buy are second-hand, with the exception of some appliances that are energy saving models. I go to the Salvation Army, Goodwill and garage sales regularly, and often find brand new clothes and household items for a fraction of retail. I shop for gifts all year long so that the holidays are stress free. I don't go out often, and when I do, it's usually to a friends house or to take a walk with the grandkids. "Impulse buy" is a phrase that's not in my dictionary. It's become almost a sport for me to find great deals. Meanwhile, my friends with their big houses and mortgages are constantly worrying about money, while I'm living pretty comfortably, and able to donate a fair amount of money to my favorite causes.
For me, happiness doesn't come in a bag from Macy's. It comes from knowing that I'm financially safe, and that I have some money to spend on the things that are REALLY important to me.
By Sue from Albany, NY
Do you have a frugal story to share with the ThriftyFun community? Submit your essay here: http://www.thriftyfun.com/post_myfrugallife.ldml