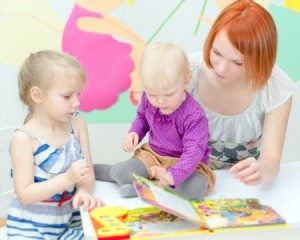 Having planned activities for the children when you babysit can help make it a positive experience for everyone. This is a guide about babysitting activity ideas.
Ad
---
Questions
Here are questions related to Babysitting Activity Ideas.
I'm 15 and I'm watching a 5 year old girl and a 7 year old girl from 4pm to 11pm. What fun activities should I do with them?
By Kayleigh
AnswerWas this interesting? Yes No
Ad
---
---
Best Answer
By Louise B. [6] 04/05/20140 people found this helpful
Kids love to play dress up. That would be a fun thing. If they don't have things that they can use, go through your own closets and your mom's for things like skirts, old dresses, vests, scarves, long strings of beads, old high heels, etc. Playing dressup and let's pretend is a great thing.

I also think that you should be able to take the girls outside to a park or playground every day, as long as the weather is suitable. Fresh air and exercise are very important. Play catch, frisbee, soccer, with them, or just let them play on playground equipment. You could take them for bike rides, if they have bikes and can ride them.

Another great outdoor fun activity is blowing bubbles. You can look on the internet for recipes (mostly just dish detergent, I think) , and ways to make a giant bubble maker. If not, just a bottle of bubbles that likely costs about $1 from the dollar store will provide hours of fun.

Be sure to read to the girls every day. Most kids are not read to enough. You could maybe incorporate a trip to the library once a week to pick up books for reading. If the 7 year old has reading to do every day from school, you could do that as well. There is no need for this not to be a fun time! Treat it like a special time rather than as a chore.

You could teach the girls how to make their own snacks in the kitchen -- cutting up fruit, making instant pudding, setting a table and having a nice "tea party" like atmosphere to after school snack. Alternately, you could take some snacks and make a picnic out of it, even if you just have juice and cookies out in the back yard. My babysitter did that with my kids, and they loved it.

You could do little art projects with them as well. There are many inexpensive things you could do -- play doh made from home made recipes that you could find on the net, colouring eggs for easter (get permission from the mom for this, of course), using whatever art supplies they have at home to paint pictures or draw.
---
My mom and her friend Lisa are having a girls night out and I am watching Lisa's daughter. I am eleven years old and we live with my grandparents and they would be right downstairs along with my three other siblings. The little girl's name is Gabriella. I was wondering if you had any tips on what kind of games and activities I could do with her?

She is 7 years old and loves girly stuff, I thought maybe makeovers with my "BIG GIRL STUFF" as my little sisters and their friends call it. Lisa has known my mom from home school groups, so she knows me pretty well and obviously trusts me. I will be charging her $5.00 for the night since this is my first time. But I want Ella to go home wanting me to babysit her again. So please feel free to post your thoughts on this. Also, if you know any small things I can do to maybe earn me some tips!

Mackenzie from Millington, TN
AnswerWas this interesting? Yes No
Ad
---
---
Most Recent Answer
By El 08/18/20100 people found this helpful
Whenever I babysit for my 7 yr old "girly" neighbor, we always make bracelets and necklaces out of beads, she also loves to play dress up fashion show, and all kids love arts and crafts. Baking is always fun as well. if its a nice day, we go on a bike ride or a walk, or we can throw a frisbee outside.
---
I'm babysitting a 5 year old girl from 10:00am to 8:00pm every single day. She has gotten bored with most things we do, so I need something creative and I prefer it to be inside, because it's way too hot.
By Dianeis R.
AnswerWas this interesting? Yes No
---
Most Recent Answer
07/31/20130 people found this helpful
Do a puzzle together. Not only will this keep kids busy for a while, it keeps their energy at a controllable level which makes it a great activity for before bedtime.
Regardless of what you plan to do, check with the parents first and make sure you have their approval.
---
What fun stuff can you do with a 5 year old and a 7 year old?
By Ally
AnswerWas this interesting? Yes No
---
Most Recent Answer
By YoYoTheDog 05/03/20150 people found this helpful
You can play outside with a Frisbee, soccer ball, tennis rackets, go on the playground, etc. You can also play dress-up with dresses, makeup, jewelry, high heels, and hair clips. You could make a reading fort out of blankets and chairs and read together, you could have them help you cook to have a "picnic", you could play "the floor is lava", if they have pets, you could play with them. Whatever you do and it could be dangerous or messy, check with the parents first.
---
What are some things both a one year old and 3 year old would enjoy?
By Kaylyn K.
AnswerWas this interesting? Yes No
---
Most Recent Answer
By fancy61 [12] 08/05/20130 people found this helpful
A package of plastic easter eggs that can be purchased from the dollar store can be used to play hide the egg. My grand daughter loves to do this. Eggs can be hidden in the house or outside whichever is best according to the weather. This is her favorite.
---
I'm babysitting 6 kids 2, 5, 6, 7, 8, 9. I have 3 girls and three boys and they all have different tastes except crafts. Anyone have any other activities I could do with them?
AnswerWas this interesting? Yes No
---
Most Recent Answer
By joan [7] 09/25/20150 people found this helpful
If your yard is fenced, get them outside playing games.
---
I need help thinking of ideas for babysitting 5 younger kids.
By love s.
AnswerWas this interesting? Yes No
---
Most Recent Answer
By DCA [4] 11/25/20140 people found this helpful
Your local library has many books on activities for kids!
---
I would like your advice on what activities I should do when I babysit two girls? They are 8 and 10, but the ten year old had a tumor removed from her head. I am not sure what types of activities I could do with both of them. Please help me.
By Montana U.
AnswerWas this interesting? Yes No
---
Most Recent Answer
By Louise B. [6] 10/06/20130 people found this helpful
Most girls like to do some sort of craft idea. Beading, making friendship bracelets, etc come to mind. See if you have things left over from when you were young or look online or at the library for craft activities made with recycled objects, so that your cost will be very low. Maybe things like easy origami projects or paperbag puppets or popsicle stick projects would be suitable.
---
I have babysat these kids before, they are 4 and 9. They want to play house, Barbies, etc. constantly. I mean all day long literally. I need something that they will like just as much and be time consuming so they can have a variety of things to do. Also whenever they don't get to play they always get really upset.
P.S. In case I didn't make it clear I have to play "with" them.
By Nicole
AnswerWas this interesting? Yes No
---
Most Recent Answer
By Louise B. [6] 01/09/20150 people found this helpful
You might make playdoh with them, and then they could play with that for some time. You can either put it in a plastic bag or tupperware container to use another time, or let the little creations dry out. They are many recipes online. Just goggle "playdoh". Some you have to cook, but many are quite satisfactory made with salt and flour and water. Another interesting thing to make is what I call magic mud (others call it something else-ooblek?). You mix some water with some cornstarch -- don't mix massive amounts -- about 2 tablespoons per person should do -- with water. Add the water a bit at a time until the mixture is sort of runny. Then you will notice that it becomes solid when you squeeze it and when you let go, it oozes back out through your fingers. It is just a fun thing to play with, but I have had grade 9 students make it in science class and they had a great time, so I am sure little kids will find it fascinating. You might also teach them some board games, like snakes and ladders -- easy games with counting -- not something complicated like Monopoly, as you have to interest the 4 year old as well as the 9 year old. If they don't own games like that, and you don't, you can likely get them for $1 or so at thrift shops or yard sales. You could also teach them some card games like War or Concentration. If you don't know how to play these games, google for information or find a book at the library with card games for children. And there is always reading to them. Next time you have to sit with them, come prepared with a pile of really interesting story books. Again, if you don't own any, pay a visit to your local library and pick some up. If these kids have a lot of books, they will appreciate new ones. If they have none at their house, you will be doing everyone a favor by introducing them to books. Get the librarian to help you if you are not sure what to get. I recommend books by Robert Munch. I have never met a child who didn't like those stories. You might get the kids interested in other crafts that lead into pretending activities, which they seem to like. I would suggest making popsicle stick puppets or paperbag puppets. You could make the puppets to go with one of the books you have read (even simple stories like Three LIttle Pigs), they could then play with them and act out the stories.
Can somebody give me good baby sitting tips for 9 year olds and 5 year olds please?
By Adison from Kansas City
AnswerWas this interesting? Yes No
---
Most Recent Answer
By YoYoTheDog 05/03/20150 people found this helpful
9- If you were going to give her cookies, play a game, or watch a movie, if she gets into trouble tell her that s/he won't be aloud to do the fun activity until she behaves. Play fun games that are educational, involve physical activity, or are fun to both of you. Some are "the floor is lava", play dress up with dresses, makeup, and jewelry, play outside with a soccer ball or Frisbee, play with pets, play i-spy, help her/him cook, watch a movie.

The younger child- Bring a coloring book for him/her, roll a ball back and forth, read to him\her, or play hide n seek.
I am babysitting a 4 year old boy and a & year old girl tomorrow for 13 hours. They are tired of my ideas, please help. We have done playdoh, painting, facepaint bear caves (decorating paper cups), forts, movies, baking, water fights, pretend, nail polish, cars, dolls, and pipe cleaner bottles. Please help.
By Callie C.
AnswerWas this interesting? Yes No
---
Most Recent Answer
By ItalianPear [1] 06/26/20140 people found this helpful
Here are some websites to find ideas.
www.first-school.ws
dltk-kids.com
-A trip to a local playground or park can also kill time, especially when combined with blowing bubbles, scavenger hunts for various animals/insects/plants/flower, or swings.
-Have the kids get into their swimsuits and play with the graden hose or waterguns. You could also fill up water balloons.
-Have the kids get their favorite books (or pick out you own) design props and act out the stories. Good Luck!
I'm babysitting tomorrow and I need some ideas for some activities i can do. There are 4 kids, 3 boys and a girl, (youngest to oldest boys ages- 3,6,8, girl- 11).
If you have any suggestions, that would be great!
By Caitlin r
AnswerWas this interesting? Yes No
---
Most Recent Answer
By brookegirl 08/24/20140 people found this helpful
Art and outdoors is what I liked when I was a kid. I also had brothers those ages.

Solutions: Babysitting Activity Ideas
Do you have knowledge about this guide topic? Feel free to share a solution!