Beef Brisket Recipes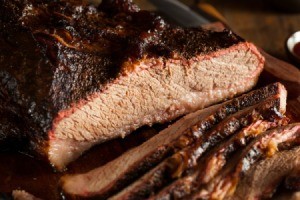 This page contains
beef brisket recipes
. Whether using a cooking bag or a roasting pan a beef brisket makes a delicious main course.
Solutions
Share on ThriftyFunThis guide contains the following solutions. Have something to add? Please share your solution!
Ingredients:
1 (3 lb.) beef brisket
1/2 tsp. seasoned salt
1/4 tsp. pepper
2 Tbsp. oil
2 large onions, sliced
2 garlic cloves, minced
1 cup beef broth
1 cup chili sauce
1/3 cup brown sugar
1/3 cup cider vinegar
2 Tbsp. chili powder
3 Tbsp. flour
1/4 cup cold water
Directions:
Sprinkle beef with seasoned salt and pepper. In a Dutch oven, brown beef in oil on both sides. Remove and set aside. In drippings, saute onions and garlic until tender. Return beef to pan. Combine broth, chili sauce, brown sugar, vinegar, and chili powder. Pour over beef. Bring to a boil. Reduce heat; cover and simmer 2 1/2 - 3 hours until meat is tender. Remove beef to a cutting board. Slices across the grain. Combine flour and cold water until smooth. stir into cooking juices. Bring to a boil; stir and cook until thickened. Serve with sliced beef. 10-12 servings.
This is a fresh beef brisket, not corned beef.
By Robin from Washington, IA
Source: Taste of Home Magazine
Ingredients
3 Tbsp. flour, divided
1 oven roasting bag
1 fresh beef brisket, trimmed
1 can whole berry cranberry sauce (16oz.)
1 can cream of mushroom soup, undiluted
1 can tomato sauce
1 envelope onion soup mix
Directions
Place 1 Tbsp. flour in the roasting bag; shake to coat. Place bag in an ungreased 9x13 inch baking pan; place brisket in bag. Combine the cranberry sauce, soup, tomato sauce, soup mix and remaining flour; pour over beef. Seal the bag. Cut slits in top of the bag according to package directions. Bake at 325 degrees F for 2 1/2-3 hours or until meat is tender. Let stand for 5 minutes. Carefully remove brisket from bag. Thinly slice meat across the grain; serve with gravy.
Ingredients
1 brisket of beef
liquid smoke
onion salt
garlic salt
celery salt
Worcestershire sauce
Directions
Brush top and bottom of brisket with liquid smoke; sprinkle both sides with onion salt, garlic salt, and celery salt. Place in covered dish and refrigerate at least 12 hours. When ready to bake, shake Worcestershire sauce over top of meat. Add 1 cup water to bottom of dish. Bake at 300 degrees F for 3 hours, or until done. Slice across grain of meat and serve. Leftover beef makes excellent sandwiches.
By Robin from Washington, IA
Ingredients
1 boneless beef brisket (4-5 lb.)
1 envelope dry onion soup mix
garlic powder
pepper
Worcestershire sauce
2 cups beef bouillon
Directions
Rub both sides of meat with garlic powder, pepper and Worcestershire sauce. Place in oven cooking bag with onion soup mix. Pour broth on both sides of beef. Seal bag with a twist and make 6 slits on top. Roast at 300 degrees F for 4 hours. Slice very thin; serve in barbecue sauce.
By Robin from Washington, IA
Ingredients
1 Tbsp. salt
1 1/2 tsp. pepper
1 garlic clove
1 Tbsp. paprika
1 beef brisket (6-7 lb.)
1/3 cup packed brown sugar
2 Tbsp. white vinegar
1/2 cup ketchup
1 onion, thinly sliced
Directions
Preheat oven to 350 degrees F. Combine salt, pepper, garlic, and paprika. Rub brisket all over with mixture and place in roasting pan. Mix brown sugar, vinegar, and ketchup in a small bowl; pour over brisket. Lay the onion slices on top of meat. Cover with foil and bake 3-3 1/2 hours or until tender. Slice brisket diagonally across the grain into thin slices. Pour pan juice over and serve.
By Robin from Washington, IA
Related Content