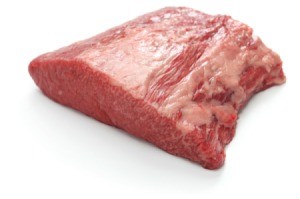 I was trying to buy a flank steak, but accidently bought a beef brisket. My husband says they are very tough and marinating won't help.

I'm not fond of chemicals,Is there a way to tenderize this without buying equipment?
I would LOVE a melt-in-your-mouth recipe to make my husband proud!
Thank you,
Thriftyone
Answers
By Deb (Guest Post)
April 21, 2005
0

found this helpful
Best Answer
After years of experimenting with brisket, I finally begged a friend to share her brisket cooking secrets. No secret ingredients, in fact no ingredients at all. Put the brisket in a pan, seal up the top tight with foil. At bedtime, put the oven in 260 degree oven. In the morning, turn the oven off and let the brisket just sit in there another 2 hours. Tender and scrumptious everytime.

April 22, 2009
1

found this helpful
Best Answer
No tenderizer needed, it's all in the cooking. I do mine in a shallow roasting pan / cake pan, one with about 2" walls .. coat the brisket with your favorite spices, I love to cover the meat itself with slices of Spanish onion, then wrap the thing tightly with aluminum foil.
You want as little moisture to escape as you can. Cook at around 250 degrees, for 4 or 5 hours. It will be so tender it will fall apart as you slice it, and tastes fantastic. The juices in the bottom of your pan make great gravy, and there is very little fat.

April 20, 2005
1

found this helpful
Season with your preferred seasonings. Wrap tightly in heavy duty aluminum foil. Make sure it is TIGHTLY sealed.........maybe double wrap it! Bake at 250 degrees for 4 or 5 hours. When you slice it be sure to cut ACROSS the grain of the meat.
By Angelica (Guest Post)
April 21, 2005
0

found this helpful
I marinate my brisket with Worcester sauce overnight. I poke holes on it, apply any type of seasoning that you may like, and pour the sauce ALL over the brisket. Don't hold back on using the sauce, I have rec'd compliments on my brisket every time I make it.
It comes out very tender and juicy. Before cooking the brisket make sure you add more seasoning, it tends to run with the sauce, and drain the Worcester sauce before baking. You'll have a delicious and juicy brisker each and every time!
Read More

Answers