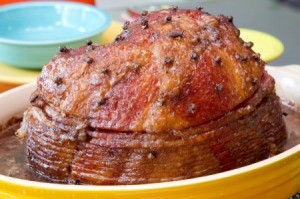 I am wondering if any one knows if I can bake a half ham. I have the one that is fully cooked, pre-sliced and wrapped in plastic. I believe the one I'm thinking is Hormel brand.
Christmas is in one week and I am running low on funds. If I can do this, at what temperature do I bake in? Can I use a ham glaze?
Thank you for any answers.
By Rachelle from Denver, CO
Answers
Best Answer
Put in roasting pan. Bake at 325 degrees F. for about 1 1/2 hours or if frozen about 2 hours. Cover with foil if it starts getting too dark. I don't glaze mine because we really don't like the sweetness of the glaze, but that is up to you.

Michawn
Bronze Feedback Medal for All Time! 188 Feedbacks
December 21, 2009
0

found this helpful
Best Answer
You can do it! Since it's already cooked it's a matter of heating. And it can take an hour, but that really depends on the size of the ham. The time is about 10-15 minutes (up to 20 depending on temp) per pound.
Read the package and it should tell you. But I would definitely take it outta the freezer now! Good luck!

December 17, 2009
0

found this helpful
Every year my husband's work gives us a pre-cooked ham. It's very simple to heat (so much easier and less stressful than a turkey!). The instructions should be attached (maybe under the label when you remove the wrapping). Cover it with foil and heat it at a low temperature, so it doesn't dry out. We don't care for sweet ham, but the glaze packet is easy to use, too. We don't have our ham yet, otherwise I'd tell you the instructions from it.
Maybe go to the Hormel website. I bet they'll have instructions there! Best of luck, and I hope you have a wonderful Christmas meal! You needn't spend a lot for it to be delicious. :-)

December 20, 2009
1

found this helpful
Thaw the ham in the fridge a few days before cooking. Before you wrap your ham you can pack your ham with brown sugar and then cover with pineapple slices. Wrap tightly with foil and heat at 275 degrees for an hour. Remove the foil and put back in the oven at 350 degrees for the last 30 minutes or so.
The sugar and the pineapple create a glaze and keep the ham moist while heating which is the biggest complaint in heating a precooked and presliced ham.

December 23, 2009
0

found this helpful
I read this request yesterday & right after that I was emailed the following link. Go to allrecipes.com & search Easy Baked Ham
Recipe is for a fully cooked ham & you use a pineapple, brown sugar glaze. There are other recipes you can read up on too if you like, usually when you call up a recipe it will show you a list of similar recipes so you can find one that looks good to you. Merry Christmas & a Blessed New Year!
Answer

this Question