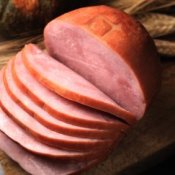 Although spiral cut hams are an attractive holiday treat, an uncut, bone-in ham provides better value for multiple meals. The key item point is that the pre-cut hams will shed most of their juices during their time in the oven.
A thriftier approach for ham is to buy a shank end or butt end ham; these typically weigh 8-10 lbs and cost $.30/lb to $.50/lb less than spiral cut hams. Score the sides with a paring knife to provide a place to stick dried cloves; place the ham in an oven bag and then into a roasting pan; heat at 325 degrees F for 20 minutes/lb of weight.
Let the ham rest a half hour after it is removed from the oven. A sharp carving knife will slice the ham as thin as you might want. It is so juicy it will literally melt in your mouth. The juices and fat will accumulate in the oven bag; if you pour this mixture into a container and place it in your refrigerator overnight, the fat will rise to the surface and coagulate while the juices will gel beneath it. Either or both can be used in other applications or discarded.
Most important, the leftover ham will not have the consistency of shoe leather and can be used later for sandwiches, ham and beans, etc., or wrapped well and frozen.
By Tracy Leonard from Kansas City, MO

I buy any sort of ham that my butcher will slice and tie for us, returning it in the original packing. If necessary, I beg. This is a must to make the whole process as simple as possible.
Read More...

Tips for making great ham. I thought I read a thread one time on cooking ham but I can't find it.

Answers
By shirley moore (Guest Post)
February 27, 2007
0

found this helpful
Whenever cooking an uncooked ham, and some hams are already cooked, always boil at least twice for approx. 10 or 12 min. pouring off the water each time. that eliminates some of the salt . then either boil or bake. when you have had a meal from the ham, you can make a wonderful dish with left over ham., called Ham Viennese. here is the recipe.
Ham Viennese
approx 2 cups ham sliced in thin slicesaprox 1/2'' by 3''
1 cup celery sliced diagonally
1 can cream of chicken soup
1 level Tbsp. mustard
2 Tbsp. white wine
1 Tbsp. dill weed
1 small onion chopped
1 small box of fresh mushrooms slices on the thick side.
1 8 oz container sour cream room temp.
Put celery in pan with small amount of oil and saute until almost done , add chopped onion, and let cook until both are done. remove from pan. add a little more olive oil and cook the mushrooms. when done add the celery and onions, stir together next ad the cream of chicken soup, white wine, mustard and dillweed. stir and heat through. now add the ham strips. making sure everything is good and hot remove from heat and add the sour cream. serve over cooked rice. delicious.
By Skye (Guest Post)
February 27, 2007
0

found this helpful
Select either a smoked butt end or shank end ham at about six pounds for an average family. The butt end is the meatiest and costs a little more. Wrap ham tightly in aluminum foil. Place cut side down in a large oven proof pan with 2 inch sides. Pour about 1/2 inch of water in the pan around the ham.
Bake in a preheated 325 degree oven on a lower rack for 20 minutes per pound. Allow ham to cool before slicing. Left over ham can be used for sandwiches or in casseroles. Save the ham bone for making home style vegetable soup later on.
By Nicole P in MN (Guest Post)
February 27, 2007
0

found this helpful
Put into a Reynolds Bag into your roaster. Pour 1 bottle of Dr. Pepper 20 oz. over the Ham. Use plastic twisty tie to close bag. Make 3 or 4 slits in plastic bag. Put into oven at 350 for 1 hour. You can use the dr pepper and ham juices to make your gravy. Very tender, caramelized ham!!! Yummy!
By Marfette (Guest Post)
February 27, 2007
0

found this helpful
My husband and I have found that the best way to cook ham is the easiest. We buy large Cook's hams with the bone in, which adds lots of flavor. We put it in the oven at 325 degrees and roast it for 5 hours. No basting, no other flavors, just a wonderful moist delicious ham with a crackling on the outside.
We get hams that are at least 10 lb. and have many leftovers for fried ham at breakfast, scalloped potatoes and ham, etc. Yum!
By Dawn (Guest Post)
February 27, 2007
0

found this helpful
I never tried this but was told to pour a can of coke over the ham cover then cook normally..and it comes out very moist
By Donna Pacholok (Guest Post)
March 1, 2007
0

found this helpful
I always cover my ham with water and simmer on the top of the stove for at least 1 1/2 to 2 hours , then I drain my ham, place it in a shallow roasting pan skin side up and bake uncovered at 350 for 1 hour basting with a glaze every 20 minutes. Remove from oven, cover and let rest for at least 20 minutes before slicing.

March 1, 2007
0

found this helpful
My grandma gave this to me when I first got married.
Place ham in pot empty one can of Sprite, 7up or Mt. Dew in pan. Cook til done. This is really fast and wonderful!!
Answer

this Question

I have a ham that will take 10 hours to cook. Can I cook it 5 hours one day and then 5 hours the next?
By Tana from Los Lunas, NM

Answers

December 21, 2009
0

found this helpful
Wow! I did not know hams took that long to bake. It must be a large fresh ham then? I would say 'NO' to splitting the times between 2 days and that applies to any types of meat. When the meat is not fully cooked and especially then when allowed to sit for a day in the fridge half cooked that is when it leaves the doors open for bacteria. So cook in all in one sitting for the 10 hours.

Suntydt
Bronze Feedback Medal for All Time! 109 Feedbacks
December 21, 2009
0

found this helpful
Agree with Kaelle. Your only other option would be to cut the ham in half which should cut the cooking time in half. Freeze the half you don't need and fully cook the other half. If you need both halves for one sitting maybe you can cook one half at home and the other half at a friends. You could cook one half completely, refrigerate it, and microwave it before serving just before the second half finishes cooking. Then you would be able to cook the first half a day early.

December 23, 2009
0

found this helpful
Geez Loueeze, do you think you might have your hams and porks mixed up? Ham is already cooked and all you are doing is heating it through and making the glaze sticky no more than 2 hours, and Pork is RAW cooked at 20mins per pound, the first 30mins on high temp for the crackling, about 2-3hours in total.
Answer

this Question