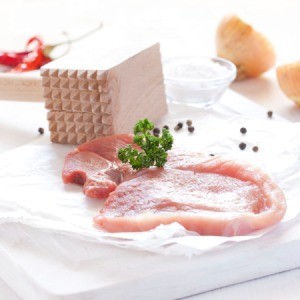 To tenderize a pork loin or pork butt, put 1 gallon cold water , 1 can of regular Pepsi, Coke, or any dark soda, and 1/2 cup table salt in a large enough container to hold the meat. Add garlic and your seasonings. Put the pork into the mixture and marinate overnight. Roast the pork on a rack at 350 degrees F until meat thermometer registers 165 degrees F.
Source: My son, the chef. He is Cordon Bleu trained.
By Beverly from Santa Monica, CA
Read More

Comments

I am looking for meat tenderizers for beef, (e.g. minute steaks and other less tender meats).

Bo from Ontario

Answers

joan pecsek
Bronze Request Medal for All Time! 66 Requests
February 1, 2008
0

found this helpful
Brush them with a little vinegar(any kind) or lemon juice. Cover and cook over low heat. The acid in the vinegar or lemon juice really softens up tough meat.

February 2, 2008
0

found this helpful
Try marinating in equal parts apple juice and cider vinegar for about 20 - 30 minutes.
By shelton Lee (Guest Post)
February 2, 2008
0

found this helpful
The Korean friends I have said any fruit that begins with a P is good to grate and put on any meat. So they use papayas, pears, and pineapples. Puree the fruit and marinate the meat. Just don't soak the pineapple overnight, it will turn your meat into puree itself. This is a natural meat tenderizer.
My Chinese friends say that you need to soak the meat in fresh water until there is no more blood. Apparently the blood is what makes it tough. some of the cooks will spend thirty minutes just squeezing the blood out the meat under running water.
I am lazy so I like the Korean way better.
But if you are in a super hurry, put a small amount of baking soda in the meat while it is cooking. But this works best if the meat is cut in bit size or sliced pieces.

February 2, 2008
0

found this helpful
Cola products work great as meat tenderizers.
By Yvonne from Sudbury (Guest Post)
February 2, 2008
0

found this helpful
Magic Creations is a 20 minute Beef Marinade you can purchase in your meat department. It is a powder you mix with a bit of water.
You can also try a can of coke or beer in the slow cooker.

February 4, 2008
0

found this helpful
Try tea. When cooking the meat in a stew or other liquids, add a cup of strong tea. It's amazing how it tenderizes the meat.

February 4, 2008
0

found this helpful
I use vinegar, or italian salad dressing, lemon juice or anything acidic.
I also sometimes use a meat mallet. Put the meat inside a gallon size zip lock bag, seal and then pound the meat with the mallet.
It tenderizes the meat and you have no mess.
By bailegirl (Guest Post)
February 4, 2008
0

found this helpful
Beer! Marinate the meat in a bowl of beer for about 15 mins, not only will it be tender, it will have a uniquely delicious flavor. Don't worry, the alcohol cooks out of it leaving only the flavor behind. And don't worry if you don't like the taste of beer -- that isn't how the meat will taste. I personally don't care for beer to drink but adore it as a meat marinade, especially if the meat is subsequently grilled. YUMM!

April 10, 2008
0

found this helpful
I soak chicken, pork or beef (not ground) in straight apple cider vinegar for about 30 minutes, rinse it off thoroughly and cook the meats as usual. This not only helps to tenderize the meats, but it removes bacteria that may be on the surface.

May 2, 2009
0

found this helpful
Bulk Barn has meat tenderizer for about a buck for 100 grams. The seasoned stuff is a bit less and the plain white stuff a bit more. (The active ingredient is probably more costly than the seasoning used.) This works in 20 minutes, just like the Magic Creations Beef Marinade Zehrs had for 99¢/25 grams, but don't have anymore.
I use about a tablespoon in enough water to cover the steak after perforating it with a fork. I buy the seasoned tenderizer, but you could probably cut it with the plain stuff if you find the seasoning a bit much.
Answer

this Question