Tips for Cooking Meat
Solutions
Share on ThriftyFunThis page contains the following solutions. Have something to add? Please share your solution!
My tip is about cooking on top of the stove. Our oven went out and isn't repaired yet. I talked to my mother-in-law, she kind of laughed and said that I've discovered "Country Cooking."
Take whatever piece of meat you have and thaw it if necessary in the refrigerator. I normally get meat on sale and freeze it.
If the meat is beef, you may want to cut it into chunks and dust it in flour, then cook it in a little oil to brown it, small batches at a time, putting the beef batches into another container until all of it is cooked.
Whether or not you wish to cut beef into chunks and brown it, it's time to put the meat/poultry into a large stockpot, and cover the meat with water. I am using about 1 - 1 1/4 gallons of water. I am doing this with beef roast, pork roast, and turkey breast. Chicken would be fine, too.
Bring to a boil, then reduce to simmer, and let the meat/poultry simmer a few hours until it's cooked through. Let it cool on the stove top, then put the stockpot in the refrigerator (you may have to remove a shelf to do this.) Let it cool overnight or for a couple of days.
Take the stockpot with the meat and broth out of the refrigerator, remove all of the fat from the top of the broth, and discard, or save for birds, etc.
If the meat is poultry, chicken, turkey, duck, then take off all the skin, and remove all of the bones, and dispose of them. Save all of the meat.
Strain all of the broth (the water the meat was cooked in) through a strainer and save it.
All of the meat, or some of it can be prepared immediately.
Put the meat you want into a stove top casserole (small stockpot), and add several cups of broth, depending on whether you want it to stew or make a soup or make a gravy.
Put the rest of the meat and meat broth into containers that can be refrigerated or frozen for another day.
Make what you want: soup, stew, or gravy. For soup, add several cups of broth and any veggies you have, and heat through. For stew, add less broth, and any veggies you have, then take about one half cup of cold broth, with about a quarter cup of flour, mix it together, and add to the hot broth, meat, and veggies. For a gravy, add about 1 cup of cold broth mixed with 1/2 cup of regular flour, and poured into the boiling broth, meat, and whether or not you added veggies, stirring it for about a minute, and then turning it down to a simmer, and letting it thicken.

I used this method to make a beef stew that we started eating the same day, and ate for several days.

I also used this method to cook a raw turkey breast that we got on sale, then split up the turkey into portions, using a couple of cups of it in a stove top casserole (3 quart stockpot) where I added about 3 to 4 cups of the turkey broth, about two handfuls of noodles, and once it got to boiling. I added about a cup of turkey broth that I mixed with about a half cup of regular flour, let it cook for about a minute, then turned it down to simmer. I poured this "turkey gravy" over cooked, smashed potatoes, and froze the rest of the turkey and turkey broth for later use.

I also used this method to cook an 88 cent per pound pork shoulder roast (about eight pounds), and will use the pork shoulder roast to make pulled pork, for sandwiches, and use the broth (with flour added to thicken, see above), to make a gravy to pour over homemade buttermilk biscuits.

Also, in order to cut costs, I have stopped buying "cultured buttermilk" and use the substitute recipe of using about two tablespoons of regular vinegar, then filling the cup with regular milk, and letting it sit for about 5 minutes.

Just for fun, I have tried making my own buttermilk biscuits without any measuring cups at all. So far, they are very tender, and very "relaxed." They don't stand up at all, but spread in our toaster/oven, and they are still delicious.

If your regular oven is out, or if you are just trying to cut down on utilities, start using your toaster oven, or buy one. Since our oven has been out, and truthfully, we don't always need the size of a regular oven, I have been using our small toaster oven with some regular success.
Source: I got the idea to use vinegar with regular milk from a Betty Crocker "New Cookbook Everything You Need To Know," Published 1996 by General Foods, and MacMillan Publishers.
By Carol L. from South Bend, IN
Read More Comments
Tough cuts of meat are best cooked with moisture, like stewing or using a slow cooker. The moisture will soften tough cuts of meat and make them more appetizing. Tender cuts of meat should be cooked with dry heat, like pan frying, barbecuing, or oven roasting.
By ThriftyFun
Freezer burned meat can be safely eaten, as long as it was properly frozen and defrosted. If possible, trimming off the burned portions will help prevent the taste that develops in freezer burned meats.
This is a page about how to cook freezer burned meat.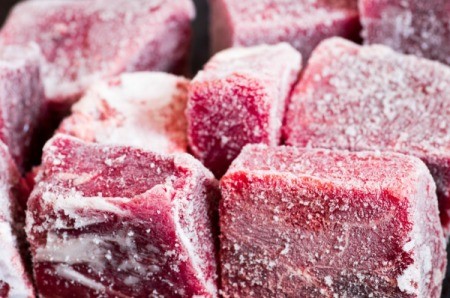 There are conflicting views on whether to salt meat before or after cooking. Unfortunately you will probably need to test both methods and see which works best for you.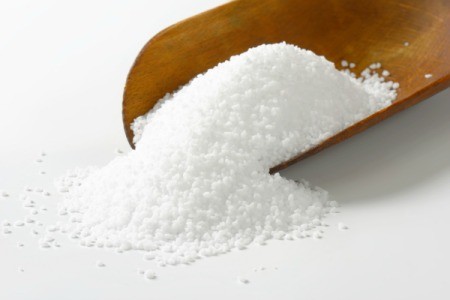 Tenderizing meat, either manually or with a solution, makes for a tasty dish. This page is about how to tenderize meats.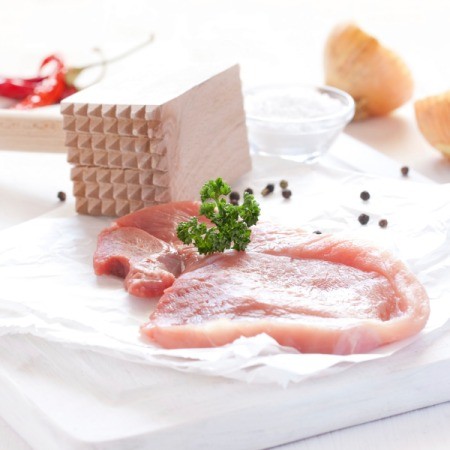 Advertisement
Published by ThriftyFun.
© 1997-2020 by Cumuli, Inc. All Rights Reserved.
https://www.thriftyfun.com/Tips-for-Cooking-Meat.html