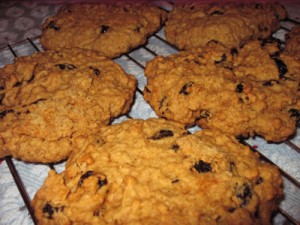 These breakfast cookies are just as good as a big bowl of oatmeal, just as healthy, and much quicker. They can be taken with you to have with coffee mid-morning if you're not a breakfast person. Children like the idea of having a big cookie for breakfast to go with milk or hot chocolate. They are super-easy to make too.
Ingredients:
1 Box Duncan Hines Yellow Cake Mix
1/3 cup Mazola corn oil
1/3 cup melted butter
1 cup applesauce (sweetened or unsweetened)
1 Tbsp. ground cinnamon
3 eggs
1 cup raisins
1/2 cup chopped walnuts (optional)
3 cups quick-cooking oatmeal
Directions:
In a large mixing bowl, beat the eggs and add corn oil and melted butter. Mix until nice and thick. Add applesauce, cinnamon, and half the cake mix. Stir the cake mix in well, then add the other half box of cake mix and stir that in. Add raisins and nuts, if using. Mix everything together. Stir in the oatmeal. The dough is going to be very thick.
If it seems too thick to work with, add 2 Tbsp. applesauce or more. Some oatmeal takes up a lot more moisture than others. Cover it with plastic wrap and refrigerate for about an hour.
I love using parchment paper, and I can use it over and over while I'm baking in one session. That's usually about 8 pans of cookies, then I throw it away. It's done its job very well.
For these breakfast cookies, I use about 2/3 cup of dough for each and with lightly floured hands, pat them out to almost an inch thick and 4 inches around or a little more.
They don't spread much. I bake them at 350 degrees F for about 15-20 minutes. The cookies are going to still be pretty soft even after they've cooled on a wire rack. Do not allow them to over-brown. When completely cool, place them in an airtight container and refrigerate.
When ready to eat or wrap to take with you, place one in the microwave for about 30 seconds at full power. I wrap it in a paper towel, and it's ready to eat right from the paper or pop it into a little plastic bag.
The same dough works just fine for regular-sized cookies. Make them whatever size you like, bake them on parchment at 375 degrees F for 10-12 minutes. Cool on a wire rack.
Servings:
Lots
Time:
Less than 10 Minutes Preparation Time
15-20 Minutes Cooking Time
Source: I was in a hurry to get all the cookies baked one day, and decided to make some extra-large ones. The children loved them for breakfast and told me it was the same thing as eating a bowl of oatmeal. I had to agree. We've been making Oatmeal-Raisin Breakfast Cookies ever since.
By pookarina from Boca Raton, FL
July 25, 2011
0

found this helpful
I make cake mix cookies often. Haven't tried this recipe yet but look forward to it. My recipe calls for 1 box mix, 1/2 cup of oil and 2 eggs plus any flavoring/added ingredient you like such as chocolate chips, nuts, etc. Works really well with spice cake mix and toffee bits, or carrot cake mix and raisins, etc. I like really fresh cookies, so I make the mix, bake a few cookies and keep the mix in the fridge. It keeps over a week and I just bake fresh cookies every morning. Takes about 15 minutes at 350.
Read More Comments
I am looking for a recipe that my mother used to make when I was a child, about 20 or so years ago. It was a savory healthful breakfast cookie-type thing. The recipe was originally distributed in a recipe booklet by Quaker and it called for oats, eggs, bacon, and cheese among other things that we have forgotten. Does anyone have this recipe?

Thanks!
Amanda from Claremore, OK
July 31, 2006
0

found this helpful
These don't sound that similar now that I re-read your post. They don't have bacon and cheese, but they still sound good.
July 31, 2006
0

found this helpful
Breakfast Cookies
1/2 pound bacon
1/2 cup butter
3/4 cup sugar
1 egg
1 cup of flour
1/4 teaspoon baking soda
2 cups of multi-grain flakes or corn flakes
1/2 cup raisins
Preheat oven to 350 degrees. Cook bacon until very crisp, drain well and break into 1/2 inch pieces. Beat together butter and sugar till light and fluffy. Beat in egg. Combine flour and baking soda; stir into butter mixture. Stir in bacon, mult-grain flakes and raisins.
Drop by rounded teaspoonfuls onto ungreased cookie sheet. Space 2 inches apart. Bake for 15-18 minutes. Remove to rack to cool--about 2 minutes, then remove from rack.
By guest (Guest Post)
July 31, 2006
0

found this helpful
http://www.cook 5-232200,00.html
If this one is not exactly what you want, enter "breakfast cookies" in the search box at the top of the page on the site. I like their recipes and refer to it often.
By guest (Guest Post)
August 1, 2006
0

found this helpful
From site:
http://www.quak m?recipeid=11344
breakfast take alongs
ingredients
2/3 cup butter or margerine, softened
2/3 cup sugar
1 egg
1 teaspoon vanilla
3/4 cup all-purpose flour
1/2 teaspoon baking soda
1/2 teaspoon salt (optional)
1-1/2 cups Quaker oats (Quick or Old Fashioned, uncooked)
1 cup (4 ounces) shredded Cheddar chesse
1/2 cup Kretschmer's Wheat Germ or chopped nuts
6 slices bacon, crisply cooked
preparation
1. Preheat oven to 350° F.
2. Beat together butter, sugar, egg and vanilla until well blended.
3. Combine flour, baking soda and salt; mix well. Stir in oats, cheese, wheat germ and bacon. Add to butter mixture.
4. Drop by rounded teaspoonsful on to greased cookie sheet: bake 12 to 14 mins or until edges are golden brown. Cool 1 min on cookie sheet: removed to wire cooling rack. Store in losely covered container in refrigerator or at room temperature.
Servings: 3 dozen
notes and cook tips These crisp cookies are made with bacon and cheese. So they're extra high in protein and good nutrition.
By guest (Guest Post)
August 4, 2006
0

found this helpful
i checked this web-site and found quite a lot. think you might also. www.quakeroats.com/qfb_Recipes/index.cfm -
Read More Answers