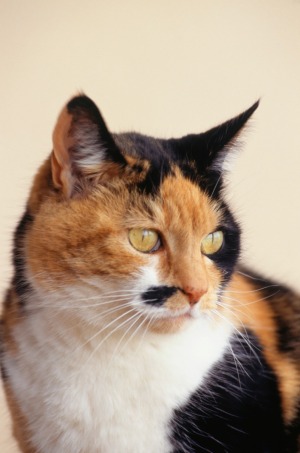 Calico refers to the coloration of these sweet, loving, and loyal cats rather than defining an actual breed. Calico cats are generally accepted into many breeds except, for example, pointed breeds, ie. Siamese. This is a guide about Calico breed information and photos.
Solutions
Share a solution for this guide today!
Questions
Here are questions related to Calico Breed Information and Photos.
We have a young calico colored cat. It has very light tan markings plus blue colored markings and no other color on it. I have never seen a blue and light tan colored cat before. Does anyone know anything about this color of cat?
By Lynda from Grinnell, IA
---
Most Recent Answer

By gbell11/17/2011
Tortoiseshell is probably the name you are looking for.
Photos
Since I got this fish aquarium, it is Callie's favorite place to sit. She loves watching the fish swim and bats at the outside glass. Bet she would love to really get at my fish!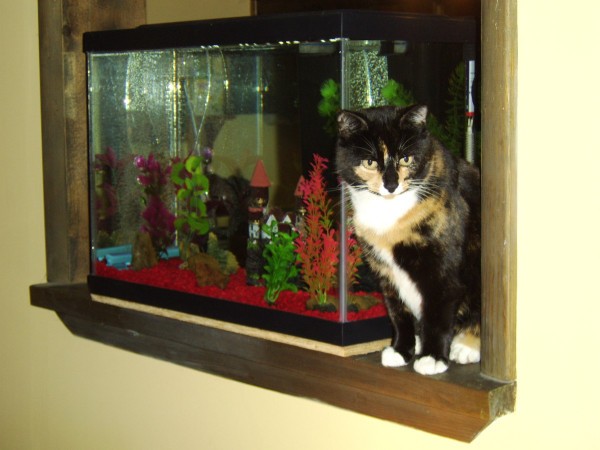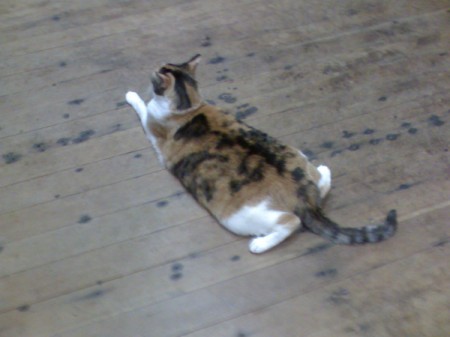 Your Pet's Age
12
How and when did you get your pet?
Cali was our daughter's cat. She got her from the Humane Society on Ohau. She came to stay with us for awhile and was the acting mommy cat to our little tabby Pekoe.
What does your pet like to do for fun?
Cali loved to play with her toys and snuggle. She was very tiny as a kitten and spent a lot of time riding around in our daughter's overalls. She was the sweetest thing and gave long armed hugs with her front paws around your neck. This photo shows her in her splat cat mode. She loved to lay this way. It always made us smile.
Do you have anything else to share about your pet?
Cali passed a couple of years ago after a short bout with cancer. She is greatly missed by her people.
By R Barbara
Pepper is a calico cat and lives in the barn. We adopted her when we moved here. We noticed lately that she loves to climb trees and shrubs. She had been eyeballing the bird feeder for a few days; watching from the ground.
What a surprise we had on Christmas morning to find Pepper in the bird-feeder. She had moved in and was ready to ambush. :)
By Sheila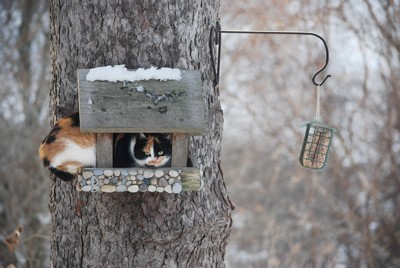 This is Molly. She is a healthy 7 year old, and was about 2 weeks in this photo. She's a medium-long haired calico. Molly was found by my neighbor when she was 2 days old. Her eyes didn't open for a week. We fed her with a bottle which you see, she took to easily. I fell in love at first sight and she is still my sweetheart.
She likes to chase a whirligig or a toy on a stick. We fed her 'on demand' and kept her warm. My neighbor has other cats and they groomed Molly and taught her to groom herself. I visited every day and she came home with me at about 2 months, after my other cat died naturally. Nimmie was dying when Molly came, and we didn't want to stress him by bringing her in.
By Jeneene from Cincinnati, OH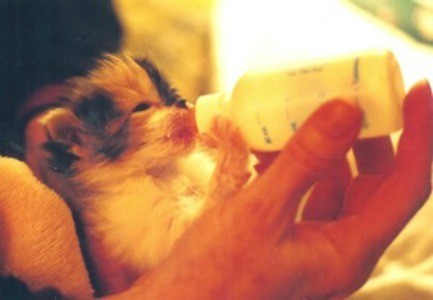 Tater (Tat) is less than a year old. She's a "Heinz57" (mixed breed, unknown, Mutt). When I first moved here my neighbor brought her to me. She likes to catch mice and bring them to me! Tater likes to nap with me. She likes to suck my thumb and sometimes chew to wake me up.
She loves ice cream in the evening and raw fresh farm eggs for breakfast. She likes to watch the Sci-Fi channel and likes the computer. She especially likes to help me type! We like sharing a bag of chips or crackers. She loves being outside.
By melody_yesterday from Otterville, MO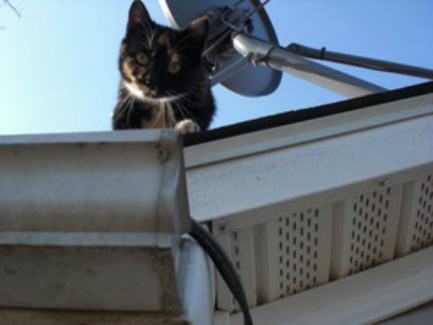 Pip is an 8 year old calico cat. I found her as a tiny kitten one very hot day while taking a walk. She was huddled on the sidewalk in the corner of a downtown building. I picked her up in a hankie, a chipmunk-sized kitten hissing at me, and took her home.
After a while, I realized she was not weaned, since she hadn't touched food or water. So I quickly went to the store. I got some cat milk, and she sucked it up from an eyedropper! We became good friends after that, though I never intended to keep her. Pip found a place in my heart, and 8 years later we are still hanging in there!
Pip really likes wire for some reason. I get a thin piece about 10 inches long and throw it for her to retrieve. Most of the time Pip brings it back to me. She also likes to catch mice. We live in a rural area, and there are more than enough. Pip is only about half as big as a regular house cat, maybe because of her rough start.
By Jennifer from Gilbertsville, NY
Cheebus is 9 years old. Cheebus is very special to me because my best friend gave her to me right before she passed away from a sudden severe stroke at the age of 29. I wasn't looking to have another cat, but she told me I'd make a good mother.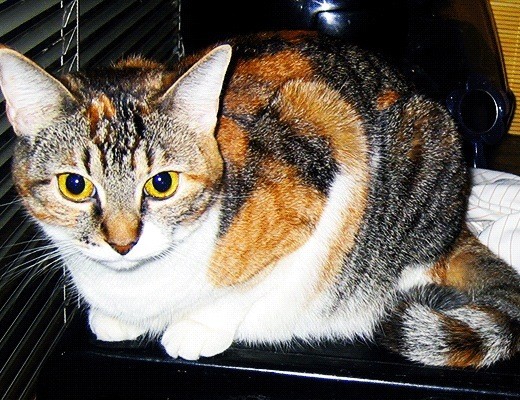 Oh, has this cat ever brought so much joy into my life. The best thing about her is I think of my late girlfriend -every- time I look at Cheebus. What a beautiful gift. Cheebus knows my schedule very well. She will sit inside the bathroom sink minutes before she knows I'm going to brush my teeth and put on my makeup. She likes to sleep next to me the way a human sleeps in bed. When I wake up in the morning, she is laying parallel to me with her head on the pillow and her body tucked under the blanket, body straight. Cracks me up every time! She is truly something special.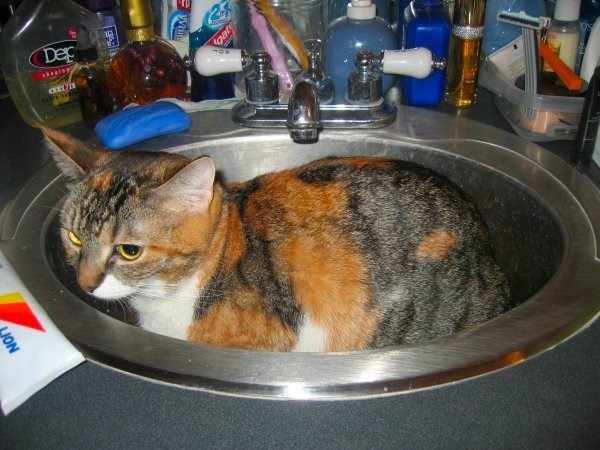 By attosa from Los Angeles, CA
Cassie is a 4 year old Calico. We got Cassie from PetSmart when she was 1. She was such a sweet cat who obviously loved people. Cassie loves to sit in the windowsill when we have the windows open. She loves to be in the sunroom and watch the birds and squirrels. She also loves to lay on us and rub against our feet.
By FrannyV from Williamsburg, VA
How often do we feel just like this while waiting for that important fax? This is Gizzy, our 2 year old (one of 5 furbabies). My husband named her Gizmo after she had laid her ears flat out once as a kitten while watching a bird. He commented on how she looked like the Gizmo the Gremlin. Her name was suddenly changed.
By Marti S.
Tilly and Sophie are 3 months old and Calicos. My daughter's friend found the kittens abandoned in her garage. They were only about 3 weeks old.
They love to chase each other around the house. And they snuggle together when they sleep. They really love each other!
By Beth from Menomonee Falls, WI
Hailey is 5 years old. She was born in a barn and someone found her.

She likes to chase anything with catnip in it. We decided to get a large can of tuna at our local Costco. I usually give Hailey the little tidbits at the bottom and I just had to take a picture of her with the giant warehouse can of tuna. She could fit her whole head in it!

By Carol from Landisville, PA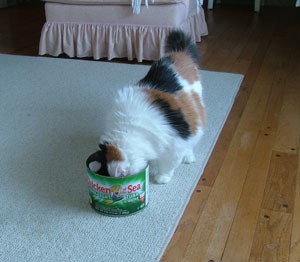 Kelly is a 6 year old long haired, calico cat. We got Kelly from a friend who is moving from Washington to Michigan. She has been living with us for three months now. Kelly is very loving, playful, and flirty cat. She always want her long hair to be combed, and she loves to be cuddled, too. She is about 20 pounds.
By Nelly from Estacada, OR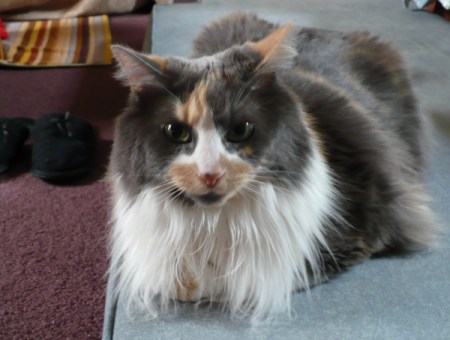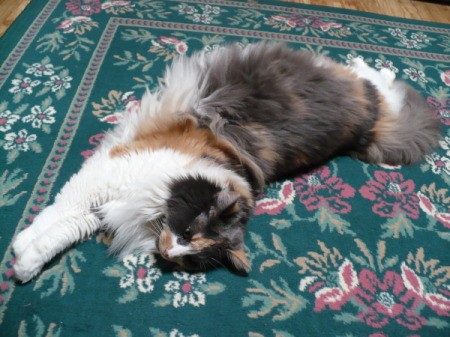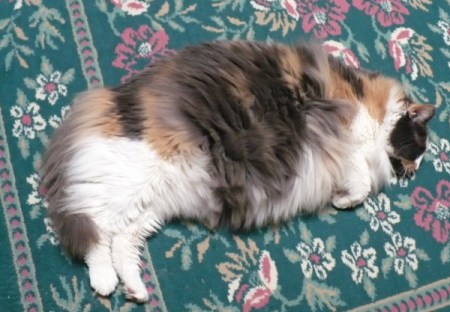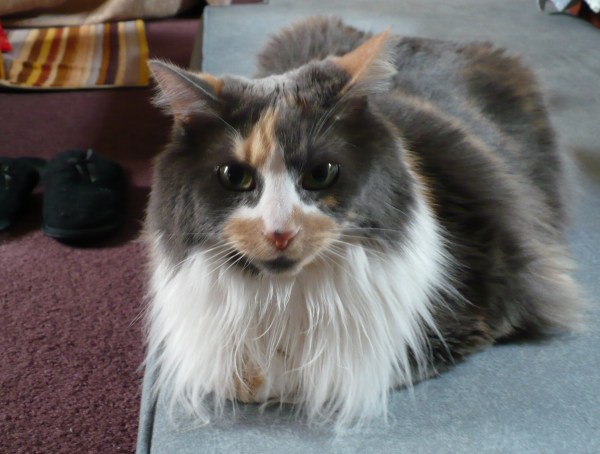 Lucy is a 10 year old Calico cat. I got Lucy 9 years ago when a friend had a baby and got rid of Lucy. I would rather have Lucy then a baby any day. She likes to pose for photos, play with toy mice, bully the other cats, and snack. Here is Lucy after a wild Mardi Gras celebration.
By Ellen from Ware, MA