Cleaning Burnt Pots and Pans
Occasionally it happens that foods are burned onto your cookware, and it can be a challenge to get it clean again. This is a guide about cleaning burnt pots and pans.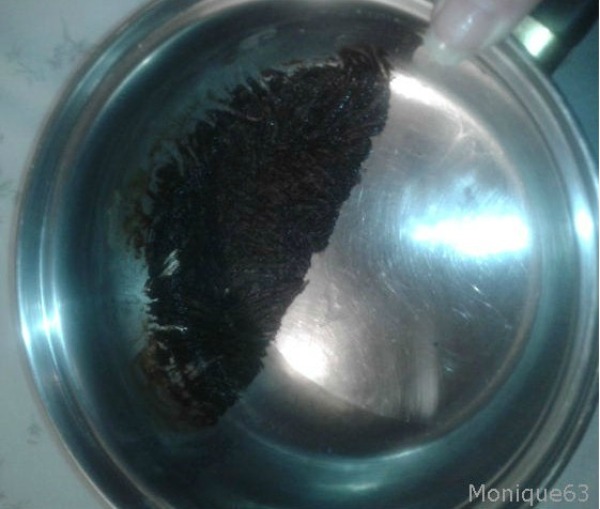 Filter

: All Articles
Sort

: Relevance

Don't waste your time scrubbing a badly burned pot or even think about throwing it away! All you need to do is put it outside in direct sunlight for a few days. The burnt food will crust up together, and when you turn it upside down, it will all fall out. I burned a huge pot of food the other day and my mother called up with this tip. Sure enough, the pot is back to normal thanks to the sun!
Before: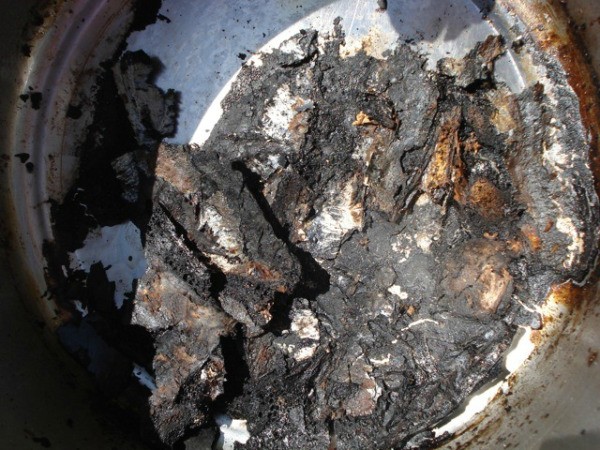 After:
Source: My mother
By attosa from Los Angeles, CA
I took a telephone call and completely forgot my saucepan boiling my Udon noodles. I didn't think anything would shift the burnt-on food. How wrong I was.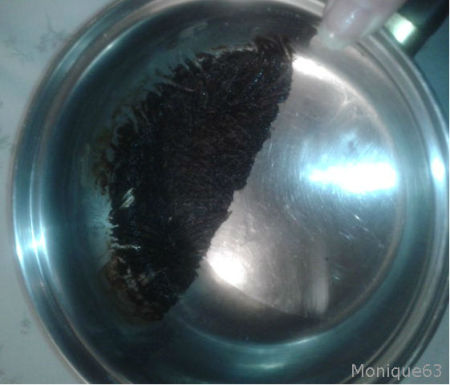 I soaked the pot for two days with cheap cola (17p for 2 litres in my supermarket) and a dash of bicarbonate of soda (baking soda).
I was then able to remove all burnt residue with a ball of foil and it came up as shiny as if it was new! See my picture.
It worked! I used the tip for using Dawn on my burnt pan and it worked! But I had to improve on the tip a little since my pan was really burnt.
First I squirted Dawn in the pan and filled it half way with water and boiled the mixture in the pan for 5 minutes, scraping the bottom with a metal spatula every once in a while. Then after the 5 minutes, I scraped some more, poured the water out and scraped again. This removed a lot of the burnt crust. I repeated this step one more time.
After a second round of boiling and scraping, I then filled the bottom of the pan with coarse sea salt and scoured the pan with a Magic Eraser sponge. This helped remove anything that was holding on for dear life.
The very last step I took was to do one last wipe down with the Magic Eraser.
The pan now looks great!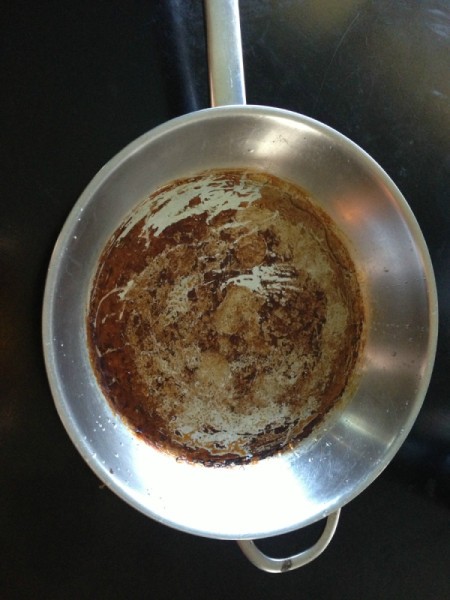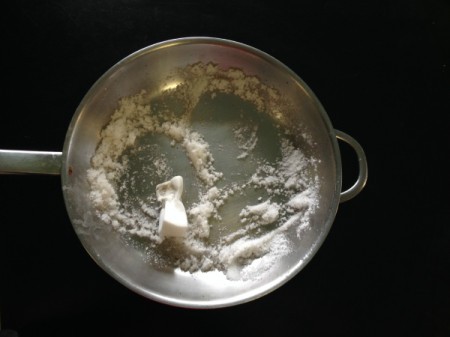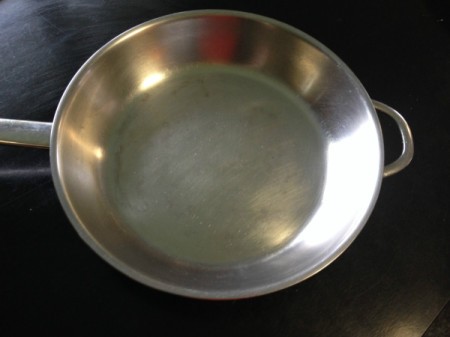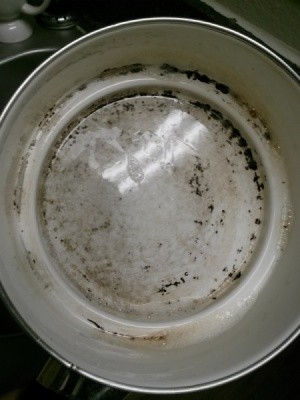 I didn't realise peas cooked so quickly. I left the kitchen for a bit and scorched the pot. I scrubbed for hours and hours and I'm still scrubbing. I've gotten a lot of the burnt off and broken two nails in the process, but it's not my pot it's my roommate's. I don't wanna hear about it or worse have her make me replace it. This thing could cost a lot of money. Anyways I realised my metal spoon was really good at getting hard oatmeal off of plastic so why not this pot. Sure enough it got a lot more of it off, but I had to stop cause it was leaving these huge visible scratch marks. Anyways I need to know what to do to get it clean the rest of the way and if I can make the scratches disappear. Thanks.
By Savannah K.
November 25, 2014
0

found this helpful
Barkeeper's Friend soft cleanser with a green scrubber should take care of it.
November 25, 2014
0

found this helpful
Try boiling a half cup of powder dishwasher detergent in the pot full of water for about 20 minutes. Then use a plastic spatula or old credit card to scrape the burned bits out. Wash as usual. Try buffing the scratches with baking soda or a damp sponge or rag. This has saved a couple of burnt pots for me. Hope it helps.
Read More Answers...
Does anybody know how to easily remove baked on stains from my clear Pyrex bake ware? I soak and scrub to no avail. We have well water, so I prefer solutions that work with that. Thanks - all replies appreciated!

Cathy from Delaware
April 2, 2008
0

found this helpful
Barkeeper's Friend works well. It's like Comet, but works better for that purpose.
January 4, 2009
0

found this helpful
Soak the gunk in vinegar, scrub a little, and dump out (but don't rinse). Then soak in a baking soda paste, scrub a little, and dump out (but don't rinse). Keep doing that until the gunk is gone.
This works because both products will occasionally work on their own. But also, when switching back and forth without rinsing between the two, they interact in a chemical reaction that produces salt, water, and heat. This is almost always enough to get rid of any gunk.
If the gunk is cooked-on grease or oil, try Dawn Power Degreaser, but only if the above doesn't work. It's a good product in terms of effectiveness, but I'm sure we'd all prefer a less expensive and less chemically harsh solution.
Read More Answers...
My Revere Ware has sufficient build up of burnt food on the OUTSIDE (sides and bottom) of the pots and pans. There is advice on cleaning the INSIDE not the OUTSIDE - I'm considering using a Magic Eraser but I'm wondering about the copper bottom as well. Would be interested in detailed information. Thanks so much!

Kris from Austin, TX
March 3, 2008
0

found this helpful
I just posted about the sandpaper too,when people think of sandpaper they think of the rough stuff.There is a sandpaper out there that is 1000 grit and 1,500 grit,you have to get the right type.It's called wet/dry 1000 grit sandpaper,it's the type used to wet sand and buff out imperfection in the paint after a car is painted.I use this method and I promise you it does not scratch your pans.You have to REMEMBER to run a trickle flow of water over the pan as your wet sanding it.It's more like a rubbing method but it WILL NOT SCRATCH YOUR PANS.If it does than you have used the wrong grit,it has to be 1000 grit or 1,500 wet/dry sandpaper,it is a very very fine sandpaper grit.Once you use this method you will never bother with others again,it works on the inside and the outside of the pan.
July 29, 2008
0

found this helpful
I just picked up a set of Revere Ware copper bottom pots at a yard sale...for $1.00! I cleaned them all up bright and shiny with the same stuff I use on my brass bathroom sink, Cameo copper, brass and porcelain cleaner which costs about $1.25 at my local grocery store.
Read More Answers...
Sprinkle powdered cleanser or baking soda liberally over the burned portion of the pot, then add only enough water to moisten the powder or soda well.
We have no baking soda or bicarb either. How else can we remove burned caramel from a pan?
By Becca
June 24, 2014
1

found this helpful
I left a pan of sugar water boiling to make hummingbird food - It boiled dry - what a mess and the smoke was horrible. My husband found the answer - boil peroxide in the pan! Just bring it to a boil, cover and turn off the heat. Let it set until cool and just use a paper towel to wipe away the black crust! I was amazed!
June 11, 2016
0

found this helpful
I also left a pan of sugar boiling. I thought the pan was a goner, but I used this suggestion. It worked!!
How can I clean copper bottom pans that have years of stuff on them?
By RB
June 26, 2014
0

found this helpful
I've had good results on my older copper bottom pots using Revere Copper and Stainless Cleaner paste. If you can't find it in your local stores it is available online. It may take more than one application but it will do the job.
My pans are greasy and spotted on the bottom. Can I put them in my self cleaning oven? Thank you.
By Dan from Las Vegas, NV
November 4, 2009
0

found this helpful
Spray the bottoms with Oven Cleaner and let them sit overnight in the sink. The grease should be dissolved by the morning and remaining remnants can be removed by scrubbing with liquid Metal Cleanser; first with 2/0 steel wool, followed by 4/0 steel wool. Develop a habit of cleaning the pots after use.
November 4, 2009
0

found this helpful
Lower both your oven racks to the two bottom positions in the oven.
Line the lowest rack with aluminum foil (to catch any drippings from the pan).
Place the cookware upside down the the top rack in the oven.
Bake for 1 hour, turn off oven, and leave the cookware in the oven until it is cooled. Keep an eye on it, if you see a fire in oven turn it off, keep it closed till fire goes out, good luck.
Read More Answers...
I cannot clean my fry pans that are burnt from using the gas too high. I tried all types of cleaners, but nothing works.
By Helen
July 27, 2013
0

found this helpful
Hi - just type - burnt pans - in your Thrifty search area and you will find many suggestions.
How can I clean it? It is very burnt from the custard boiling over in the pan.
By wd
April 18, 2014
0

found this helpful
Put some baking soda in pan, add water. Bring to rolling boil uncovered for a while. Sorry I don't remember quantities or time, but this worked for me to remove burned on simple syrup. Repeat if needed, but it should get it all out.
I burned my copper whistling tea kettle. I can get the outside reasonably clean, but worry about the inside. How do I make sure it's free of nasty stuff inside?

Pat R
By Pat R from WI
July 30, 2010
0

found this helpful
You can smear ketchup or tomato sauce over the inside of the kettle, let it stand 10 minutes, then wash the kettle.
August 4, 2010
0

found this helpful
The acid in the ketchup or tomato sauce would probably work if you can get inside the whistler pot to smear it on. If not, try filling the pot with water, add about 1 tablespoon of baking soda, and let it boil for several minutes. Wash it out and rinse. I know this works on pot that have food burned onto the bottom.
How do I get burned on milk off a T-fal pan?
By grannyearth from PA
January 2, 2010
0

found this helpful
Try "Dawn Power Dissolver". It's with the Dawn detergents at WalMart. Also WalMart is the cheapest.
January 5, 2010
0

found this helpful
Boiling water with baking soda for a few minutes works for me.
© 1997-2016 by Cumuli, Inc. All Rights Reserved. Published by
ThriftyFun
.
Page
generated on July 21, 2016 at 12:22:35 AM on 10.0.2.51 in 4 seconds. Use of this web site constitutes acceptance of ThriftyFun's
Disclaimer
and
Privacy Policy
. If you have any problems or suggestions feel free to
Contact Us
.