Occasionally it happens that foods are burned onto your cookware, and it can be a challenge to get it clean again. This is a guide about cleaning burnt pots and pans.
Solutions: Cleaning Burnt Pots and Pans
Read and rate the best solutions below by giving them a "thumbs up".

Don't waste your time scrubbing a badly burned pot or even think about throwing it away! All you need to do is put it outside in direct sunlight for a few days. The burnt food will crust up together, and when you turn it upside down, it will all fall out. I burned a huge pot of food the other day and my mother called up with this tip. Sure enough, the pot is back to normal thanks to the sun!
Before: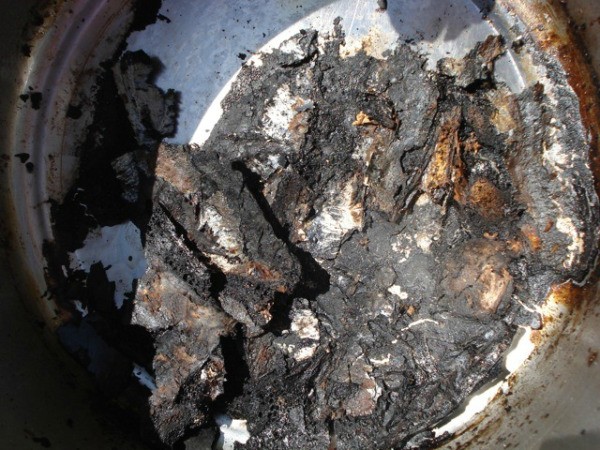 After:
Source: My mother
By attosa from Los Angeles, CA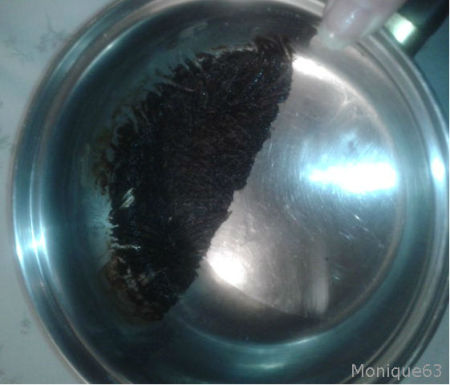 I took a telephone call and completely forgot my saucepan boiling my Udon noodles. I didn't think anything would shift the burnt-on food. How wrong I was.
I soaked the pot for two days with cheap cola (17p for 2 litres in my supermarket) and a dash of bicarbonate of soda (baking soda).
I was then able to remove all burnt residue with a ball of foil and it came up as shiny as if it was new! See my picture.
By Monique [97]
It worked! I used the tip for using Dawn on my burnt pan and it worked! But I had to improve on the tip a little since my pan was really burnt.
First I squirted Dawn in the pan and filled it half way with water and boiled the mixture in the pan for 5 minutes, scraping the bottom with a metal spatula every once in a while. Then after the 5 minutes, I scraped some more, poured the water out and scraped again. This removed a lot of the burnt crust. I repeated this step one more time.
After a second round of boiling and scraping, I then filled the bottom of the pan with coarse sea salt and scoured the pan with a Magic Eraser sponge. This helped remove anything that was holding on for dear life.
The very last step I took was to do one last wipe down with the Magic Eraser.
The pan now looks great!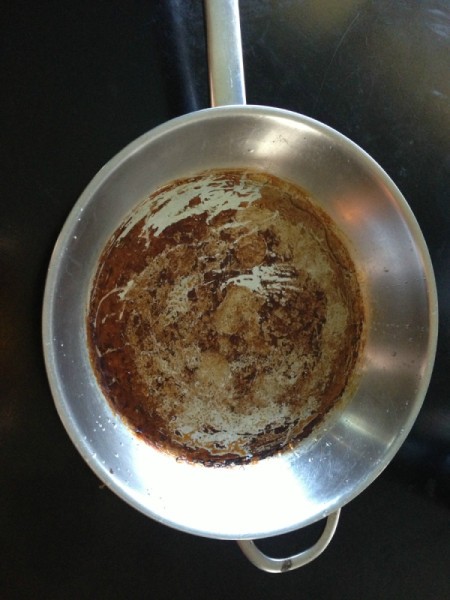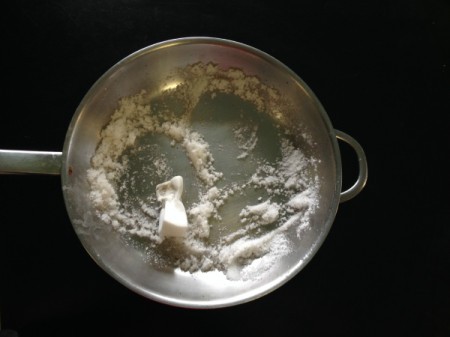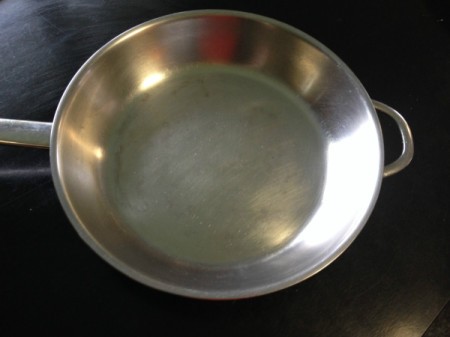 To clean the worst burnt pots and pans in just a few minutes, put about 1/2 to 1 inch of water in the pan then shake a generous amount of Comet (brand name) and boil. Takes only a few minutes before you see the black food boiling up. Keep adding water and Comet if needed.
Works so well I LOOK for these burnt pots and pans at yard sales.
By Dahl K. [2]
Sprinkle powdered cleanser or baking soda liberally over the burned portion of the pot, then add only enough water to moisten the powder or soda well. Cover the pot with plastic wrap so that the moisture won't evaporate and let stand several hours or overnight.

You can sometimes lift the burned portion out of the pot with only a little scraping. If the pot is very badly burned, it may need 2 such treatments.

By joesgirl
Give a "thumbs up" to the solution that worked the best! Do you have a better solution? Click here to share it!
Questions
Here are questions related to Cleaning Burnt Pots and Pans.
How can I clean copper bottom pans that have years of stuff on them?
By RB
---
Most Recent Answer

By Russell A.06/26/2014
I've had good results on my older copper bottom pots using Revere Copper and Stainless Cleaner paste. If you can't find it in your local stores it is available online. It may take more than one application but it will do the job.
I cannot clean my fry pans that are burnt from using the gas too high. I tried all types of cleaners, but nothing works.
By Helen
---
Most Recent Answer

By cybergrannie [30]07/27/2013
Hi - just type - burnt pans - in your Thrifty search area and you will find many suggestions.
We have no baking soda or bicarb either. How else can we remove burned caramel from a pan?
By Becca
---
Most Recent Answer

By blessosu06/24/2014
I left a pan of sugar water boiling to make hummingbird food -- It boiled dry -- what a mess and the smoke was horrible. My husband found the answer -- boil peroxide in the pan! Just bring it to a boil, cover and turn off the heat. Let it set until cool and just use a paper towel to wipe away the black crust! I was amazed!!
How can I clean it? It is very burnt from the custard boiling over in the pan.
By wd
---
Most Recent Answer

By Marianne Scott K.04/18/2014
Put some baking soda in pan, add water. Bring to rolling boil uncovered for a while. Sorry I don't remember quantities or time, but this worked for me to remove burned on simple syrup. Repeat if needed, but it should get it all out.
I burned my copper whistling tea kettle. I can get the outside reasonably clean, but worry about the inside. How do I make sure it's free of nasty stuff inside?

Pat R
By Pat R from WI
---
Most Recent Answer

By Beverly [5]08/04/2010
The acid in the ketchup or tomato sauce would probably work if you can get inside the whistler pot to smear it on. If not, try filling the pot with water, add about 1 tablespoon of baking soda, and let it boil for several minutes. Wash it out and rinse. I know this works on pot that have food burned onto the bottom.
How do I get burned on milk off a T-fal pan?
By grannyearth from PA
---
Most Recent Answer

By Wanda01/05/2010
Boiling water with baking soda for a few minutes works for me.
My pans are greasy and spotted on the bottom. Can I put them in my self cleaning oven? Thank you.
By Dan from Las Vegas, NV
---
Most Recent Answer

By kathleen williams [23]11/04/2009
Lower both your oven racks to the two bottom positions in the oven.
Line the lowest rack with aluminum foil (to catch any drippings from the pan).
Place the cookware upside down the the top rack in the oven.

Bake for 1 hour, turn off oven, and leave the cookware in the oven until it is cooled. Keep an eye on it, if you see a fire in oven turn it off, keep it closed till fire goes out, good luck.


Does anybody know how to easily remove baked on stains from my clear Pyrex bake ware? I soak and scrub to no avail. We have well water, so I prefer solutions that work with that. Thanks - all replies appreciated!

Cathy from Delaware
---
Most Recent Answer

By Chayil (Guest Post)01/04/2009
Soak the gunk in vinegar, scrub a little, and dump out (but don't rinse). Then soak in a baking soda paste, scrub a little, and dump out (but don't rinse). Keep doing that until the gunk is gone.

This works because both products will occasionally work on their own. But also, when switching back and forth without rinsing between the two, they interact in a chemical reaction that produces salt, water, and heat. This is almost always enough to get rid of any gunk.

If the gunk is cooked-on grease or oil, try Dawn Power Degreaser, but only if the above doesn't work. It's a good product in terms of effectiveness, but I'm sure we'd all prefer a less expensive and less chemically harsh solution.
My Revere Ware has sufficient build up of burnt food on the OUTSIDE (sides and bottom) of the pots and pans. There is advice on cleaning the INSIDE not the OUTSIDE - I'm considering using a Magic Eraser but I'm wondering about the copper bottom as well. Would be interested in detailed information. Thanks so much!

Kris from Austin, TX
---
Most Recent Answer

By CatnMouse (Guest Post)07/29/2008
I just picked up a set of Revere Ware copper bottom pots at a yard sale...for $1.00! I cleaned them all up bright and shiny with the same stuff I use on my brass bathroom sink, Cameo copper, brass and porcelain cleaner which costs about $1.25 at my local grocery store.