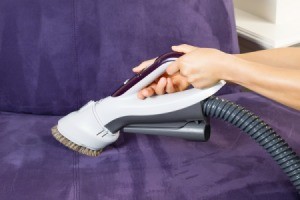 Questions
Here are questions related to Cleaning Stains on a Couch.
How can I get nail polish off of my microfiber couch?
By Kayleigh
---
Most Recent Answer

By Cynthia P.08/24/2013
Had the same problem - my daugher and her friends during a birthday party spilled hot pink nail polish on a brand new sand microfiber couch a few years ago - just tried nail polish remover and I can't believe it worked!
How can I get long term set in stains out of a couch?
By Mandy D.
---
Most Recent Answer

By ComputerScott [1]10/27/2011
What kind of material is your couch?
My neighbor gave me a sofa he no longer needed and I found it has a stain on the seat. It looks like it might be vomit. How do I remove the stain?
By Rachelle from Denver, CO
---
Most Recent Answer

01/12/2011
You can try spray on combination carpet and upholstery cleaner. Woolite has a brand called Heavy Traffic Carpet and Upholstery that might do the trick :-) Call around to different stores like Walmart, Target, etc. to see if they carry it and if I remember right Ace Hardware stores carry it.
How do I remove a nail strengthener (a form of nail polish) from a fabric chair?
By Anne from Portsmouth, NH
How do I remove a sweat stain from a light green microfibre covered couch?
By Geri from Australia
---
Most Recent Answer

By JANNE01/08/2010
I use men's shaving cream (any kind, the cheaper kind is just as good) it works just as good as fabric cleaner and is cheaper. I had pine bark stain on the seats of my car and used shaving cream straight from the can, rub it in, wipe with clean cloth and let dry. Vac if needed. The shaving cream turns to powder anyway. Cleans like a miracle. Test on under side of cushion if you are afraid or unsure of the results. Good luck janne
How do I remove ballpoint ink stains from my ultra suede couch?
By Jane from SC
---
Most Recent Answer

By Jackie [5]11/08/2009
Have you tried hairspray? I've used it on leather and other fabrics, spray then wipe with clean cloth. As always try in spot that doesn't show. I've also had good luck with wd40 on wallpaper and fabrics, even fly specks on a white damask chair.
I am trying to find a product to remove a urine stain from my microfiber couch. The cover is not removable.
By rkueny1
---
Most Recent Answer

By Cyinda [214]09/21/2009
I would recommend one (or both) of 2 techniques. Both work amazingly well! You can try peroxide if your couch isn't a dark color (do a test spot in the back of the sofa first).

The other technique is a product (sold at Walmart & Target) called "out!" it has a light vanilla scent & works with enzymes that actually "eat" biologicals. Just spray the out! on to the couch & make sure it gets down into the sofa's filling material, then cover with plastic wrap (it only works when it's wet) then blot & repeat. This stuff is amazing! You can use any brand of pet cleaner that has enzymes in it, I just don't like the ones with a strong floral scent.

* No need to rinse with either product, but you can if you want. I would take a soft brush & "brush" the couch after it totally dries. If the nap is still "flat", just spray lightly with a light mist of water & brush again.
How do I get makeup stains from a microfiber couch?

Mary from Tampa, Fl
My two year old spilled a whole bottle of purple-ish fingernail polish on my new suede couch. The tag on the couch says to use water based cleaners to clean it. The couch is a blue/gray color. Any feedback would be greatly appreciated! PLEASE HELP!

Ashley from Arkansas
---
Most Recent Answer

By faith [5]08/29/2007
Try using a soft old toothbrush and aceton. dip the tooth brush in aceton and in circular motion do a little at a time be sure to rinse the brush out often.
I believe it is cotton. I tried nail polish remover, and although it did not remove the color on the fabric butit didn't remove the nail polish either. Any suggestions you may have would be greatly appreciated!

Katrina from Liverpool, PA
---
Most Recent Answer

By Belen W (Guest Post)02/01/2009
So guess what? I slept in today and my one year old and two year old got into my nail polish. They picked the color ORANGE and decided to make an art project out of my mother in laws couch. The couch is blue...micro suede...great right.....and I came on this site too see if I could find something to take it off with the only thing that would work is Wet nail polish, and still left the couch shinny now.

Oh well guess ill have to buy a couch slip or another couch. I tried acetone, rubbing alcohol, wet cloth...everything you could think of. Well guess what I'm doing with my tax return. lol Oh and to make it worse, it's all over my one year old too, and there isn't anything I can do about it because she's a baby except for wet nail polish or let it come off by itself. I know it sounds horrible, but my husband was considering leaving me for this. Laugh it up... I know I'm laughing....
What will take food grease out of fabric on a couch?

Misty from Raleigh, NC



---
Most Recent Answer

By Lynda (Guest Post)09/23/2006
Depends upon the fabric content/color. If all or half Poly, try Ivory Liquid/warm water and terry rag, then blow dry. If some came out, but the fabric is colored,
keep trying. If no results, blow dry again and try alcohol and terry rag. Blow dry. If red sauce stain, or reddish grease, it might not come out unless you have a white couch/sofa. If white, spray K2R Stain Remover, blow dry hot 30 seconds, then brush Stain
Remover out as it turns to powder when dry. Good luck and God bless your labor. : )
We have a nail varnish stain on our Channile armchair that has dried. Does anyone have an idea how to remove it?
---
Most Recent Answer

By Graham Terry [1]02/03/2006
very helpful! I did mean remove the stain.
I have a set of cream/denim striped couches that are several years old. They have awful sweat stains. How do remove these stains? Oh how I wish I could throw the couches into the washing machine!

Roni
---
Most Recent Answer

By lalorch (Guest Post)06/15/2008
I use a tea tree oil soap scrub. Then I febreeze the heck out of it. If you can move the item into the sun for a time that is helpful too as the sun rays will also help kill bacteria which cause the odor.
Any ideas on how to get hand moisturizer stains off a bomber leather sofa.

Michelle
---
Most Recent Answer

By Marsha (Guest Post)09/27/2006
My dog has rubbed her back with flea oil solution on my leather couch. Help????
Solutions: Cleaning Stains on a Couch
Do you have knowledge about this guide topic? Feel free to share a solution!