October 11, 2007
1

found this helpful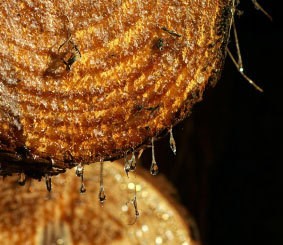 Tips for removing pine sap or pitch from your hands as posted by the ThriftyFun community. Post your own ideas here.
Toothpaste
While arranging some pine boughs in a vase as a centerpiece, I ended up with pine sap all over my hands. I tried soap, Dawn, scrubbed, and scrubbed, nothing worked - still sticky.
I went upstairs and got some toothpaste (not the gel kind) and put a quarter size dollop in my hand, then added a bit of water. Washed my hands like you normally do and the pine sap was gone - no sticky!
By Jenny in KY
Pam Cooking Spray
My son in law told me to use Pam, or something similar, to remove tree sap from my hands and he was right. It came right off.
By Granfran
Pam Works In 10 Seconds
Pam works fast and it does not hurt from scrubbing. I could not remember where I read butter, but after looking at Pam, and having tried many of the above solvents: Dawn, toothpaste, Joy, Grease Monkey, tar soap, baking soda, finger nail polish remover in the past. I decided to try the internet first this time.
Pam non stick food spray! 10 seconds, and soft clean, smooth hands!
By Katylin
Nail Polish Remover
My mom always used fingernail polish remover. I've heard you can use petroleum jelly as well.
By Sachi
Lestoil Cleaner
We have always sworn by Lestoil.
By japhysimon.
WD-40
While working at a florist shop, we used WD-40.
By JODI
Cooking Oil
To get "Pine Sap" off your hands, put a small amount of cooking oil on your hands just enough to coat your hands. Then rub your hands together for about 1 whole minute or so. The pitch will loosen up and once it does you can then wash it off with soap and water. Repeat if necessary. Works great!
By Luckyluke
Peanut Butter
I've found That peanut butter works best at removing pine tar from your hands. Put a little dollop in your hands, wash and rinse as usual with a little warm water and your good to go.
By C.M . Mang
Oil Is The Key
The peanut butter worked great for me! I think any oil based product such as butter, Pam or any kind of cooking oil will do the trick, too.
By Michelle
January 19, 2017
0

found this helpful
I have done a fair bit of logging. Naturally, you wear gloves, but now and then they have to come off for various reasons, and you get sap onto your hands. If you don't get rid of it, you will have blisters, because the gloves don't slide on the sap and pull the skin.
If you are in the bush, hours from town, you can't run upstairs to get toothpaste or similarly silly concoctions.
Loggers carry a small hip pocket size can of OFF mosquito spray, even in winter. One quick squirt, and one fast wipe of the hand onto the jeans, and the sap is gone.
OFF does not leave an oily residue. The hands are clean and ready for work in 2 seconds.
By the way, I have been hit by my Million mosquitos and they don't like me anymore. I have not needed to spray the OFF on me as a repellent since the mid 80's.
Have FUN!
DearWebby
Read More Comments