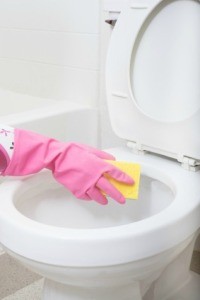 Ammonia is a common cleaning agent found in many cleaners you buy at the store. It can also be purchased as a stand alone cleaner. This is a guide about cleaning with ammonia.
Solutions: Cleaning With Ammonia
Read and rate the best solutions below by giving them a "thumbs up".
Keep carpet cleaning simple. I have a small steam vacuum. I have always had trouble rinsing out soap residue on carpet areas even when using very little soap in the cleaner. Recently I tried adding a little ammonia to the water instead of soap. I found that it did a terrific job cleaning, produced no ammonia odor, dried very quickly, and required no rinsing. All of which made my job much easier. I would highly recommend this procedure.
By Marie from West Dundee, IL
I'd tried everything, including tips from this site and was about to give up and tear out the carpet where my 1 year old silver tabby had sprayed AND peed in the corner of my closet, on my brand new carpet. I thought I'd give it one more shot and poured nearly half a bottle of sudsy ammonia in that entire half of the closet! AND IT WORKED!

No more gagging smell, nothing! And best of all, Sparky has decided that he is done with spraying and peeing inside the house, and he will not even enter that closet at all now!

I placed a table fan blowing on the carpet to dry it and since it is commercial grade, rubber-backed carpet, the whole process took less than a day. I was quite fortunate to not have to go more drastic and replace the carpet squares, and the cat!

SUDSY AMMONIA saved the day for us! Hope this works for someone else, too.

By Terry from Homer, AK
I used to be a housekeeper for an apartment complex years ago, and when we had to get rid of any type of hard to get out food or pet stains we would make a 2/3 milk 1/3 ammonia mixture. Use right away and dispose of the rest. Pour it on the stain, let it soak in for about 30 seconds, wear rubber gloves, and the stains will come out! Remember to have a fan blowing or a ceiling fan speed on high. This will help with the little bit of ammonia fumes that may give you a headache or cause your eyes to water a little bit. And it will, it's ammonia!
By Tisha41 from Pearland, Texas
Putting a bowl of straight ammonia in a corner of a room will clear the room of any bad odors, and you don't smell the ammonia.
To clean the toilet, I use ammonia. I use a brush to get it all over the toilet bowl. Then I let it stay there for a few hours, or overnight.

By Kathleen from Dothan, AL
To clean an oven, fill a glass baking dish with ammonia and place in a cold oven overnight. The next morning, remove ammonia and wipe down sides with wet cloth. The fumes from the ammonia will have cut through the grease and come off with ease.

Source: My husband's Grandmother.

By Debbie from Hampton, Tennessee
In Praise of Ammonia: Ammonia is wonderful for cleaning and cutting grease and is very inexpensive to use. Mix half and half with water in a spray bottle, spray, then watch the ammonia do the work, it's amazing how well it cuts grease so quickly. I haven't found anything yet that it doesn't work on, just DON'T mix ammonia with bleach, EVER!

You can also put it in a glass bowl in your oven over night and just wipe clean within 24 hours. (Really messy ovens may take longer.)

By Bea

Editor's Note: Ammonia is the active ingredient in many bottled cleaners. Make sure you use it with ventilation. It is great for removing old wax from linoleum floors, too.
Give a "thumbs up" to the solution that worked the best! Do you have a better solution? Click here to share it!
Questions
Here are questions related to Cleaning With Ammonia.
I am trying to get information on the occupational exposure limit to the usage of the ammonia agent in a hospital setting. I am concerned at the rate of sub-standard products used in my institution and in turn these affect our staff adversely. There is a 'pine gel solution used with unspecified level of ammonia in it. Most staff are complaining about its health effects on them especially those with asthma and other chest ailments.
By Tebogo C.
Will ammonia get hair dye out of clothes?
By Barbara
Can I use ammonia in a steam cleaner that gets very hot, with no water added?
By Maryann
---
Most Recent Answer

By Jacoma E.03/11/2014
But I definitely would not recommend using it undiluted in a steam cleaner - definitely mix with water.
Please can anyone tell me if I can use ammonia in my dishwater to wash my dishes and if so how much do I use?
By Anita from Saskatoon, SK
---
Most Recent Answer
12/06/2012
Restaurants have been using ammonia to wash with dishes for years. In fact, they use an ammonia/water mixture with nothing else in it. If you look on a bottle of antibacterial soap, the active ingredient is ammonia. The part they don't tell you about antibacterial soap diluted in dish water is that you would need about a quarter of the bottle mixed in with a full sink of water for the mix to be potent enough to kill bacteria. That's expensive! To get around that, many restaurants simply use the active ingredient, ammonia, to wash dishes because it's extremely inexpensive compared to dish soap.

By the way, the only real household item you're going to have on hand that's dangerous to mix with ammonia is bleach. That mix is definitely lethal if you breath it for too long.
I recently read a tip about mixing ammonia and something else, maybe vinegar, in a spray bottle to touch up soiled areas on the kitchen floor without doing the entire floor. I can't recall what the other ingredient was nor what the mixing proportions are. Does anyone know? Thanks.
By Cindyh from IN
---
Most Recent Answer

By tattedsexygirl251004/08/2014
I use really hot water and lemon juice with lemon scented ammonia. Also, I have had no issues with discoloration. My carpet it a dark tan/ light brownish color. I use approx half cup lemon ammonia, 2-4 teaspoons of lemon juice and the rest hot water.
Archives
Thrifty Fun has been around so long that many of our pages have been reset several times. Archives are older versions of the page and the feedback that was provided then.
My carpet is really dirty. It is supposed to be cream colored, but it is more like brownish-cream. I have a home carpet cleaner and have used it, but my carpet still looks dirty. I want to try an ammonia solution, but I am not sure? I need some more suggestions to clean the whole carpet.
Kapas from ID
---
RE: Using Ammonia to Clean Stains from Carpet
No, if I were you that is the wrong thing to use. It will leave a urine smell unless you get it all out. Here is a good thought. Sears, etc. has really good specials this time of year. No, I am not an employee. They will do several rooms for around $75.00 or less and they have a great water extractor system.
It would be a good idea to have a pro do it and then ask them for their advice on home touch-up in between their visits. You might not ever need them after that. Good luck. (12/13/2007)
By MaryBelle
RE: Using Ammonia to Clean Stains from Carpet
Ammonia may also change the color of your carpet. I wouldn't use it if I were you. Purchase a product that is especially made for carpets. You should be able to get this at any hardware store, but if not, try a place that rents out carpet cleaners. They should sell you the product that they use in their machines. (12/13/2007)
By louel53
RE: Using Ammonia to Clean Stains from Carpet
I found this tip on another site and thought it would be worth trying as vinegar is good for so many things. Bring out the color in carpet by brushing it with a solution of 1 cup white distilled vinegar for every gallon of water. Always test on an inconspicuous (out-of-sight) part of the carpet beforehand. (12/16/2007)
By carnation037
RE: Using Ammonia to Clean Stains from Carpet
Using ammonia to clean stains is a last resort, but I do have a formula it is 2 steps: 1 tbsp. ammonia to 1/2 cup water, 1 tsp. colorless dish washing liquid to 1 cup lukewarm water. You will smell the ammonia so I would add a step and use Fabreeze with hot water.
I have found that using 1/2 white vinegar and 1/2 hot water takes out most stains plus the vinegar smell goes away when dried. For shampooers use: 1 scoop Oxiclean, 1 cup Fabreeze, 1 cup vinegar and the recommended hot water. Will do a great job. (02/08/2008)
By Trish
RE: Using Ammonia to Clean Stains from Carpet
Any kind of shaving cream. I use the cheap stuff to clean my carpets and also my running shoes. Try it in an inconspicuous spot first to make sure it wont effect the color of the carpet. (08/27/2008)
By Michele
I recently used 1/2 cup ammonia and 1/2 cup water mixed to clean up my dog's red vomit. I heard of it through a friend that had used it before. After I sprayed it on, I ironed it and the stain came right out.
Now I'm worried the next time I have my carpets cleaned it will discolor the carpet. Will ammonia discolor immediately or will it happen over time and especially after a deep cleaning? Please help.
By oh no! from Fort Wayne, IN
---
RE: Using Ammonia to Clean Stains from Carpet
I read if you have pets to never use ammonia to clean up pet messes (especially for cats) because the ammonia smells like urine (because urine turns to ammonia) and the smell confuses the animal and makes them want to pee there. *YIKES!*
Next time your dog vomits, first try an Enzyme based cleaner like "OUT!" (Walmart $4.79 in the pet care area) or Hydrogen Peroxide (just pour or spray either of them on, then wait 20 min and repeat if necessary). Simply amazing (both of them)!
You know, I doubt it will discolor your carpet if it hasn't already happened. But it depends on what your carpet is made from, is it wool or synthetic? Berber or pile (berber has the color all the way through the fiber)?
To be extra sure your carpet won't fade or change color, the next time you clean your carpet, don't use the traditional "Steam Clean" method. Use a better "Dry-cleaning" method. This way no mold will form from the wetness in the under-pad. You won't believe how wonderfully clean your carpets will look!
ALL ABOUT RUG DRY-CLEANING: Read my tip here:
http://www.thriftyfun.com/tf64314351.tip.html Go to the below URL and read hint # 6 on my post (by Cyinda)
http://www.thriftyfun.com/tf94067887.tip.html
PS. My daughter melted her carpet by trying to iron something on it. So all of you out there be careful! Synthetic carpeting melts! (08/13/2009)
By Cyinda