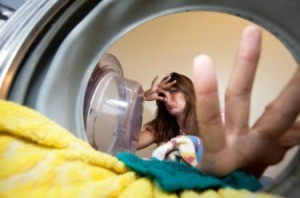 Stubborn odors sometimes develop in clothes washing machines. This guide is about cleaning a smelly washing machine.
Ad
---
Solutions: Cleaning a Smelly Washing Machine
Read and rate the best solutions below by giving them a "thumbs up".
Hello, I live in Australia. We use litre measurements here.
Turn machine on, fill with warm water (full load level) and add a bit more than 1/2 gallon of the cheapest vinegar available. Let the machine finish its cycle. I sometimes move back the timer to wash again.
Do this twice a year. It takes out soap scum build up and also disinfects and deodorises interior. Go ahead as usual with your next wash.
Give a "thumbs up" to the solution that worked the best! Do you have a better solution? Click here to share it!
Questions
Here are questions related to Cleaning a Smelly Washing Machine.
Just recently my three year old machine has begun to smell really disgusting on the hot wash. I ran Calgon through it, no good. My daughter suggested trying a biological detergent in an empty machine ( I can't wash with a bio, it makes me itch). No good. I've also checked the drain. I don't want to buy a new one if I can avoid it, but doing the washing in the sink is hell. I'm desperate. Any ideas?

By Marg
AnswerWas this interesting? Yes No
Ad
---
---
Most Recent Answer
---
I am getting smelly washing from a Bosch washing machine. Any advice?

Glyn from Birmingham, UK
AnswerWas this interesting? Yes No
Ad
---
---
Most Recent Answer
I have the same problem with this smell with my Bosch. But I am very sorry to say, I wipe the rubber part of my machine dry after every wash and I leave the door open after every wash, in just thinking (have never heard of this problem before) to keep the rubber part dry, just in case it might cause mold some day. And still my machine has developed this odor. I purchased the Affresh tonight at Sears and im hoping this works. If not, I do plan on checking for water storage (if I can find the drain plug & ect and possibly using the baking soda and vinegar. Thanks so much for everyones help.
I moved into a long term rental in September with a state of the art HE washer and dryer. The previous owner loved using extremely scented detergents, scent boosters, etc. I am very very allergic and I have not found anything that has worked in getting the conflicting scents out of the washer and dryer. We don't use the washer and dryer because every time we run the washer, I have another allergy attach. Please help.
By Katie from San Francisco, CA
I cannot get rid of the smelly odor coming from my washing machine.
By dndfox1998
My washer broke and I thought all the water was out of it. Well the landlord told me he would go get it fixed and now I have nasty build up and a nasty stink. Please help. I have three kids and need to do laundry. lol
By Sandra
Archives
Thrifty Fun has been around so long that many of our pages have been reset several times. Archives are older versions of the page and the comments that were provided then.
I have a Bosch washing machine and it's started to smell and make the wash smell after it's washed it of 'nappies'. I have cleaned all the rubber bits around the drum and the soap drawer. I have tried using different soaps, I don't use conditioner. I have run it on it's own with a bit of bleach and whilst that works for a day or two the bad smell comes back very quickly. Any ideas?
Deb
Answers:
RE: Bosch Washing Machine Smell
Try running vinegar or baking soda through on an empty cycle, usually that will kill any odors in machines. I used to run a 1/2 of vinegar in the rinse cycle with diapers, it helps keep them soft on little behinds too! You can also use the downy ball with vinegar. I couldn't belive how well it worked! If the smell persists I'd check the water lines running to the machine, there might be something built up on the insides of the hoses that's causing the smell!
Good Luck!
(07/26/2005)

RE: Bosch Washing Machine Smell
It would help to have someone clean the pump. Usually it is a matter of opening a hose clamp and pulling it off the pump. Clean the inside and put the hose back on.
If something is stuck in there you can put a water hose in the drain hose and force water back up into the machine. Be sure you have the hose back on the pump though. In fact try this first.
(07/26/2005)

By siris
RE: Bosch Washing Machine Smell
Thanks for your replies... I will try the vinegar and baking soda solution this weekend. After reading bits from this site I never realised how many uses vinegar has!! (07/29/2005)

By Deb
I am getting smelly washing from a Bosch washing machine. Any advice?