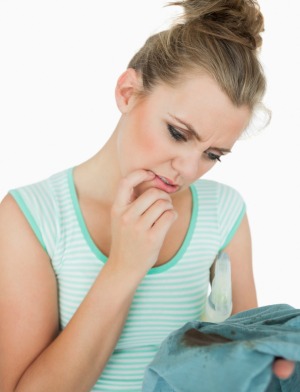 I have a 2 year old Kenmore Oasis top load washer. Over the past year or so my husband's white tee shirts and shorts have been coming out of the wash with mysterious light brown stains, like oil stains. I don't use bleach on them, even though the label says I can use non-chlorine bleach. I wash them with Arm and Hammer liquid. I always put the soap into the dispenser.
I would think if the soap were the cause the stains would be blotchy. While there are a few blotches, there are also stains that appear as though the staining agent had been drizzled on the shirt. The stains will not wash out. Last week my husband put seven tee shirts, all less than a year old, in the rag bag because they were too stained to wear. I don't believe it is the water because we have a water softener.
By Pat from Lake City, FL
Answers

June 4, 2009
0

found this helpful
Best Answer
This has happened to me twice over the years and both times it was oil leaks from the washer and it needed servicing. It was the oil seal that needed replacing.

April 17, 2010
0

found this helpful
Best Answer
Yes, I too have been very confused as to what my husband does with his beautiful white singlets. They look like he has wiped his dusty car down with them. Turns out it is commonly known as "SCUD" which builds up inside you washing machine, usually because of using fabric softeners.
I have tried all the treatments recommended, but alas, nothing really seems to work. The SCUD is way down in parts of the machine you cant get to and results in these brown stains on your white clothing. I am buying a new machine and never using fabric softener again!
Answer

this Question

My white dish towels and wash cloths are coming out of the dryer with orange-brownish stains on them. What on earth could be causing this and what can I do?
Answers

July 26, 2019
0

found this helpful
You could have a worn front door drum deal and that is rubbing off on the items.

Pghgirl40
Bronze Feedback Medal for All Time! 196 Feedbacks
July 26, 2019
0

found this helpful
There was rust in the drum before I kicked my dryer to the curb causing this to happen to everything I dried. I don't know if that is fixable, in my case it was the final straw and I ditched the dryer.
Been line drying for years now. If you have a dryer repair person you trust, ask for their guidance. Post back with an update.

July 26, 2019
0

found this helpful
Previous suggestions are probably correct.
How old is your dryer?
You can ask your local Sears Service center as they service all types/brands of machines and they can tell you if it can be fixed.
They may try to send out a service man but tell them you need to know if it just needs part (a service call would be expensive).
Google Sears service center with your zip code.
July 27, 2019
0

found this helpful
Look carefully slowly wiping inside of drum with a white towel. Possibly a pc. of crayon or something left in a pocket while washing that fell out&stuck to drum while drying.
I had this happen.

July 27, 2019
0

found this helpful
Carefully look & slowly wipe areas with white towel to find the spot. It could be a pc. of crayon or something from a pocket missed in the wash that fell out&heat melted onto drum. I had this happen.

attosa
Diamond Post Medal for All Time! 1,246 Posts
July 28, 2019
0

found this helpful
Could be a bit of rust on the inside of the unit. Inspect it and try to and find the rust. Unplug the machine and clean the area with a baking soda paste and rinse.
Answer

this Question

My husband got a used washer and dryer on Facebook two years ago. All of the sudden oil-like stains started appearing on a ton of our clothes. I'd clean out the machine, switch up detergents, I don't user fabric softener and still got stains. Recently, we decided it was probably the washer so we got a new machine.
I thought we were in the clear when all of the sudden I washed a brand new pair of kids leggings and, alas, a small oil stain!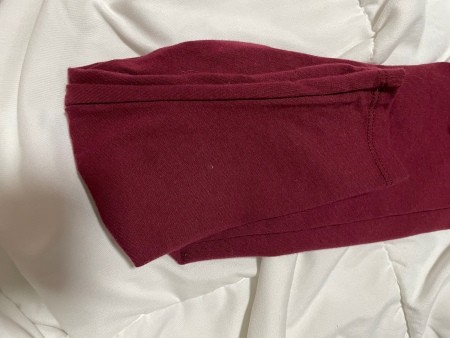 I've never dealt with these prior to two years ago. Please anyone who has any insight. HELP!
Answers

September 7, 2022
0

found this helpful
It sounds like there is something in the pipes or the water supply. Get a plumber's advice.

September 7, 2022
0

found this helpful
Some detergents contain dimethyl polysiloxane. It is a type of dissolved silicone oil which can cause oily spots on clothes before it has completely into the water. Check your detergent to see if it contains dimethyl polysiloxane, I think you have changed your washing machine but continue to use the same detergent in the same way.
Use a laundry detergent that doesn't have dimethyl polysiloxane, or dissolve it in water first, before adding it to the machine.
Read More

Answers

My washer leaves brown streaks on the clothing, almost like lines. What causes this?
Answers

Ana
Bronze Post Medal for All Time! 140 Posts
October 20, 2019
0

found this helpful
Wipe down the inside with deluded white vinegar and water,then run a cycle with just bleach. This will help!!

October 20, 2019
0

found this helpful
You could either have brown water or rust in the pipes.

poehere
Bronze Post Medal for All Time! 105 Posts
October 20, 2019
0

found this helpful
This could be an issue with something that was washed in the machine before or you have rust in your pipes. I would give the machine a good cleaning and see if it has a self cleaning cycle. If not then you need to clean it yourself with vinegar and water.
Run a cycle with a lot of bleach in the water and then wipe it out again. You should also check the color of the water when the machine is running. If you see brown water then you need to get your piipes checked for rust.

October 29, 2019
0

found this helpful
This could be caused by a number of things but a picture would help.
Also, has this happened more than once or was this a one time occurrence?
If a one time occurrence do you remember having extra soiled clothing in this wash?
Do you have well water or city water?
Are the streaks on all the clothing or just certain types of material?
Are you using any type of new soap or fabric softener?
So many variables.
Maybe some of the suggestions listed by others will work.
Answer

this Question

I'm hoping someone here can help me with a solution to my washing machine issue! I've had it a few months and ever since day one it's been leaving random marks/stains on my dark colours.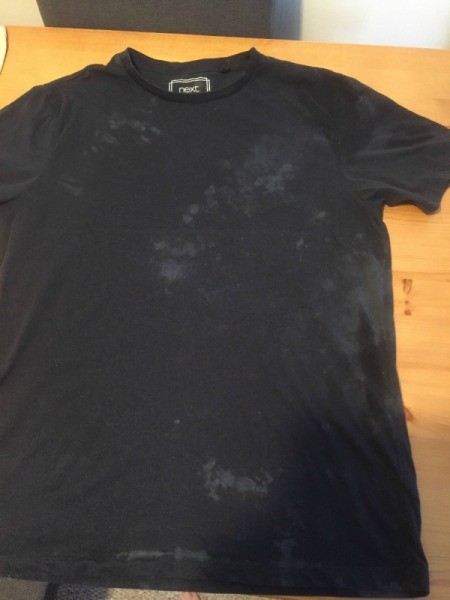 They look like bleach marks to me, but I don't use any in the machine. I've tried to lower the temperature, not use the built in dryer, and now have thrown out my old liquid to try another brand. But still the stains appear and as you can see they ruin my clothes.
I'm out of ideas, can anyone here give me any insight into my problem?
Thanks for any help.
Answers

June 17, 2016
0

found this helpful
Did you get it new? Is it under warranty? What is the maker?
I wonder if you can't contact the maker and ask if they've ever heard of this and what to do.

June 17, 2016
0

found this helpful
It's an Indesit machine I purchased new from AO so it should be under warranty. I've sent Indesit an email and am waiting a reply.

June 18, 2016
0

found this helpful
Okay. I just never heard of that, if you've never used bleach in it. Because that does look like bleach. Maybe somebody else here has had this problem.

June 18, 2016
0

found this helpful
I've been using the Eco mode on the machine and I've been told this may not been rinsing the clothes enough, so will try using the full wash to see.
Thanks for the replies.
Answer

this Question