I have a 2 year old Kenmore Oasis top load washer. Over the past year or so my husband's white tee shirts and shorts have been coming out of the wash with mysterious light brown stains, like oil stains. I don't use bleach on them, even though the label says I can use non-chlorine bleach. I wash them with Arm and Hammer liquid. I always put the soap into the dispenser.
I would think if the soap were the cause the stains would be blotchy. While there are a few blotches, there are also stains that appear as though the staining agent had been drizzled on the shirt. The stains will not wash out. Last week my husband put seven tee shirts, all less than a year old, in the rag bag because they were too stained to wear. I don't believe it is the water because we have a water softener.
By Pat from Lake City, FL
Answers
June 4, 2009
0

found this helpful
Best Answer
This has happened to me twice over the years and both times it was oil leaks from the washer and it needed servicing. It was the oil seal that needed replacing.
April 17, 2010
0

found this helpful
Best Answer
Yes, I too have been very confused as to what my husband does with his beautiful white singlets. They look like he has wiped his dusty car down with them. Turns out it is commonly known as "SCUD" which builds up inside you washing machine, usually because of using fabric softeners.
I have tried all the treatments recommended, but alas, nothing really seems to work. The SCUD is way down in parts of the machine you cant get to and results in these brown stains on your white clothing. I am buying a new machine and never using fabric softener again!
Answer

this Question

...
I'm hoping someone here can help me with a solution to my washing machine issue! I've had it a few months and ever since day one it's been leaving random marks/stains on my dark colours.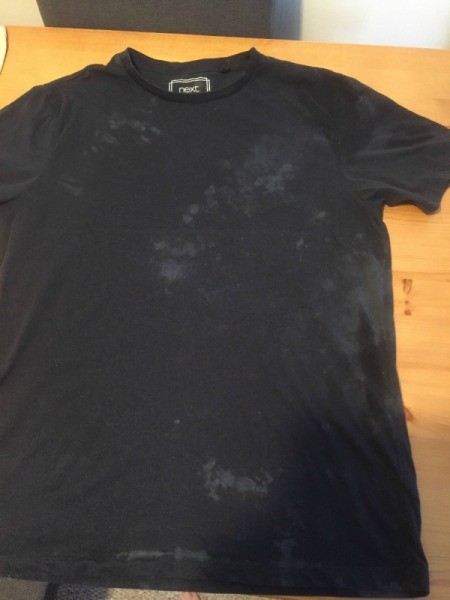 They look like bleach marks to me, but I don't use any in the machine. I've tried to lower the temperature, not use the built in dryer, and now have thrown out my old liquid to try another brand. But still the stains appear and as you can see they ruin my clothes.
I'm out of ideas, can anyone here give me any insight into my problem?
Thanks for any help.
Answers
June 17, 2016
0

found this helpful
Did you get it new? Is it under warranty? What is the maker?
I wonder if you can't contact the maker and ask if they've ever heard of this and what to do.
June 17, 2016
0

found this helpful
It's an Indesit machine I purchased new from AO so it should be under warranty. I've sent Indesit an email and am waiting a reply.
June 18, 2016
0

found this helpful
Okay. I just never heard of that, if you've never used bleach in it. Because that does look like bleach. Maybe somebody else here has had this problem.
June 18, 2016
0

found this helpful
I've been using the Eco mode on the machine and I've been told this may not been rinsing the clothes enough, so will try using the full wash to see.
Thanks for the replies.
Answer

this Question

...