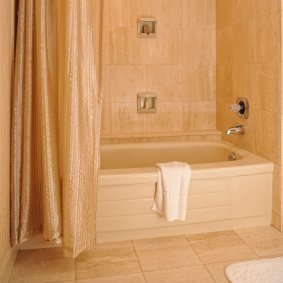 A textured bathtub can pose some trouble when cleaning it. Mildew and soap buildup can get trapped in the texture, requiring some extra scrubbing. This is a guide about cleaning a textured bathtub floor.
Ad
---
Questions
Here are questions related to Cleaning a Textured Bathtub Floor.
I have a textured bathtub floor that I can not get clean. My mom has the same type of bathtub, and between the two of us, we can't find anything that will clean deep down in the grooves of the textured surface.

My mom's tub isn't used that much, but mine is in our master bath. It looks absolutely grungy down in the grooves and nice and clean on the sides that I can clean easily. Any suggestions would be greatly appreciated!
Ad
---
---
Most Recent Answer

By Judith Brandes (Guest Post)09/11/2008
Thank you everyone! We are going try some of your methods.

Judy in Florida
How do I clean the non slip grooves on the bottom of my bathtub? Even after scrubbing, they still look dirty.
By Rhona from Scotland
Ad
---
---
Most Recent Answer

By Totallytom09/30/2014
Gel gloss. Comes in a pink can and is the best for fiberglass tubs and showers, kitchen counter tops, and solid surfaces like Onyx. Do not buy the aerosol as it always clogs.
I have fiberglass tubs that are a "pebbled" texture. Dirt and stains get ground into the surface and I can't get them out. I've tried everything, Magic Eraser (too much work, plus it takes about 10 to do one tub), fiberglass cleaner, etc. Any suggestions?
By Miki from OH
---
Most Recent Answer

By anne [11]02/27/2010
Try Soft Scrub
My aged permanent shower mat looks dirty with no success of cleansing it. I have used bleach, baking soda, and professional cleansers and still no success.
By Julie
Solutions: Cleaning a Textured Bathtub Floor
Do you have knowledge about this guide topic? Feel free to share a solution!
Archives
Thrifty Fun has been around so long that many of our pages have been reset several times. Archives are older versions of the page and the feedback that was provided then.
I clean houses on weekends and one house has 2 tubs and a shower that have a rough texture in the bottom. It's not even 2 years old and they are all stained. The rough texture is made to be there. It has the look and feel of those sticky things you put in your tub so that you won't slip, except it is on the whole floor of the tubs and shower.
I have tried Clorox, peroxide, peroxide and baking soda, Clorox cleanup, folex, pine sol, 409, dishwasher liquid soap, and have let most soak before trying to remove, but nothing has worked so far. Any suggestions?
suzi_homemaker01
---
RE: Cleaning a Textured Tub
We have these kinds of tubs in the assisted living center where I work and I found the best thing to use is a Mr. Clean Magic Eraser. It works great! (03/26/2005)
RE: Cleaning a Textured Tub
I agree with the Mr. Clean Magic Eraser. It will probably take some elbow grease the first time, but the rest is just maintenance. (03/26/2005)
By Kathy
RE: Cleaning a Textured Tub
I have read on some other tip pages to use oven cleaner from the dollar store. One lady who said she cleans houses for a living swears by it. (03/26/2005)
RE: Cleaning a Textured Tub
Oven cleaner can work and shouldn't harm the tub. And yes, I have found some of the dollar store versions of oven cleaner work BETTER than Easy-Off! (03/27/2005)
By truerblue
RE: Cleaning a Textured Tub
I would proceed with extreme caution if the tub is fiberglass. Oven cleaner may destroy it. Just my 2 cents. (03/28/2005)
By beanygurl
RE: Cleaning a Textured Tub
Bar Keeper's friend! I get it at Walmart, Raley's, and I think I've seen it at Rite-Aid. $1.70-$3.00. It's my main cleaning tool. I could never be without it. Try it and you'll see! :) (03/28/2005)
By jjager
RE: Cleaning a Textured Tub
Try any shampoo. I got this from another tip site and it really works. I've used it on fiberglass and regular tubs, just dab some on a scrubber or whatever you use to clean a tub and see the results. Let me know if it worked for this particular tub. (03/29/2005)
By bigbee56
RE: Cleaning a Textured Tub
I have the same kind of tubs and the only thing that I have found that works is Soft Scrub and a stiff brush that is made to clean the tubs (03/29/2005)
By barfydoogin
RE: Cleaning a Textured Tub
Mr. Clean Magic Eraser cleans those textured tubs better than anything on the market. (03/31/2005)
By Mary
RE: Cleaning a Textured Tub
Mr. Clean Magic Eraser on textured tubs. (03/31/2005)
By hazellberry
RE: Cleaning a Textured Tub
I agree with the magic eraser, but is there something else out there without using elbow grease? (05/07/2008)
By cindy
RE: Cleaning a Textured Tub
I have the same problem. I have started to take a toothpick to just remove some of the residue. That is working but is taking way too long. Magic eraser is not working. It just doesn't get into the grooves. I'm going to try something for hard water ie. CLR and let it sit then maybe some drain cleaner. (05/29/2008)
By maria
I have a textured bottom tub. Cleaning it was no use. It was still dingy. Until I cleaned up some spilled shampoo and there was a gleaming white spot! I use Pert, but any should do. Squirt some in the tub and wet a stiff brush and scrub lightly. It spreads and gets the crannies. Let it sit for a while. Rinse. It also leaves a pleasant smelling bathroom.
By Jen from NC
---
RE: Cleaning a Textured Bottomed Tub
I use cheap shampoo that I get on sale or hotel samples (the cheaper, the better!) to clean the bottom of tubs and showers. A squirt of shampoo and a bit of water with a brush does the job. Let the suds stand for a while before rinsing. Just be sure to rinse well so the surface won't be slippery when someone steps in. (05/05/2008)
By sassysimo
RE: Cleaning a Textured Bottomed Tub
I use the Magic Erasers and they work so good. (05/05/2008)
By Tracy
RE: Cleaning a Textured Bottomed Tub
I make natural skin and body care products for a living and am also working on a line of more natural cleaning products for home care. The following recipe is a concoction I came up with that works beautifully in a textured bath tub. We have 2 tubs in our home and the one utilized by our two teenagers is in constant need of TLC.
RECIPE
2 cups baking soda
2 cups liquid soap (I use my own handmade hand soap)
2 TBS white vinegar
4 tsp Tea tree essential oil
2 tsp peppermint essential oil
Mix all ingredients till smooth, pour into an empty clean plastic jar, eg; peanut butter, mayo, or similar. Use as you would "Soft Scrub" and with a scrubber brush or scourer, except no harsh fumes. It won't hurt your skin and will leave your entire bathroom smelling minty fresh.
Please Note: You may have to give the mix a shake before each use. It is also great for sinks, tile, toilet bowls, kitchen sinks, black marks on linoleum and tile floors. Phew! that was rather long-winded, but I hope helpful. (02/26/2009)
By abena