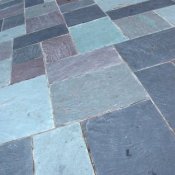 To clean my textured kitchen linoleum, I go over the floor with a little scouring powder and a nylon Scotch Brite pad, then mop it clean. I also have scraped places with a knife in some especially grimy spots. If the floor is cleaned well, then waxed, it collects less grime.
By Judy Stahl from Valley City, ND

I have a tile floor that has a texture to it and I can never get to look really clean. It looks like dirt gets caught in the pattern and I can't get it out.
By G Carolyn from Aubrey, TX
Answers

December 17, 2010
0

found this helpful
I have one too. My grout is white; so before I clean I spray an area with Chlorox clean up and let it sit for a couple of minutes. I use a good mop head with raiser scrubber pattern to get down in the grout and pattern groves. Scrub with hot water & Dawn dish soap; then spray the next area while cleaning the mop and rinsing the 1st area. My floors are beautiful.
I bought a Hoover floor scrubber a couple of years ago and it does an OK job at best, the spinning brushes don't have enough pressure on them to clean well.

December 18, 2010
1

found this helpful
I use a deck brush on my floor every couple of months to get the dirt out. Works great. I wet the floor then scrub it then mop as normal.

December 18, 2010
0

found this helpful
I always use the "Green Cleaners" first before I try anything else. Try washing the floor with 100% white vinegar. Keep the window open if you can while you do this. Once the floor is rinsed and dried, the odor does not linger.
If this doesn't clean the floor, then I'd try a solution of sudsy ammonia and water with a squirt of dawn dish soap. Make sure you rinse the floor thoroughly and keep the window open or an air vent going.

December 18, 2010
1

found this helpful
I used to have a kitchen floor like that and I used a Mr Clean magic eraser mop replacement head on my old sponge mop. The floor looked the best it ever had.
Answer

this Question

Myrna
Bronze Feedback Medal for All Time! 168 Feedbacks
Would laminated "textured stone" flooring reveal streaks after cleaning? I'm interested in buying this pattern for my kitchen, dining and utility room and would hate to have it installed and then learn it streaks. I know that people have posted that some brands of hardwood floor show prints and streaks. I need to know about the textured stone type, if anyone has info on this kind.
Lorelei
Answers
By (Guest Post)
July 11, 2008
0

found this helpful
Nope, just don't use wax on laminate or vinyl of any kind, we did and now very time we mop our floors or water gets on them they have white spots for about 2 hours! Bad looking when company is coming!

Holly
Silver Post Medal for All Time! 364 Posts
July 11, 2008
1

found this helpful
The texturing might trap dirt in the depressions.

July 11, 2008
0

found this helpful
It shouldn't streak after cleaning, provided you follow the manufacturer's instructions to a tee. Check into how to clean the flooring before you buy and you shouldn't be disappointed! You might also ask a sales rep about which products are best to use, and whether there are any natural (for example, Borax) products you can substitute for chemical cleaners.
Another tip: in my experience, all purpose cleaners of any kind clean lots of things, but none of them well.
By Elaine (Guest Post)
July 12, 2008
0

found this helpful
I had the textured laminate that looks like tile but it did not have a raised texture. I kept it streak free by wiping it up with vinegar and water. Vinegar and water is a good cleaner and leaves it virtually streak free.

February 26, 2013
0

found this helpful
I have a large kitchen and two bathrooms, and all of them have laminated "textured stone" flooring. I sweep them all daily, vacuum them thoroughly twice a week with the floor brush attachment, and then use a steam mop, which dries very quickly.
Just about any brand of steam mop will do fine, I spent $60 for mine a couple of years ago, and figure it has paid for itself with the savings in the cost of floor cleaning chemical solutions. It literally does clean up anything, including what my puppy did to that poor kitchen floor shortly after I first got it (yuck!) A real bonus is there is no chemical sticky residue in case you missed a spot when rinsing.
Get one that takes plain tap water instead of distilled water, to save yourself the cost of buying distilled water, or the hassle of distilling water yourself. If you have a lot of flooring to contend with, consider buying an extra mophead cover or two. They wash up well in the washer and can be dried in the dryer, just don't use fabric softener with them as that destroys the effectiveness of the microfiber. And when you're done using the mop, set the mop into an old baking pan or tray to avoid water spots on the floor.

June 13, 2016
0

found this helpful
If you use white vinegar and HOT watery it won't streak. :)

June 13, 2016
0

found this helpful
If you use white vinegar and HOT watery it won't streak. :)
Answer

this Question