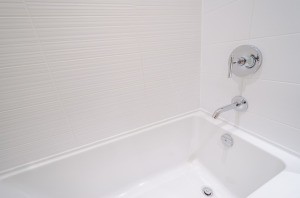 I have a textured bathtub floor that I can not get clean. My mom has the same type of bathtub, and between the two of us, we can't find anything that will clean deep down in the grooves of the textured surface.
My mom's tub isn't used that much, but mine is in our master bath. It looks absolutely grungy down in the grooves and nice and clean on the sides that I can clean easily. Any suggestions would be greatly appreciated!
Answers

September 10, 2007
0

found this helpful
have you tried baking soda?
mr. clean magic eraser?
the magic eraser works great on semi rough surfaces, it works great on the fridge and stove

September 10, 2007
0

found this helpful
i used to work for an apartment complex, and the maintenance workers would use boric acid to clean the tubs. If you decide to use this product make sure you rince the tub before use.
this product can be found at The Home Depot.

September 10, 2007
0

found this helpful
I have had this problem at several of my jobs (I clean private residences) the only thing I found that actually works is kaboom
(The purple container) win the tub is dry spray, let it sit for 2 or 3 minutes, don't let it dry and then take a plastic bristle broom and scrub, you will be amazed how clean that will get the tub.
Babs Ca.
By niftyjessy. (Guest Post)
September 11, 2007
0

found this helpful
Have you tried baking soda and vinegar? First apply one, vinegar probably best, since you want to thoroughly cover the tub flooring. Sprinkle baking soda and let bubble. Put in a little more if you like.
Pour in very hot water, boiling even. Wait a minute or two. Drain tub, scrub, and rinse. You could just scrub with a baking soda and water paste.

September 11, 2007
0

found this helpful
The Works is great for bathrooms. Pour on or spray on, wait a few seconds and it wipes clean instantly with no elbow grease!
By SHAN (Guest Post)
September 11, 2007
0

found this helpful
Use Mr. Clean erasers, I ahve the same type of tub, and that's all I use. I don't even have to use a cleaning solution!
By Marlene (Guest Post)
September 17, 2007
0

found this helpful
We had the tub that was originally put into the house 50 years ago and I could NOT get it clean no matter what I tried. Finally I resorted to pouring a jug of bleach in and filling it with hot water and letting it soak for awhile. That helped but what finally did the most good was oven cleaner. I sprayed it on, let it sit and then washed it down.
About a month ago, I called someone to remove the tub as we were getting new floor covering and a handicapped toilet. He came in with a sledge hammer and within an hour, it was in his pickup and gone!! A new tub cost $97 at Lowe's. And wow! Does it sparkle! PS - I tried baking soda, magic eraser, Awesome, The Works - nothing helped!
By Lisa (Guest Post)
July 24, 2008
0

found this helpful
I have a textured floor in my tub also, and the first thing I thought of, is an eraser pad! The textured tub floors, tear these to shreds. It does NOT work. Sure it works great on any smooth surface that has grime, but not on a textured tub floor!
By Judith Brandes (Guest Post)
September 11, 2008
0

found this helpful
Thank you everyone! We are going try some of your methods.
Judy in Florida
November 29, 2015
1

found this helpful
Try easy off oven cleaner in the blue can. Seems to work best for me!
April 17, 2016
2

found this helpful
I tried this tonight and boom, beautiful white tub! First spray oven cleaner, let set 15 minutes then wet tub. I used the shower head for just a minute to moisten. Then use Mr Clean sponge to scrub and, boom, it's clean!
I'm so excited, I used everything under the sun and it finally worked. I thought I would have to replace my tub to sell my house. Looks brand new.
Read More

Answers

I have fiberglass tubs that are a "pebbled" texture. Dirt and stains get ground into the surface and I can't get them out. I've tried everything, Magic Eraser (too much work, plus it takes about 10 to do one tub), fiberglass cleaner, etc. Any suggestions?
By miki from OH
Answers

February 22, 2010
1

found this helpful
Try this - it works great:
Shower Rinse
32 oz bottle
1C White Vinegar
2T generic dishwasher rinse agent
Fill bottle with water.

February 26, 2010
0

found this helpful
Join the club, I have the same problem. The best solution I have found is to take a stiff bristled brush, and your favorite cleaner and apply good old elbow grease. My in-laws all use the cleaner that hangs on the shower head and you push the button when you want it to spray cleaner in your shower/tub.
I spent three weeks with them and was very impressed with the results. Their shower stayed sparkling clean in a humid climate, south Texas. Thanks for the recipe bacaa1 I am going to try it.

February 26, 2010
0

found this helpful
I used regular gel type toilet bowl cleaner. I poured in into the tub, used a broom to spread and "scrub", let it sit for quite a while (overnight actually) and the next day when I rinsed...it was clean!
Read More

Answers

How do I clean the non slip grooves on the bottom of my bathtub? Even after scrubbing, they still look dirty.
By rhona from Scotland

Answers

July 16, 2010
0

found this helpful
Rhona,
Mr. Clean Magic erasers are the only thing that I have found to really help with spots like that! Otherwise, you can fill slightly with hot water and mix in some bleach overnight. This will likely help for scrubbing in the morning! Good luck!

Grandma J
Silver Feedback Medal for All Time! 270 Feedbacks
July 21, 2010
0

found this helpful
I do the hot water/bleach method and it does not take more than 30-60 minutes.

July 21, 2010
0

found this helpful
Soft Scrub with the Mr. Clean sponge! Always works!

September 30, 2014
0

found this helpful
Gel gloss. Comes in a pink can and is the best for fiberglass tubs and showers, kitchen counter tops, and solid surfaces like Onyx. Do not buy the aerosol as it always clogs.
Answer

this Question