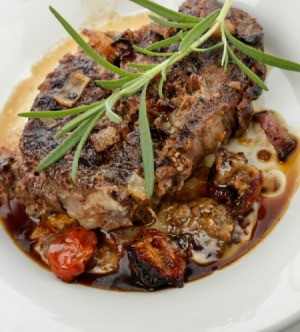 Even less expensive cuts of meat can come out moist and tender when slow cooked with added moisture. This is a guide about cooking a roast.
Ad
---
Solutions: Cooking a Roast
Read and rate the best solutions below by giving them a "thumbs up".
A wonderful, complete meal in one pan. You end up with tender roast beef, bowls full of roasted vegetables flavored with the beef juices, and a delicious pan gravy. There is no specific time to cook it, it's ready when it's ready - when the beef and the veggies are all tender and flavorful.
Ingredients:
1 cheap piece of beef, about 3 lbs. chuck is good
garlic cloves, sliced in half
2 large onions, cut into 8ths
6 stalks celery, chopped in 2 inch pieces
several potatoes, peeled and cut into quarters. For large potatoes, cut into 6 or 8 pieces
4 sweet potatoes, cut in quarters
6 carrots, cut into 2 inch pieces
6 parsnips, cut into 2 inch pieces
flour, enough to thicken juices for gravy
bouillon (I prefer "Better Than Bouillon")
Directions:
There are no specific amounts for this recipe - change them up to suit your family. The amounts I give are what I like.
The garlic is for larding the meat, and will give it a lot of flavor. If you don't like garlic, omit it. Slice large cloves, then saute quickly in a little butter until it is getting a little color, but isn't really softening much. With a sharp knife, cut slits all over the roast that are large enough to stuff with the garlic slices. Push the garlic in with a finger, then squish the slits closed to keep the garlic in. Sauteing it takes the raw, sharp flavor off the garlic.
Heat a roasting pan that is large enough to hold everything and to get the veggies down onto the meat. Once it is nice and hot, add shortening or bacon fat and brown the roast thoroughly on both sides. (A good tip for browning meat is to have the pan good and hot, dry the meat well with paper towels, and, when you add the meat, do not disturb for at least a minute. Following these rules, it shouldn't stick.) Add enough water to come to the top of the meat. Stir in the bouillon. Cover and place in a slow oven, 325 degrees F.
After one hour, turn the meat, and add the celery and onions. Get the celery into the water, but scatter the onions over the meat. Cover and return to the oven for another hour, or until it is just starting to get tender.
This time, turn the meat and push the onions into the broth. Scatter the veggies across the meat, cover, and return to the oven for about 10 minutes. At this point, baste the veggies every 15 minutes until they are nicely tender and beginning to brown a bit. You want them browned, but not dried out.
Remove the roast to the serving platter and cover with foil to keep warm. Remove the veggies with a slotted spoon, well drained, to serving bowls and keep covered. Take about 1/2 cup of the liquid from the roaster and put it in a jar with a tight lid. Leave the lid off - you will want it to be completely cooled when you use it.
Put the roasting pan on the stove top and, if the broth has not cooked down (it probably hasn't), cook it down to concentrate the flavor. This is one secret to delicious gravy. You should be able to cook it down by about half, maybe a little more. Another option is to add some more bouillon, to taste.
To make the gravy, take the cooled broth and add about 2 or 3 tablespoons of flour to it. Put the lid on tight and shake vigorously until it is well mixed and lump free. Reduce the heat under the broth to a bubble and start stirring; add the flour/broth mixture in a steady, slow stream while stirring. If it is not thick enough, shake a little flour into cold water and add until it's as thick as you want. It it's too thick, and a little hot water and return to a nice bubble. Taste and season - be careful with salt since bouillon is salty already.
Cut the meat into serving-size pieces. Serve with the bowls of the veggies and the gravy to pour over all. Goes really well with hot rolls and coleslaw.
Source: I learned this recipe from my mother, Vicy.
By Copasetic 1 from North Royalton, OH
I love a good pot roast, and sometimes I like mashed potatoes with it. I decided to see if I could could whole potatoes with the roast in the crock-pot to flavor the potatoes before mashing them. It came out delicious.
Ingredients:
1 large 3 lb. roast
4 large Idaho or 10 baby Yukon Gold potatoes
1 packet powdered French Onion soup mix
water to cover roast and potatoes
4 oz. sliced button mushrooms
1 tsp. rosemary
1 tsp. thyme
cornstarch
2 Tbsp. butter
chicken broth
salt
pepper
Directions:
Place roast in crock-pot, arrange potatoes around roast and top with mushrooms.
Mix onion soup with 1 cup water and pour over roast. Add more water until roast and potatoes are covered. Add thyme and rosemary. Cook on low 7 hours or until roast is tender. Pull potatoes out and place in a bowl.
Mash potatoes with butter and chicken broth, adding broth until potatoes are the consistency you prefer. Add salt and pepper to taste.
Pour onion soup into a saucepan and bring to a boil. Add cornstarch and thicken into a nice mushroom gravy. Serve meal with your favorite veggie.
By Shannon from Lakewood, OH
I love this because you can use the cheapest cut of beef, and it will become tender and delicious without much effort. It makes an absolutely delicious gravy, which I think is almost better than the roast!
Ingredients:
1 thick, 3 - 4 lb. chuck roast, or whatever is cheap and on sale
6 or so onions, sliced thin
1 can Campbell's Golden Mushroom Soup
1 Tbsp. Worcestershire sauce
1/4 cup wine (optional)
2 cups sliced mushrooms, whatever kind are cheap or you prefer
salt and pepper, to taste
Directions:
Dry the roast off. Heat a skillet or dutch oven large enough to accommodate it over medium high heat. Add a little oil to the pan, and then the roast. Your pan should be nice and hot - the roast will brown faster without sticking. When you put the roast in, wait 1 minute before moving it at all. Check often after this, and when it is deeply browned, turn and follow the same procedure. When the second side is nice and brown, remove the roast to a platter and cover, and turn the heat down a little.
Add the onions - the more the better - to your pan. A little garlic is good, too. Saute them on medium heat until they are just barely starting to brown. Add the Worcestershire sauce and wine to deglaze the pan (for a dish like this, I don't think red or white matters, and you can leave the wine out altogether if you don't have it or want it).
Pour the drippings into the bottom of you crock pot. Put your roast on top, and scatter the mushrooms over the roast. Season with pepper (I don't add salt until it's done) and, if you like, some herbs. Pour the soup, undiluted, over top, spreading it over the whole thing. Put the lid on, and cook on low for 6 to 7 hours, depending on your cut of meat.
To make gravy, put the roast on a platter and cover to keep it hot. Turn the heat to high in the crock pot, and get the onion and mushroom gravy bubbly. Adjust the seasonings. If the gravy is a little thin, I thicken it with cornstarch.
This is really good with mashed potatoes or noodles. The mushroom-onion gravy is out of this world!
Cooking Time:
6 - 8 Hours
By Copasetic 1 from North Royalton, OH
Best pot roast I've ever made!
Ingredients:
Small to medium size rump roast
1 envelope onion soup mix
1 envelope brown gravy mix
1 individual size serving apple sauce
2 cups water
salt and pepper, to taste
1 small bag sliced carrots
2 medium to large size potatoes, cut up
1/2 yellow onion, sliced
1 stalk celery, sliced
Directions:
Sear the roast in frying pan with small amount of oil. Sear it well on all sides.
Put roast, then vegetables in crock pot. Mix envelope mixes with water and applesauce, then pour over all.
Set crock pot on low and let it cook for at least 8-10 hours. I let mine cook for about 14 hours. The gravy came out really thick and good, meat was falling apart, and all the veggies were super tender. The applesauce adds a certain something that really makes a huge difference!
If you'd rather use this recipe to make stew, simply cut the roast into bite size pieces, then sear in a frying pan the same as the roast. Or you can make the roast for one night, then cut up the leftover meat and mix it back in for stew.
This would also be delicious as leftovers served over noodles or rice.
Servings:
5-6
Time:
10-15 Minutes Preparation Time
8-14 Hours Cooking Time
By Cricketnc from Parkton, NC
How about Pot Roast in under 90 minutes starting with a FROZEN pot roast? With only about 15 minutes of prep time? So tender it falls apart.
Defrost roast in microwave following microwave manufacturer's instructions 30-40 minutes. Take a moment to relax and put your feet up until the microwave beeps.
Get out that pressure cooker or canner, brown roast in a little oil and garlic powder to taste.
Throw in 2 packets of gravy mix - it doesn't matter what kind. We have used country, brown, chicken, mushroom - it all turns out great. Mix and match. Add water per the package instructions plus one extra cup.
Put on the lid and bring cooker up to 15 lb. pressure and cook about 35-45 minutes (depending on size of roast.) You can also throw in whatever vegetables you would like. I usually just cook them separately in the microwave at the end.
When it's done, grab your lunch leftovers quick because there won't be any. You will have enough gravy for potatoes.
My whole family loves this! The best part is that you don't need to use the expensive roasts. I have used anything and everything from "special trimmings" (flank pieces) to chuck roast. It all turns out moist and tender.
Learn how to use a pressure cooker, they are easy and safe when you follow the instructions. Everyone have heard the horror stories but for the last several decades the cookers have built-in safety valves to keep them from "exploding". I purchased both of mine (one new and unused!) at yard sales. We make chili, stew and the family favorite - Pot Roast.
Source: This was cobbled together from several sources, mostly from after work "what can I cook for dinner" desperation.
By Christine from Spokane, WA
Ingredients:
3-4 lb. pot roast
16oz. Coke or Pepsi
1/2 tsp. garlic powder
1 pkg. dry onion soup mix
1 can cream of celery soup
Directions:
Place the roast in a pan which has a tight cover. Sprinkle the garlic powder over roast. Spread with soup. Next, sprinkle the dry onion soup mix over the top and pour the Coke or Pepsi over all. Cover the pan tightly. Roast in 325 degree F oven for 3 1/2-4 hours.
By Robin from Washington, IA
To make a tender roast put it into your oven frozen, yes frozen.

Place it into your cooking container garnish it with veggies, seasonings or what ever you like, pour in a can of Beef Stock (can use Chicken Stock too) and 1-2 cups of water (if the pot will hold it). Put in the oven on low (I put it on at 250 degrees F).

I normally put my roast in oven at 3:00 pm and cook it until supper time at 7:00 pm.

When you cook it frozen at a low temp for at least 4 hours, the roast will be the tenderest. You can cut it with a fork!
It is ten minutes to put in the pot, 3 ingredients and so good.
Ingredients:
1 beef roast (chuck, top round, or I used 3 lbs country style ribs)
jar of pepperoncini peppers
slivers of garlic
Directions:
Preparation: Cut some slits in roast and insert garlic slivers. Place beef in crockpot. Dump peppers and all of the juice on top. Crock all day on low. At least 12 hours. For serving, just slice and serve, or make BB's hoagies. When cool, fork-shred beef, spread on hoagie (sub) rolls, squirt on some Cheez-Whiz and pig out! Put some of those delicious (now meaty) pepperoncini peppers on the sub too!
This has been around a while but if you haven't tried it, you have got to try it. It is so good. I forgot and left off the garlic and it was still so delicious. There is just something about it that make it more than the sum of it's parts.
Servings:
8-10
Time:
10 Minutes Preparation Time
12 Hours Cooking Time
Source: http://busycooks.about.com/od/beefroastrecipes/r/bbcppotroast.htm
By Eve from Gulf Coast USA
This is a great 'fix it and forget it' type meal! So very good and healthful!
Ingredients:
1 medium pot roast
salt
garlic salt
Worcestershire sauce
3/4 cup beef bouillon
1/4-1/2 cup water
1/4 cup ketchup
1 large onion, chopped
1 cup celery, chopped
Directions:
Sprinkle roast with salt, garlic salt and a bit of Worcestershire sauce (to your taste). Bake, uncovered, at 325 degrees F for 1 hour with no liquid. Mix together,rest of ingredients, pour over roast and cover. Bake 3 more hours at 325 degrees F.
By Robin from Washington, IA
This makes a great roast with some kick to it! I like the bit of spice in this.
Ingredients:
4 lb. beef pot roast (or your choice of cut of roast)
1 Tbsp. shortening
1 tsp. salt
1/2 cup water
1/2 tsp. Tabasco sauce
12 small white onions, peeled
6 medium carrots, peeled
6 medium potatoes, peeled and chunked
Directions:
Brown meat thoroughly in hot shortening in a dutch oven or other heavy pot. Sprinkle with salt. Add water and Tabasco, cover pan tightly and simmer over low heat 2 1/2 - 3 hours or until very tender when pierced with fork. About 30 minutes before end of cooking time, add veggies. Remove meat and vegetables to a hot platter.
To make gravy, skim off all but about 2-3 Tbsp. of fat and add enough water so that amount in pan equals about 2 cups. Mix 3 Tbsp. flour to a smooth paste with 1/2 cup water and stir in liquid. Cook until thickened, stirring constantly. Season to taste with salt and Tabasco sauce.
Cooking Time:
2 1/2 - 3 Hours
By Robin from Washington, IA