Answers: Crafts Using Fake Fur
Read answers for this question below.
Cut the fabric the size of a place mat. Put the mat on the couch, floor, bed, or anywhere. As soon as you cats see one of them they will claim it as there own. You could also line it and put organic catnip inside, or just rub it with catnip. If you line it you could stuff it with foam or poly-fill from an old pillow. You could make the mat the size of a box top and put it inside. Don't make the mat too big. Cats like to curl up in small spaces. You can put the mat inside your cat carrier when going to the vet.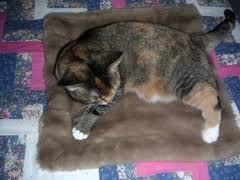 Not sure if you'll have enough material or not - but if you do, you can make a cute capelet out of fake fur. You'll need a lining. I've used Simplicity 3921 to make several out of different types of material including fake fur. I gave some as gifts and they were a huge hit.
Answer This Question
Add your voice to the conversation. Click here to answer this question.
Related Guides
Related Posts