This is a guide about making a crocheted kitchen towel. This handy craft project allows you to hang your kitchen towel on a bar or oven door.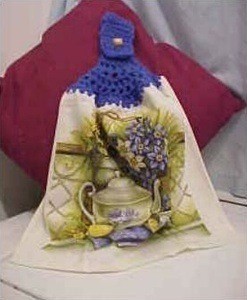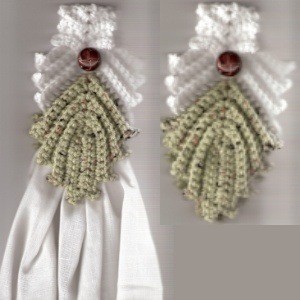 I like the towel toppers that have a concealed crochet chain so you can hang a towel over the chain without having to cut the towel in half and deal with the cut edge. I also like that type of topper because when the towel gets dirty, but the topper isn't, you can change the towel, and the topper lasts longer because it is washed less often.
I made my leaves with Red Heart 'Frosty Green Fleck', but the topper can be made all in one color or in fall colors like red and green for Christmas or orange and brown for Thanksgiving.
Materials
size G crochet hook
worsted weight yarn - green
worsted weight yarn - white
button, approximately 3/4 inches diameter
sewing thread and needle
scissors
Leaf Directions (Make 2)
With green, ch 12
(1) (This is the right side of the leaf) Sc in 2nd ch from hook; sc in next 9 ch, in last ch make sc, ch 3 and sc; working along opposite side of staring chain, sc in next 8 ch. Ch 3, turn.

(2) Sc in next 9 sc, in next sp make sc, ch 3 and sc; sc in next 8 sc. Ch 3, turn.

(3) Working in BACK loops of each sc, sc in next 9 sc, in next sp make sc, ch 3 and sc; sc in next 8 sc. Ch 3, turn.

(4 through 8) Repeat row 3. At end of last row, do not turn, sl st in last sc used. Fasten off. (End of leaf pattern.)

With the wrong side of a leaf facing you, and working through both loops of the stitches, attach white yarn with a sl st in the last sc made on row 8. Ch 14, sl st in the first sc made on row 8. (This is the loop for hanging the towel.) Ch 2, turn.

Next, place the second leaf behind the first, wrong sides together. (The hanging chain will be sandwiched between the leaves.) You will be working the next row through both leaves at the same time, which will join them together.

(1) Working through BOTH loops of each sc, sc in next 8 sc, in next sp make sc, ch 3 and sc; sc in next 8 sc. Ch 3, turn.

(2 through 6) This and all remaining rows are worked through BACK loops of each sc. Sc in next 8 sc, skip next sc, in next sp make sc, ch 3 and sc; sc in next 8 sc. Ch 3, turn.

(7) Sl st in next 6 sc, sc in next 3 sc, in next sp make sc, ch 3 and sc; sc in next 3 sc. Ch 3, turn.

(8 through 12) Sc in next 3 sc, skip next sc, in next sp make sc, ch 3 and sc; sc in next 3 sc. Ch 3, turn.

(13) Sc in next 3 sc, skip next sc, in next sp make sc, ch 5 and sc (The ch 5 is the button hole.); sc in next 3 sc. Ch 3, sl st in last sc used. Fasten off.

Sew a button just above one of the leaves, in the center.
Source: My own design.
By Fortunately
By Harlean 142 427
Crochet Kitchen Towel
Crochet several of these and put them in handy places throughout your kitchen; on the oven door and the refrigerator handle are the best places for these. My version is different from most since I don't cut the towel in half, but fold it and use the whole towel. I use a bead from the old beaded car seats. However, you may use a large button just as easily.
Approximate Time:
Supplies:
fingertip towel
4 ply yarn
bead or button
crochet hook size G
knitting needle or ice pick
Instructions:

Fold towel in half. Using a knitting needle or ice pick, punch holes across the towel through the double thickness to use as a base for the stitches 1/2 inch apart. (See photo)
Base Row: SC in first hole, ch1* SC in next hole, ch1. Repeat from * across. ch2, turn.
2nd Row: DC in each SC (skip the ch1 sts) across, ch2, turn.
3rd Row: Skip one DC,* DC in next DC, Skip next DC. Repeat from *across. ch2, turn.
4th Row: Dc in each ch1 space across ending with DC in turning ch. ch2, turn.
5th Row: Skip first ch1 space, DC in next space*Skip next space, DC in next space. Repeat from *with DC in turning ch. ch2, turn.
6th Row: DC in each DC across. ch2, turn.
Rows 7-15: Repeat Row 6.
Row 16: DC in first 3 DC, ch2, Skip 1 DC (This makes the button hole) DC in next 3 DC. ch 2, turn.
Row 17: DC in first 3 DC, 1DC in ch2 space, DC in next 3 DC. ch2, turn.
Row 18: SC in each DC across. Fasten off and weave end into your work. Fasten Bead or Button in center of Row 6.
By Harlean from Hot Springs, AR
The instructions are also in a PDF file for which you may need Acrobat Reader to view. Download Acrobat Reader
click_here_to_download_the_crochet_fingertip_towel_instructions_in_pdf_format.
By Sandi/Poor But Proud 466 2,132

Towel Hanger in the shape of a dress.
Approximate Time: 1.0 to 1.5 hours
Supplies:
kitchen towel (from Dollar tree or ?)
4 ply yarn, two colors or more
size 5.5 mm hook
needle and matching thread to the last color
one button
Instructions:
Chain 27, join as a circle. Chain 3 and turn.
Row 1: Make 2 double crochets in each of the stitches, for a total of 54 around. Slip stitch in 3rd chain from first chain 3 and chain 3 for next row.
Row 2: Make 1 double crochet in each of the stitches for another 54 around, working in the back of the stitch. Break off this color and work in tail.
Row 3: With new color, chain 3, make 1 double crochet in same stitch, chain 1, make 2 more double crochets in same stitch for 1 cluster. Continue around, skipping 3 stitches between each cluster. You should have 14 sets when you join at the beginning again.
Row 4: Lay the work you have done down as a semi circle , showing 7 clusters on each side. Join the first color again, or another color, in the center chain 2 section of the 3rd from either side. Make the same kind of clusters as the last row, but make three clusters and then when you make the fourth, run the hook through both the front and back clusters, securing the "flat" effect that you will need.
Make another 3 clusters in the back, then your 8th cluster will be to run the hook through the cluster again the same as the first one.
Once this is done, you will not need to worry about this step again.
Row 5: Repeat the former row, making a cluster around each one for a total of 8.
Row 6: Repeat the former row, but in this one, make 3 double crochets in each side of the cluster and a chain 2 between each side, giving the dress a flair.
Row 7: Repeat row 6.
Row 8: Add alternate color or another color, and make a single crochet around edge of the former row, joining and working in tail.
Fold the towel in so that half the towel shows toward the front, the other two 1/4's in the back. Sew the towel to the dress hem.
On the collar, join the original color yarn and chain 18, then make a double crochet on the 3rd chain from the hook, skip one and chain one (button hole) and finish with a double crochet to the collar base. Break off and tie in the tails. Sew on a button to loop over the towel rack and button in front.
Run the alternate color through row 2 and tie a bow or use ribbon to match.
N-JOY!
By Sandra from Yorktown, VA
A little while ago I sent a request to help me with my dilemna to make a hanging crochet hand towel. I'm very happy with it and very grateful for all the help, the meat fork worked for me! I wanted to place a picture of my towel for you to see.

Kate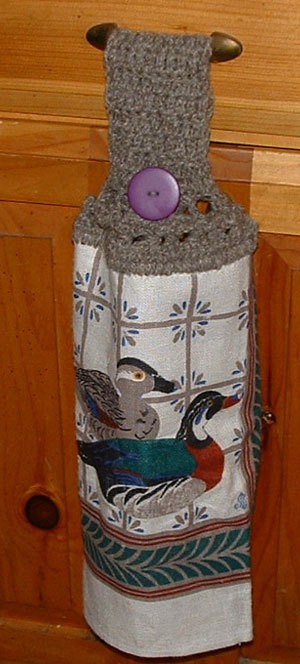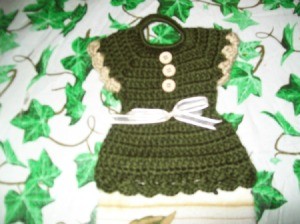 I received tea towels with a little dress as the top, from my daughter. They are so cute I have called everywhere and have looked on line for the pattern with no luck. I have included a picture of the tea towel. I hope someone could help me.
By Cindy
---
Most Recent Answer
---
There is no better gift for housewarmings, Christmas, first dorm rooms, or to simply share with a neighbor than good, all-purpose crocheted dishcloths. There is no need to waste time browsing for fancy patterns (although there are some pretty darn cute ones) when a simple single crochet with front loop/back loop rows will fit the bill and look beautiful. These were made using leftover 100% teal/tan cotton thread, costing me less than a dollar each. Yard sales are a great place to find remnants of yarn for these projects.
Source: The round dishcloth is taken from an old pattern book I bought long, long ago and the regular one is my own work (although I'm sure many crocheters before me used the same or similar stitches).
By blackbeararts from Lebanon, TN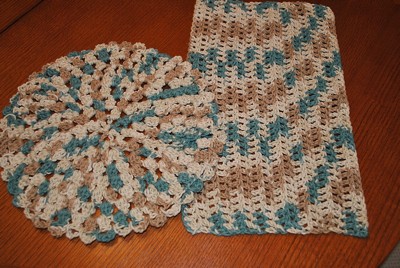 If you enjoy crocheting, having comfortable crochet hooks that don't cause hand fatigue are a must have. These Clover crochet hooks have comfortable ergonomic handles and an ideal hook shape.
By Nelwyn Mills 48 1
I am searching for directions for crochet toppers for kitchen towels to hold them on handles for easy reach and for crochet towel rings. Does anyone have these to share? Thanks.
By Nelwyn from Bunkie, LA
---
Best Answer
---
My mom used to crochet the tops of tea towels. She crocheted on the top of them to create a holder on the top that came down with a loop and a button on it, so it could be hung on the handle of the cabinet or drawers in the kitchen. I do not know how to do this. Does anyone in the thrifty fun audience know how to do this?
I would also like to learn to crochet. How does one go about doing this?
By Catharine
---
Most Recent Answer
December 7, 2009
You can use a taspry sewing needle which is a plastic needle to do hand sewing to start your beginning part of the base of the top of the hand towel then after you put about maybe 4 or 5 base on the size of the top of the towel start knitting any shape or crocheting any shape you want rectangle is the easiest by knitting together the ends each time you do a line to make the shape go retangly.
When finish sew your favorite or match your color button on the top middle part of the rectangle shape that you did on the hand towel. Then after looking at you have a tea towel topper. I always called those hanging towels. But never knew they were called tea towel toppers. I hope I helped. Pam G.
---
It doesn't matter what pattern you use for the first rows connecting to the towel, but you want to make sure you make the long flap (where the button is) long enough to fit around the hook, towel rack, or stove handle where you are planning to hang the towel.
Instead of using a button, try sewing on hook and loop tape (Velcro) to make attaching it to the handle easier.
By Sue B Honey from MI
I've found that Lily Sugar 'n Cream 100% cotton yarn is much more durable than acrylic yarn, since towels are laundered so much. I make quite a few crocheted wash cloths and dish cloths using the cotton yarn.
By MCW from Lewiston, NY
I would like instructions for crocheting a dish towel hanger. I want to make the one that has a ring you crochet around with a button attached to hang from either a stove or fridge handle. TIA
By Elaine from White Pigeon, MI
---
Most Recent Answer
By Pauline 2
I am looking for a pattern to crochet or knit on to a kitchen towel, to make as gifts.
By Pauline M. from Fort Wayne, IN
I would like the directions for a crochet dish towel top. The one I saw had a button on to fasten it.

Mahalo,
Judy

Judy from Aiea, HI
Feedback:
RE: Crochet Dish Towel Top
You should find that pattern here for free.
(02/28/2007)

By vtsugarldy
RE: Crochet Dish Towel Top
Here is one that I designed.
thriftyfun.com (07/13/2009)

By Fortunately