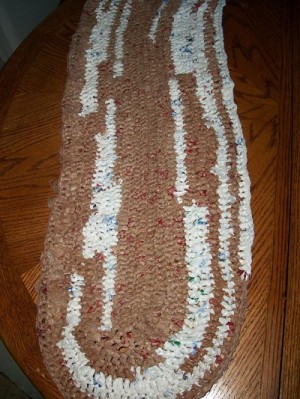 This is a rug we use for muddy shoes. It is easily rinsed clean and drip dried.
Approximate Time: Approx. 2 hours
Supplies:
scissors
plastic grocery bags
crochet hook
Instructions:
Cut grocery bags so you have "loops" of the plastic. Attach the loops together to make "plarn" for your project.
Begin crocheting in an oval shape and continue until it is the desired size.
I wanted this rug for our shoes so it is long and narrow. I used single crochet for the first row, then moved into double crochet stitches.
By Monica from Cortez, CO
October 14, 2010
0

found this helpful
I agree that these are great and a wonderful way to recycle all those plastic bags. I've made several, but seem to have problems with circular ones, so I usually just crochet in rows. My husband keeps one in the back of his pick-up in case he has to get something that is near the cab, he says it saves his knees. My cats like to sleep on them on the porch. They make great scratching rugs and hold up to the claws really well. I use them to line/insulate the floor of my cat's "dog" house (I feed abandoned cats in the neighborhood and make beds in doghouses to keep them warm in the winter until I can find a home for them.
I use them for floor rugs in our utility room, water won't hurt them. I keep one by the back door to set dirty shoes on. My list goes on and on. I use all plastic bags, including those that we get newspaper in, the bags from apples, bananas, frozen veggies, bread, etc. If the plastic is thick, I just cut the strips narrower; if the plastic is thin, I cut the strips wider. I've also used several different size crochet hooks, including a jumbo one for rugs. I've made several patterns from different colored plastic bags. I've also made purses from solid colored bags and carry-all/grocery bags too. I am going to be upset if our state bans the use of plastic bags for groceries. I prefer using a half-double crochet stitch.
Read More Comments
I have several free patterns for crocheting rugs using plastic bags or plarn at my blog. I have attached one oval rug pattern link. You can also use any regular yarn pattern and just adjust your gauge as using plarn is equivalent to a chunky yarn weight.
By RecycleCindy from WA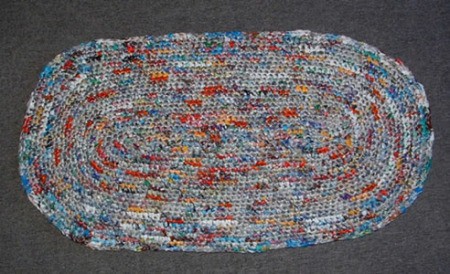 Link: http://www.myrecycledbags.com/2010/03/28/plastic-trash-rug/
September 8, 2011
0

found this helpful
Cindy, I have made so many things using your patterns from your website. Just wanted to say thank you to such a talented lady!
February 4, 2012
1

found this helpful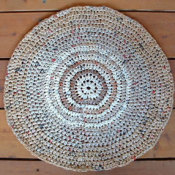 Crochet yourself a round plarn rug. If you are not familiar with the term plarn, it's plastic bags cut into strips to create yarn. You then crochet with it. I have a free crochet pattern available if you want to make this rug. These plastic rugs are really handy for boots and doormats. You can just rinse them off and hang to dry. Check out the free pattern link.
By RecycleCindy from WA
Link: http://www.myrecycledbags.com/2008/09/27/recycled-round-plarn-rug/