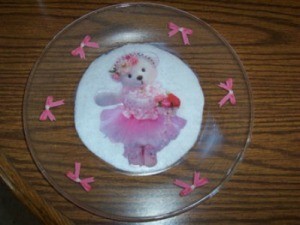 I have a great homemade holiday gift idea that is great for family, friends, anyone! And it's so inexpensive, you could give one to everyone on your list!
What you'll need is some clear glass plates with no design on it - we found ours at Big Lots - they're just big plain glass plates with no etching or anything on them. You'll also need "Mod Podge" which you can find in the craft section at Walmart or any craft store. Finally, you need some pretty Christmas wrapping paper (actually, any kind of wrapping paper will do, or designed tissue, even window clings work, I just found out.)
You'll want to cut out the pictures from the wrapping paper, or just unpeel the window clings from their backing, and decide how you want the design to look on the plate when right side up. Then, with one of those sponge paint brushes, you'll spread Mod Podge all over the BACK of the plate, then stick your pictures right onto that. You need to work fast as the Mod Podge dries fairly quickly. After getting all your pictures on the way you want them, let it all dry.
When it's dry, you'll just spread another layer of Mod Podge over the whole back of the plate as a "sealant", then stick a little piece of felt on the part where the plate would sit on the table, that way it won't scrape the pictures or anything when you set it down. Let all that dry as well.
Now, when you set the plate down the right way, your design shows through! Bake up some cookies or other Christmas treats, put them on the plate and make that your gift. Be sure to give a note with the plate telling the recipient not to put it in the dishwasher or in water - to clean, they'll just need to wipe it off with a damp cloth. It's a very lovely and inexpensive gift to give for any holiday or birthday! If you wish, I can upload a picture of one of my completed items.
By Stacey from Orem, UT
Just in time for Mother's day. This fun craft is surprisingly easy to create. You can choose a pretty fabric, glue to a clear glass plate and you've got yourself a pretty "porcelain" plate to give as a gift or keep for yourself.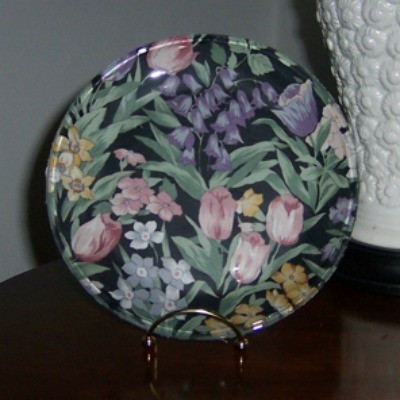 Approximate Time: About an hour plus drying time.
Supplies:
8 inch clear glass plate
approx. 12x12 inch piece of cotton fabric
sharp scissors
white glue such as Elmer's
small sponge paint brush
Instructions:
Lay the plate face down on the wrong side of the fabric and trace a circle 1/2 inch bigger than the circumference of the plate.
Cut the circle out.
Now squeeze some white glue on to a saucer and, by adding a little water at a time, water the white glue down slightly till it resembles light cream and spreads easily with the sponge brush.
Thinly coat the center section of the back of the glass plate with the glue.
Centering the fabric right side against back of plate slowly ease the fabric on to the plate making sure the fabric is even and all air bubbles are removed
Add more glue as needed and work your way to the edges of the plate pressing firmly on to the fabric and easing it into place.
Let it dry for a 1/2 hour or more checking at times for air bubbles and adherence .
With the sharp scissors cut the excess fabric from around the edge of the plate adding a little glue as you go along.
Let dry thoroughly (again checking for bubbles, adjusting as you go)
Voila! You have a pretty "porcelain" plate. I got the clear plates at Walmart for about $1.50. You can also purchase a small plate holder or a plate hanger for displaying your plate. Here is a pictures of the some of the ones I made.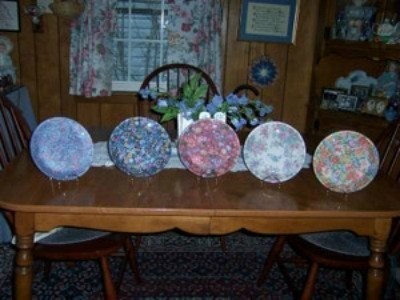 By Jan from L.I. NY
A good idea for a Christmas craft for kids to do is to make a picture and then buy a clear plate. I found some at a craft store for around 1.00 each. Put the picture on the plate and use Mod Podge to seal it. After it is dry, you can fill it with cookies and give as a gift. Makes a great gift for grandparents.

By Lori from Dallas, TX
I received a handprint plate from my grandson at Christmas and was told the painted image will wash off and that I need to find out how to seal it properly so that it might be washed. What can I use to preserve this precious gift?
By Bee
Most Recent Answer
June 28, 2015
Glass plates only... you can put them in the oven on low heat for about half an hour & leave it in the oven till oven & plate are both cool. If not maybe a hardware store can sell you a spray to keep it sealed. If it has your Grand sons art on it. I wouldn't use it. I'd put it in a display cabinet on a plate holder to save for ever.