Just in time for Mother's day. This fun craft is surprisingly easy to create. You can choose a pretty fabric, glue to a clear glass plate and you've got yourself a pretty "porcelain" plate to give as a gift or keep for yourself.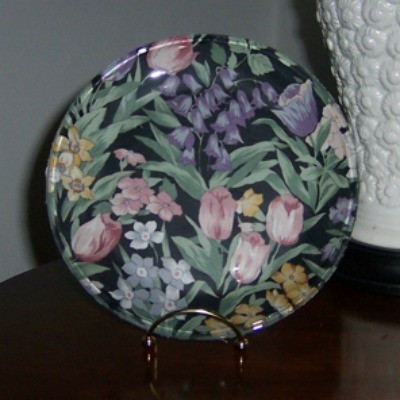 Approximate Time: About an hour plus drying time.
Supplies:
8 inch clear glass plate
approx. 12x12 inch piece of cotton fabric
sharp scissors
white glue such as Elmer's
small sponge paint brush
Instructions:
Lay the plate face down on the wrong side of the fabric and trace a circle 1/2 inch bigger than the circumference of the plate.
Cut the circle out.
Now squeeze some white glue on to a saucer and, by adding a little water at a time, water the white glue down slightly till it resembles light cream and spreads easily with the sponge brush.
Thinly coat the center section of the back of the glass plate with the glue.
Centering the fabric right side against back of plate slowly ease the fabric on to the plate making sure the fabric is even and all air bubbles are removed
Add more glue as needed and work your way to the edges of the plate pressing firmly on to the fabric and easing it into place.
Let it dry for a 1/2 hour or more checking at times for air bubbles and adherence .
With the sharp scissors cut the excess fabric from around the edge of the plate adding a little glue as you go along.
Let dry thoroughly (again checking for bubbles, adjusting as you go)
Voila! You have a pretty "porcelain" plate. I got the clear plates at Walmart for about $1.50. You can also purchase a small plate holder or a plate hanger for displaying your plate. Here is a pictures of the some of the ones I made.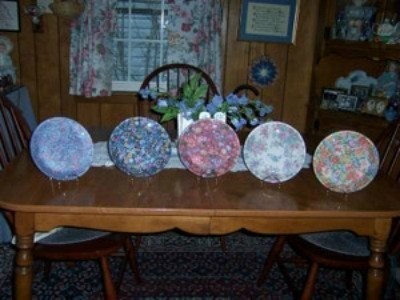 By Jan from L.I. NY
May 4, 2009
0

found this helpful
Cute idea! No one would ever guess they're covered in fabric.
May 5, 2009
0

found this helpful
You can also use edging on the plates. I used my plates for serving dry foods, like cookies and such. I handwash and dry the glass part only. Do not immerse into water. Depending on the material used, if you place them on a bright sunny window, they look pretty as the sun shines on them. Yours look beautiful.
May 5, 2009
0

found this helpful
Very nice! I think my step daughter & I will make her mom one of these for Mother's day. Great job on these!
May 5, 2009
0

found this helpful
Your plate is beautiful! My daughter recently made these for Christmas presents using pretty christmas prints, and again for valentine's day with small hearts imprinted on the material. Add a batch of cookies and you have a great gift!
May 5, 2009
0

found this helpful
I've done these several times as gifts and they went over so well. It's nice as they can be custom made as to the person's likes or collections.
May 10, 2009
0

found this helpful
I've made these. They are beautiful. I used modpodge for the glue. I'm happy to hear Elmer's glue works also. I sealed the back of my plate with a clear spray. You still need to just wipe it off if you use it for food. A gold trim around the edge is an added touch. You can buy a "marker" paint pen at craft stores in gold, silver or copper.
Jeanne
August 4, 2009
0

found this helpful
I loved this idea, so I printed the instructions and took them on vacation with me. When I landed I told my sister in law and niece that I had planned a "Craft Day" project. My mother and I purchased the plates at Wal*Mart for a $1.50, we also purchased the fabric there as well. With my sister Roz, sister-in-law Karen, her daughter, my niece Olivia and her friend Holly, and my mother Jenny, I had the best time, and so did everyone else. A very simple project, that looks like you spent hours making it.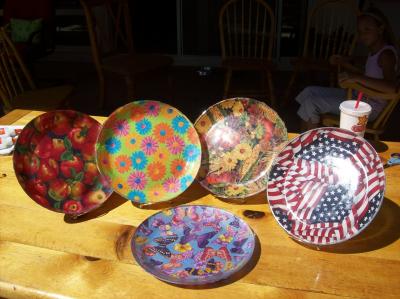 August 4, 2009
0

found this helpful
Several years ago, my adult mentally handicapped daughter was in a special 4-H group for people with developmental disabilities and I helped her make one of these plates for one of her projects. After we got the Modpodge applied to the plate we sprinkled a little bit of glitter on it before applying the fabric. The fabric that we used was a black background with different things connected with Elvis on it. It was kind of cool because at that time she was a big Elvis fan(inherited from me). Unfortunately now she has switched sides to of all people. Garth.lol
A good idea for a Christmas craft for kids to do is to make a picture and then buy a clear plate. I found some at a craft store for around 1.00 each. Put the picture on the plate and use Mod Podge to seal it. After it is dry, you can fill it with cookies and give as a gift. Makes a great gift for grandparents.

By Lori from Dallas, TX
By guest (Guest Post)
Flag
January 29, 2006
0

found this helpful
Hi! Great Teacher idea...How abour taking the pictures of her students and putting them around the plate and a group picture in the middle! I know I would love it! (Teacher of Pre-K :)
Where can I buy glass craft plates?
By Patricia
January 21, 2013
0

found this helpful
Have you checked in craft stores like Michael's and Hobby Lobby. Several years ago I found them at WalMart, but that was back in the mid-nineties. You could also check in thrift stores.
January 28, 2013
0

found this helpful
Local dollars store should have all kinds and inexpensive too.
January 28, 2013
0

found this helpful
Good tips. You can also find inexpensive frames at thrift shops and use the glass. If you don't need the frame, why not donate it back or embellish them and sell them?
PBP
I received a handprint plate from my grandson at Christmas and was told the painted image will wash off and that I need to find out how to seal it properly so that it might be washed. What can I use to preserve this precious gift?
By Bee
June 28, 2015
0

found this helpful
Glass plates only... you can put them in the oven on low heat for about half an hour & leave it in the oven till oven & plate are both cool. If not maybe a hardware store can sell you a spray to keep it sealed. If it has your Grand sons art on it. I wouldn't use it. I'd put it in a display cabinet on a plate holder to save for ever.