Here is a simple technique that one can use to decorate porcelain ware. This decorated porcelain bowl would make a nice present for someone special.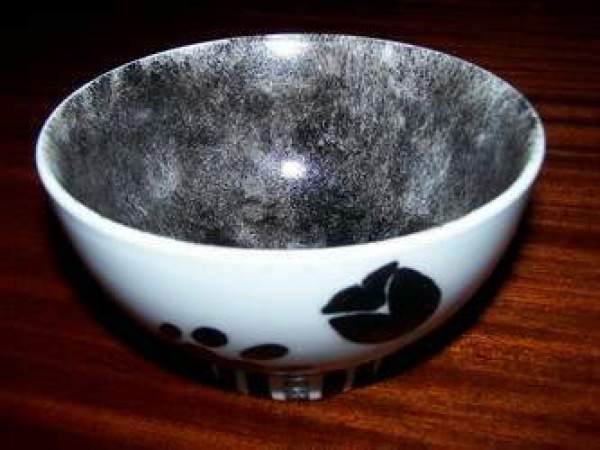 Approximate Time: 2 hours
Supplies:
porcelain bowl
black non-toxic paint, suitable to be used on glass and porcelain (I used Dala Ceramics @ Home)
fine paintbrush
dry cloth
Pilot drawing pen, size 01
one small sponge for the sponging
one sheet of old newspaper
an oven
Instructions:
Ensure that the bowl is washed clean with dishwashing liquid. Then, use the dry cloth to dry the porcelain bowl thoroughly.
With the Pilot drawing pen, draw a design onto the porcelain bowl. I chose to commemorate Africa's natural beauty, hence I used animal tracks as my inspiration. Of course, any other design and matching paint color will do.
Carefully paint each design with the ceramic paint.
Dip the sponge into the black paint. Remove excess paint from the sponge by dabbing it on the sheet of newspaper. Then do the sponging in the inside of the bowl.
Allow the paint to dry for 24 hours.
Bake the bowl for 40 minutes at 150° Celsius (302° Fahrenheit).
Allow the oven to cool down before removing the bowl.
Note: Not dishwasher proof. Do not use strong detergents and wash with cold water.
By Benetta from Pretoria, Gauteng
February 5, 2005
0

found this helpful
My daughter is wanting to decorate melamine plates for Passover to send to Jewish troops overseas. Any idea what kind of paints or markers that could be used? Mary Weiss
Answers
By (Guest Post)
February 6, 2005
0

found this helpful
I don't think you want anything that sticks to melamine near your food. I can see why you don't want to send glass or ceramic, but I don't have a solution.
February 6, 2005
0

found this helpful
Go to your local paint/hobby store and ask them which paints would work, both for food safety and also for ability to be painted on the melamine. The really important thing to remember is that you need to prepare the melamine BEFORE painting so that the paint will adhere to the smooth surface or your picture will literally fall off. On smooth surfaces I spray a clear matte finish but it gives a cloudy/foggy effect to the piece which I don't mind. But there are glass paints out there, ones which can be applied to glass or plexiglass, that will give the effect of a stained glass picture, without glass and leading being used.
You can find some really simple pictures or symbols on the internet that would lend themselves to being used on plates. Just a simple picture in the center of the plate. But check for durability and toxicisity (? spelling?) (you know what I mean) of the paints first.
DecoArt makes a paint that I really like. Patio Paints are fade resistant, weatherproof, NON-TOXIC, self sealing (no varnish needed overtop of them after) and easy to use. They come in 2 oz. containers. You would have to etch the surface of the plate so that the Patio Paint would adhere to the surface. Enquire in your area whether you can purchase them.
By Violets (Guest Post)
October 15, 2005
0

found this helpful
I stumbled across this while looking for product reviews...I thought I'd mention you can order kits from Amazon or find them at your local craft store, you get the paper pattern which you send away and the company will reproduce it onto a melamine plate.
As far as I can find its safe.
They also have plastic ware with a "pocket" you can slip designs into.
By DEB (Guest Post)
April 15, 2007
0

found this helpful
DID YOUR DAUGHTER EVER MAKE THE PLATES? IF SO WHAT DID YOU USE FOR PAINT? I WANT TO DO THE SAME THING AROUND THE RIM OF THE PLATE. BUT I WANT TO BE ABLE TO USE THE PLATES.
By Paul Gray (Guest Post)
June 18, 2007
0

found this helpful
My kids painted plates 10 years ago and they have been in the dishwasher nearly every day since. They are still as bright and fresh as when they were new!
The local school or playgroup organised it. They used normal crayons on special paper on which they drew their creative pictures. These were then sent off to the plate manufacture who baked them or whatever into the surface.
A wonderful momento of kids art talents.
By Jean Huggins (Guest Post)
November 21, 2008
0

found this helpful
I am also looking for the "kits" or info on purchasing the melamine plate kits that kids decorate themselves. My two grown sons did them in school years ago and they are my most treasured "china" and now I have a young daughter who I'd like to make one so I can have a complete set. I tried Amazon.com with no luck. I am on my way to A.C. Moore but I'd appreciate any suggestions, in case they don't have the kits. Thanks!
By Lil (Guest Post)
November 24, 2008
0

found this helpful
You can order your kit at www.makit.com or call 800-248-9443. They have a catalog.
By Tracy (Guest Post)
December 7, 2008
0

found this helpful
Can you just use permanent markers to decorate these plates?
Answer

this Question

...
January 21, 2013
0

found this helpful
Where can I buy glass craft plates?
By Patricia
Answers
January 21, 2013
0

found this helpful
Have you checked in craft stores like Michael's and Hobby Lobby. Several years ago I found them at WalMart, but that was back in the mid-nineties. You could also check in thrift stores.
January 28, 2013
0

found this helpful
Local dollars store should have all kinds and inexpensive too.
January 28, 2013
0

found this helpful
Good tips. You can also find inexpensive frames at thrift shops and use the glass. If you don't need the frame, why not donate it back or embellish them and sell them?
PBP
Answer

this Question

...