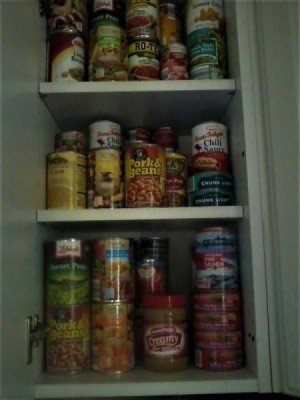 I used to think that frugal living centered around clipping coupons and buying items on sale. I have come to realize that frugal living is a lifestyle that can be developed by adopting specific money-saving habits. Based on my experience, practicing good organizational skills plays a significant role in the development of a frugal lifestyle. Getting and staying organized can be the foundation upon which the many other frugal living habits such as simplifying, scheduling and budgeting, can be successfully implemented.
Disorganization Can be Costly
A frugal lifestyle focuses on saving money. Disorganization can result in spending money unnecessarily. If your closets, cabinets, and drawers are stuffed and cluttered, you may find yourself buying items that you already had but had forgotten about or simply couldn't find. When items get pushed to the back of a disorganized refrigerator, they may spoil before you find them again. Food waste is not conducive to frugal living. If disorganization is a personal habit, you might find yourself missing appointments because you forgot to put them on your calendar. If fees are applied to those missed appointments, you've once again wasted money unnecessarily.
Not only does disorganization cost you financially, it can take up time that could have been spent in a more profitable or enjoyable way. You can waste a lot of time searching for keys, phones, homework and other essentials when they get lost among the clutter. You can prepare a grocery list, using weekly sale ads and coupons, much faster if your pantry and refrigerator are organized. Youll be able to see at a glance what you need. You can plan your meals according to the items you have on hand and their expiration dates. Once you experience the benefits organization provides, youll see how well it fits into your frugal lifestyle.
Organization Supports a Frugal Lifestyle
Organizational habits support a frugal lifestyle in many ways. As you organize your home, youll probably discover you have items taking up space that you havent used in a long time and very likely will not need in the future. Reduce your clutter by donating those items. In the future, when youre tempted to make impulsive purchases remember how many of those previous impulse buys were a waste of money and a contributor to your clutter. A simple lifestyle is complementary to a frugal lifestyle. Clearing the clutter and organizing your possessions can give you a greater sense of appreciation for simple living. It can also motivate you to be more reserved in your spending. When you focus on buying what you need instead of things you want or things that are trendy, you will find it easier to stay within a budget.
Schedules and Budgets Can Save Money
Setting up a schedule to perform home maintenance tasks such as changing furnace filters, vacuuming around and under appliances, checking for leaks under the sink and in the basement and doing a visual inspection of the exterior of your home can help prevent an expensive repair. Typically, its easier to budget in a service check on your heating and cooling system than to wait until you need a major repair. The same concept applies to repairing gutters, the roof or addressing small plumbing problems before they become big problems. Taking time to prepare a detailed budget is always a good way to save money. Seeing where your money goes and finding ways to reduce expenses is one of the most important aspects of a frugal lifestyle.
There are many benefits to adopting a frugal lifestyle. First, there are the money saving benefit which can reduce the stress that comes with trying to live paycheck to paycheck. Pairing frugality with simplicity can free up some of your time. That time can be used for personal relaxation, family activities or to participate in free or nearly free community events. Living a frugal lifestyle gives you opportunities to expand your creativity and increase your appreciation for simplicity.