I started reading about frugal living about 9 years ago. My main reason was to save us money for my husband and I who were living on our own for the first time. Now we just bought our first house (2 months ago) so I'm trying to learn even more about frugal living. Here are some things that I do to save money.
I use the LIBRARY a lot. I rent books, music, and videos from there.
I love a garage sell or the thrift stores, they are very useful.
I just recently started keeping track of when it rains. Why? So I don't have to water my grass (saving us money).
I am a coupon user, and a big fan of sales.
I do not use any lights during the daytime (since we're blessed with a window in every room).
I converted to using fluorscent light bulbs over 9 years ago and have just recently replaced only 1 light bulb during this whole time. When I can't use a fluorscent, I change the bulbs to low wattage bulbs (40 watts).
I recycle almost everything, so it will save me money on trash bags in the long run.
I am one of those people who pick up the pennies on the ground. It sure does add up, and that's one less penny my husband didn't have to work for.
I use every free sample I can get. I sign up for everything that can save me money.
I read all the frugal websites on the internet.
I do surveys online for a small amount of money or for free samples. If I make any money, it goes into savings.
I save on my phone bill by having only one line with no call waiting or caller ID. We have an answering machine for messages.
When I do laundry, it is all done on the same day, saving money on drying time. I cut down on laundry soap by adding baking soda. I also spin the washer twice to get the extra water out (which saves money on the dryer time).
I re-use the dryer sheets after they were used in the dryer. I use them to dust with.
There are so many ways to save, you just have to start looking and see what is good for you. There are things I plan to do to save in the future like putting up a clothes line in our yard and planting my first food garden (I hope, I am not a green thumb here). I will learn new ways to help us save more money now that we have our own place. During the years, these ideas have saved us money and I hope this helps someone else!
Tonya from Illinois
Do you have a frugal story to share with the ThriftyFun community? Submit your essay here: http://www.thriftyfun.com/post_myfrugallife.ldml
January 5, 2011
5

found this helpful
Every year I try to do a few more things to live more frugal and eco-friendly. In 2010, when we moved, we did not get a dryer.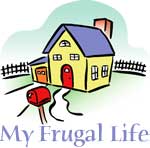 We use the lines in the backyard or hang inside. We have not used any paper napkins or paper towels and do not drink soda pop. I use a woman-power (not gas) push mower.
During the garden off-season, we stretch our salsa by mixing it with a can of tomatoes and chiles. This new year, we will be making our own shampoos, laundry detergent, and household cleaners.
The craziest thing we've done is save all our dryer lint to use for crafts. We look forward to many more zany ways to save and live better.
By Bonnie from Waynesboro, PA
Do you have a frugal story to share with the ThriftyFun community? Submit your essay here: http://www.thriftyfun.com/post_myfrugallife.ldml

Here are some frugal ideas, we use in our home.
Always buy used when we can. We visit many garage sales, thrift shops and online resources like eBay. Just keep a "need" list in your car or purse for when your out and about hitting yard sales.
Repurpose just as much stuff as you can. For instance, maybe that ugly old dresser you have in your basement would make a nice coffee table. Simply cut it down to the proper height leaving (usually) the last drawer in place then adding a nice top, trim it out and you have a coffee table. I have a really nice one that receives many compliments to its unique look.
Trash pick old wood pieces of furniture and you'd be surprised what some Old English, paint or stain can do. Resell for profit in your yard/garage sale.
Turn the heat down and put on more clothing in the winter for noticeable savings on your heat bill.
Install a wood burning stove in your home and use as your primary heat. Wood is far less expensive compared to natural gas and propane and you can find free wood on Freecycle http://www.freecycle.org Join the group(s) in your local areas.
Cook in bulk eating leftovers and freezing meals for later use. I will make a big breakfast one day sometimes consisting of homemade biscuits, gravy, sausage and scrambled eggs. I will make extra sausage and scrambled eggs and save for the next day and I will make breakfast burritos with eggs, sausage, and cheese. So yummy.
Give your pets their shots. You can get everything except rabies for HUGE savings. Advantage flea preventive for dogs, the blue one for dogs 55 pounds can be broken down into 10 cat doses. You'd give .4 ml per cat. NOTE: the point before the 4. You can also split the larger dose between 2 smaller 27 pound dogs.
Don't replace your worn wiper blades yet. Just take a piece of fine grit sandpaper and run it on the edge of the blade about 10 times and the blades will be as good as new.
By Maryann Welden from Camden, MI. USA
Do you have a frugal story to share with the ThriftyFun community? Submit your essay here: http://www.thriftyfun.com/post_myfrugallife.ldml