I had forgotten this until I read an article on another site. We use to hide our children's Easter Baskets and they would have to hunt for them. Being 5 children, if they found someone else's, they were not allowed to say that. They had to leave it where it was.
One year, our youngest child's basket was hidden in the fireplace (of course the fireplace was clean) and she was the last one to find hers. She was getting pretty jumpy, thinking the Easter Bunny didn't leave her anything until we began playing hot and cold with her. It was so funny to see her retrieve her basket from the fireplace.
Oh those wonderful memories of times gone by. They just last a lifetime. So try it; you may find you will have some wonderful memories later on when they become older.
By Gem from VA
April 21, 2011
0

found this helpful
We do this too....it is fun. I have also heard of friends doing their egg hunt the night before and letting the kids hunt eggs in the dark with flashlights.
April 21, 2011
0

found this helpful
We used to do that too. You are right it was lots of fun watching them look for their baskets. When they found them it was just joy of accomplisment.
April 21, 2011
0

found this helpful
THe Easter bunny has always hidden the baskets at our house. In fact, our college age daughter had her room-mate hide her basket because she wasn't able to get home for Easter! And then complained because the hiding place was lame! LOL
April 21, 2011
0

found this helpful
Hello,
We used to use talcum powder and put bunny prints in the carpet in their bedroom (easy to vacuum later) the prints led them to their baskets and of course a half eaten carrot was on a plate near by. My daughters are now married with children and do the same for their children. My youngest daughter age 39 complains that she doesn't get a basket from Mom & Dad anymore. We just laugh and tell her she needs therapy. lol
April 21, 2011
0

found this helpful
This is something I sadly missed out on at Easter. In fact, I had never heard of it until my boys were old enough to understand the Easter bunny, Santa, etc. My husbands family did this. And we do it for our children, along with hiding eggs. Love the powder footprints! We may have to try that this year, seeing as how they're 8 & may not have a chance next year... So sad:( Thanks for sharing!
April 21, 2011
0

found this helpful
Aw, this brought back memories ~ as a kid my parents always hid our baskets and my husband and I in turn hid our girls baskets when they were little. Since we knew where they were hid we always had the camera ready for some priceless pictures of finding their basket. My girls aren't married yet but I am sure when they have kids they will continue the tradition.
March 28, 2015
0

found this helpful
We would go to my daughter's for Easter and the fun began with dyeing Easter eggs the night before. Then we started hiding their baskets and put clues in the plastic eggs. They had to follow the clues to find their baskets. The eggs were numbered so they had to follow them in sequence. They had a blast looking for their baskets and look forward to it every year now.
May 12, 2017
0

found this helpful
Hi Gem. My husband and I were just watching an old episode of Family Feud and they had a question about Easter. I said "hunt the Easter basket, but it didn't make the survey. Then my husband of 32 years said that before he met me, he had never heard of hiding the Easter baskets. So I Googled it and found your article. While reading this I could have swore that my mom wrote this article. There were also 5 children in my family growing up and we had the same rules. My husband and I have two children and we had the same Easter tradition and yet I never knew that he had never heard of doing that. Our children do it with their children and my husband and I also do it with our grandchildren. All these years I thought everyone hid the baskets. Apparently though it is a very rare thing.
For our Easter Egg Hunt last year, we hid them outside even though it was a bit on the cold side. Our 5 year old grandson Mason didn't care. We hid them first and then he hid them as he loves to have us find them.
We colored them together and discussed each one that way he remembered more of them for the hunt. He would say "oh gramma I haven't found the one with the stars on it yet" as he looked through his basket.
We take lots of pictures and build lots of memories for his future this way along with having a total ball at the time.
By Ann from Loup City, NE
March 23, 2010
0

found this helpful
So cute. I can remember the fun I had as a kid hunting Easter eggs. I never won a prize for getting the most as I ate them as fast as I found them.
When I was reading your post, my mouth got to watering. I love candy Easter eggs.
This is the only time of the year you can buy candy Easter eggs. I ran across some of the old fashioned kind that are delicious. I stocked up on them and put them in the freezer. I want to make them last, plus I'm dieting so I allow myself to have one a week.
To eat it, it has to thaw, therefore, I have to wait for it. This allows me time to really think about it. Do I really need this Easter Egg? I decide that I do and enjoy every little bite of it.
I hadn't thought about them this week until I read your post. Out of sight. Out of mind. So true.
March 25, 2010
0

found this helpful
Thanks for sharing, Ann - your grandson sounds so sweet! You not only reminded me of my own childhood Easter egg hunts, you reminded me I have to get myself some Cadbury eggs ASAP!
March 25, 2010
0

found this helpful
I love what you do with your grand babies and this is such a cute photo! Thumbs up :-)
March 15, 2017
0

found this helpful
We've always done that as well. Parent hides the eggs then kid gets to hide eggs. And when my mom was convalescing, we just brought the fun there. Since she passed, last year, was our first year including our dog Cola. We put treats in the eggs and if course we "egg" him on with excitement after he finds each one. And posting it to Facebook involves even more fun to share. Thank you for your story. God bless
We color and hide Easter eggs every year for our 4 children to find Easter morning. Early on when we only had 2, we found one always found more then the other and a lovely morning quickly turned into a fight! So I started assigning a colored string of yarn draped throughout the house with Easter eggs hidden along the way per child. Each child has to follow their own color and as they follow the winding trail behind couches, under tables, and over TVs, they also collect their eggs and it all leads to their Easter baskets. The kids love waking up to the mess of yarn in the living room and no one argues about who got more eggs!
By mae11197 from Branford, FL
April 10, 2009
0

found this helpful
Sounds like a great idea.
My kids would fight over color though lol.
April 10, 2009
0

found this helpful
For my kids, I had saved the plastic eggs they had gotten from other Easter egg hunts or that I had bought. I put their first initial on each egg, making sure there were the same amount for each child. Then I'd fill the eggs with candy and hide them inside the house. The kids knew they could only pick up the eggs with their initial on it. I saved the plastic eggs to reuse year after year.
April 10, 2009
0

found this helpful
Maybe I'm just a mean ole mom but I've always taught my children that all things can't be equal all the time. Sometimes Billy got the latgest "half" of the sandwich, sometimes Glenn did. They need to learn that just because your brother or sister gets something doesn't mean your going to get the same thing. Don't we all learn that?
April 1, 2014
0

found this helpful
My mother did a similar thing with me and my two sisters. Instead of using yarn, she equally filled baskets with eggs and candy and hid them throughout the house and each child had the same number of baskets and their name written on a piece of paper placed in the basket. If you found a basket and the paper slip had your name on it you kept it, but if it had someone else's name, you left it there.
To avoid jealousy and hard feelings at an Easter Egg Hunt for your kids or grandkids, use all the same color eggs for each person. Example: blue for Joey, pink for Amy, yellow, green and purple for other kids, etc. Then take one egg of each color and put the same thing in each. Continue until all the eggs are filled. For the hunt, tell each kid what color is theirs and to only pick up eggs of that color. That way everyone has the same amount of eggs and the same amount of "goodies". No one gets their feelings hurt. If you want to and if the kids are old enough to understand, you can have one special "prize egg".

I hope this helps someone and I hope everyone has a Happy and Holy Holiday - Easter, Passover, or whatever holiday you happen to be celebrating.

By Margaret from Denton, Texas
April 3, 2007
0

found this helpful
Yes this works great especially with kids of differing ages.
The last few years I've put written clues in the egg to find the location of the next egg. That's tough to do, because you have to work backwards in hiding your eggs and writing clues.
My children enjoy easter egg hunts, but when it was too cold outside to have it, I would take jellybeans, and hide them inside instead of using the colored eggs. They are so much smaller and would take them quite a while to find. You can match the colors to your decor so they match in. The black ones are really hard to find!
It's best to count them as you hide them, or you might be finding them months from now! For the harder ones, I'd say your getting hot or getting cold, as they get near it. You can have a prize for the most found, and for the hardest one found. Have fun!
Source: From my mother, when I was a child.
By Noriemong from Dover, PA
March 14, 2005
0

found this helpful
I would like to do a scavanger hunt for my girlfriend's kids for Easter, instead of just giving them Easter baskets. Does anyone have any ideas for some clues. I will probably do it inside the house since it is still cold outside.

Laura
By guest (Guest Post)
March 15, 2005
0

found this helpful
We do this every year and we have 2 different age groups to contend with. For the older ones we use clues like I go round and round (clothes dryer) and Brrrrr I am cold (Freezer). They have to find the first egg which is very visible and inside it is the next clue and a small prize and on and on until they get to the big prize. For the little ones who cannot read we draw pictures of where to go next.
March 17, 2005
0

found this helpful
You can do an egg hunt in the dark and let them use flashlights. Also, I like to make a special egg for each child with their name on it and everyone is instructed not to pick up an egg if it does not have their name on it. Kids don't mind hunting eggs in the cold, so I would reccomend doing it outside. We did it inside once and the pictures are awful! Also, I like to put money, coins and dollars in the eggs.
By guest (Guest Post)
April 13, 2006
0

found this helpful
Great idea! We have been doing this in my family since I was a child -- with variations every year. For every egg we found, my mother read us part of a story she had written (usually about some kids looking for baskets) until, at the end of the last "chapter," (read when we found the last hidden egg) she would tell us where the children found their baskets, which was always where we could find ours. This also helped ensure no forgotten eggs were left rotting in the house. It was a combination of story time and egg hunt. I may not remember every toy I ever got for easter, but I still remember every story.
March 24, 2007
0

found this helpful
TRY a TREASURE HUNT instead. The end PRize being their Easter Baskets. If you hide eggs the first clue could be hidden inside one of those plastic eggs(maybe yu could decorate it with tube paints first so it is SPECIAL) The clue should be simple, Dr. Suess - like rhymes that cripiticly lead to the next clue. ( Example : on a treasure hunt where the clues are hidden : #1 in egg, #2 taped under kitchen table, #3 under childs pillow, #4 in refrigerator, #5 in bath tub// the clues would be :
(#1 - in egghunt egg)
Happy Happy Easter Day
This is clue # 1 , sending you on your Way
At this Treasure hunts end you will find
An Easter Basket made with you in mind.
Under the table where you eat your food
You will find clue Number Two
(#2, taped under kitchen table)
Go where sleepy Tommy lays his head at night
And find clue # 3 - You just might!
(#3 under childs pillow)
People ask this about the place of clue #4
Does the little light go off when you shut the door?
(clue #4 in the refrigerator)
In the place where you get your body all clean
There clue # 5 is waiting to be seen.
(#5 goes in bath tub) an so on, make it as easy or hard as their ages.
By guest (Guest Post)
March 31, 2007
0

found this helpful
For a number of years we have laid out a trail of the initials of the child (or the first initial only) with a small chocolate egg as a reward at each finding.This can be done with colored cardboard cutouts or something bright as long as it attracts the children.
When all the children are present they are told to follow their own initial on the trail until they come to the final surprise. This does not need to be an extra long trail and can be played inside or outside.
Parents will get involved with very young children and the older children will race as quickly as possible to get their prize.
Happy Easter
March 20, 2008
0

found this helpful
Along with candy filled eggs, my daughter's boyfriend suggested "Grandma Eggs"- Eggs with Grandma's 'words of wisdom'- like- Eat your vegatables, Don't forget to brush and floss, etc. You can even personalize them by ASKING Grandma, pa or whoever for their own personal words of wisdom. I thought it was cute! Brendan also suggested little games inside the eggs-'Stand on one foot for 15 seconds', give one green egg away to the person who is having the next birthday, whistle row-row row your boat, etc. This boy has 9 siblings so they know how to MAKE fun inexpensively! A big loving family!
Happy Easter Everyone!
By guest (Guest Post)
January 23, 2009
0

found this helpful
Hey I baby-sit and I'm always trying to come up with new treasure hunt clues for the kids. I need help! any ideas?
ex. The treasure is hidden where movies are watched and change is lost (the couch). Please post your ideas :) Thank you
April 18, 2011
0

found this helpful
Here is a suggestion but it takes a year to come to fruition so you have to be patient. I had a flower garden that I put annuals in each year, so one year I took a bunch of plastic eggs and filled with money, prize notes, etc. No food and buried them in the fall in that garden. The next year the kids got Easter pails with little garden shovels and trowels and had to dig up the eggs. This got my ground all turned over and we had a muddy blast!
March 23, 2010
0

found this helpful
The fun of being a kid is looking forward to the "Easter Egg Hunt".
By Laura from Orlando, Florida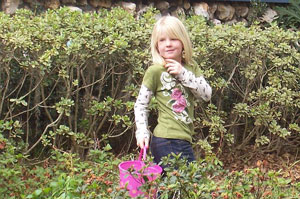 alt="Easter Egg Hunt" width="300" height="199">

What Fun!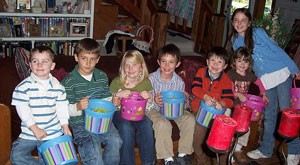 "Where is Kylie, we can't wait forever."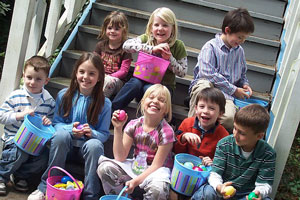 Wonder who got the $10.00 in the Easter Egg Hunt?

"Wow, aren't they beautiful", and what fun it was!
Answers:
Easter Egg Hunt
They are all gorgeous children! Look the happy faces! I love it. (04/27/2007)

By caraing
Easter Egg Hunt
What wonderful memories! I can remember watching my own children and grandchildren having fun like that. Thanks for sharing with us. God bless you! (04/28/2007)

By tedsmom