Foodsaver Tips and Tricks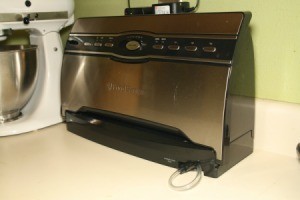 Food savers can help you vacuum pack all kinds of foods and other things. This guide contains
foodsaver tips and tricks
.
Solutions
Share on ThriftyFunThis guide contains the following solutions. Have something to add? Please share your solution!
I have a Ziploc vacuum storage pump and a vacuum food storage machine and use them for everything imaginable! To tell the truth the kitchen is the place they're used the least! Here are some examples of what I use them for. In some of these (with the vacuum machine bags), I have to create larger bags by cutting the roll to the length that I need, then cutting one or two more lengths, cutting them open lengthwise, and sealing them together, then sealing across the bottom. Then when it's full, sealing it across the top normally.
Traveling: Here I use the Ziploc bags and pumps. I use the gallon size bags, put socks, nylons, other small clothing items in, seal it and vacuum the air out. I also put one or two items of other larger clothing (t-shirts, underwear, blouses, slacks (jeans won't fit), etc into a gallon size bag, seal and vacuum. This saves tons of space in the suitcase. You could even go with a smaller suitcase using this method. The pump is small so doesn't take up hardly any space at all.
Trips To The Beach/Pool/Lake: The ziplock bag system is perfect for bringing home wet suits and towels in without getting everything else wet.
Out Of Season Linens: They advertise Space Bags for these, but I've never had a space bag stay sealed for very long. This is where the vacuum machine comes in, and creating the size bags you need. I store everything from tablecloths and place mats to sheets, blankets and quilts. I also store out of season clothes, sweaters and coats this way. It's amazing how much closet space is saved!
Seasonal Candles:I re-use candles from year to year (that's another post). When the season for a particular candle is over (i.e. pine for Christmas) I put it in a vacuum machine bag and vacuum seal it. It will still be like new for the next year!
Craft Supplies: I'm an avid crocheter/knitter/plastic canvas/latch hooker. Pretty much anything to do with yarn. Which means I have more yarn than I have space to store it! So I use the Ziplock bags to store the leftovers, and smaller skeins in. I sort them according to like colors and types.
And Finally The Kitchen! Vacuum sealing works wonders for sealing and storing/keeping everything except breads and liquids! Breads get smashed and liquids get sucked out during the vacuuming.

I use the vacuum bags and pump here because the bags are able to be opened, some removed, and resealed/vacuumed. I buy meats and veggies in bulk, cut them into individual serving size, vacuum seal and pop them in the freezer (dating the bags of course). Things stay good much longer this way.

I also use it in the fridge. It keeps leftovers, fruits, all sorts of things lots longer than putting it in a storage container. I've had lettuce (you know how fast that goes bad) last and stay crisp for up to 2 weeks!

I also prepare my own TV dinners, and vacuum seal them to go in the freezer, Not only healthier and tastier, but last much longer than the store-bought ones too.

Another idea: If you are preparing a dish to take to a pot luck, then prepare it as usual and put it in the dish to take it in. Create a vacuum seal bag large enough to fit the whole thing in, and seal it closed (with the dish lid on). Then when you get to where you are going, there will be no spills or mess along the way.
By Cricketnc from Parkton, NC
Read 3 Comments
November 11, 2004
0

found this helpful
That foodsaver vac 300 is useful for more than just food. I don't own one, but it would be great for packaging jewelry for a yard sale, salt for your husband's lunchbox, even as a type of laminator for precious keepsakes. I have a Christmas card from my Mother, who is now with the Lord. I keep it in plain sight in my kitchen and it gets a lot of dirt. Wouldn't the Foodsaver be great for it?

By springmaid5
Read 4 Comments
April 24, 2009
0

found this helpful
I recently purchased a large canister for my Foodsaver on Ebay. It evidently is an older model (the lid has a white knob with a red center) and the hose for my new Foodsaver wouldn't fit on it - much less vacuum seal. I called Tilia and they said they don't sell the old hoses, nor will they sell a new lid - you have to buy the entire canister. So, I thought I'd really wasted my money.
I found out from another ebayer that I could take Foodsaver's Wide-Mouth Jar Sealer, place it over the white knob on canister lid, attach the hose to the jar sealer and then vacuum seal the canister. This works just great - the air is drawn out of the canister through the jar sealer, creating a perfect vacuum seal.
By Moogie from Denton, Texas
Read 2 Comments
January 6, 2005
1

found this helpful
Vacuum sealing individual meals of leftover turkey and gravy, ham or roast beef and freeze, it stays fresher when vacuum sealed. They can be heated in the bags in boiling water.

By Syd
November 4, 2004
0

found this helpful
I freeze a lot of leftovers in individual servings in food saver bags. If it is liquidy, I freeze it in the bag before I seal it. This way if I don't want to cook, everybody picks what they want. Also good for taking to work.

By Vickie
Read 1 Comment
October 22, 2004
0

found this helpful
The Foodsaver is not just for food. I use it to vacuum pack face cloths, etc. and for travel. No more bottles spilling out onto your clothes. By Sandy
Read More...
October 14, 2004
0

found this helpful
After putting meat to be vacuumed into the Foodsaver bag, I then enclose the cut-out from the supermarket meat sticker/description indicating cut of meat, weight, date, etc. Then I 'seal' the meat and record the date of the sealing with a black permanent marker. By Lynn in Norfolk, VA
Questions
Ask a QuestionHere are the questions asked by community members. Read on to see the answers provided by the ThriftyFun community or ask a new question.
I recently borrowed a friends "food saver" to freeze some meat. The food saver worked great, and I insisted on replacing the roll of bags that I had used. To my surprise, the roll cost me $10.00 at Walmart. I would like to purchase my own food saver, and remember years ago, seeing one advertised on TV that you can use on any type of plastic bag and you could also reseal plastic bags that vegetables and frozen foods were purchased in. Does anyone know of any brand(s) of food savers that the bags don't cost so much and one that you can use to reseal all types of plastic bags with?

Thanks!
Debbie from New Jersey
November 12, 2008
0

found this helpful
Thanks for the advice about buying from ebay! I bought the food saver when my hubby was deployed to Iraq and used it for so many things. I have to agree about the lack of help from the company. My cutter is wearing out and you can't buy a replacement! How stupid is that? That told me to BUY an cutter accessory. Of ocurse I would have to pay shipping on the stupid thing...NO THANKS.. I will use my scissors to cut if I have to...what a horrible comapny.
Read More Answers
I have the vacuum seal machine for the gallon and quart size Ziplock bags, but I cannot find the bags in the stores here anymore. What can I do to get some?
By Janice from Salt Lake City, UT
May 7, 2011
0

found this helpful
I get my quart sized bags at http://www.thes … page/2380629.htm
They have the best prices that I could find. They also sell rolls to customize bags.
Read More Answers
August 30, 2004
0

found this helpful
I would like feedback on the food saver machines. Do they really do what they say? Is it frugal or expensive to use the bags, canisters, etc.?
June 4, 2008
0

found this helpful
Yes, definitely. If you have a Costco buy it from them. You can also buy online from them. The price is around $134.00 but you get the top of the line model with 3 canisters and two rolls of bags. If you ever have any problems just take it back and exchange it. They are GREAT about returns.
Read More Answers
March 17, 2012
0

found this helpful
I recently bought mason jars that came with lids and rings. I plan on saving salad in them with my food saver and jar sealer attachment that I just bought. Do I have to replace the lids each time I use the jars for this purpose?
By Francine from Nashua, NH
March 20, 2012
0

found this helpful
The lids can be reused indefinitely, as long as they are not bent when opened and the underside is not scratched and rusting. I'd keep them separate from canning lids, if you can to preserve foods.
Read More Answers
Related Content