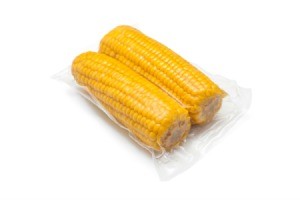 Five years, I brought a vacuum sealer on sale for $20. We save hundreds between resealing snack packages and breaking down family packs of meat into smaller portions. Since 2006, we've experienced an economic downturn that forces us to shop out the freezer. If we had to buy one now, we couldn't. I'm thankful we turned to frugal living while we had money.
Drawlee
Read More

Comments

I bought a new vacuum sealer to store and freeze meats and leftovers, but after I cut the bags, I have a hard time opening the two layers of the bag. I got so frustrated the last time I just threw the bag away and went to the store and bought freezer bags. I'd really like to use the vacuum sealer, though. Does anyone have any tips?
Nancy
Answers

Linda L.
Bronze Tip Medal for All Time! 64 Tips
January 7, 2005
0

found this helpful
Try wetting your thumb and index finger, and rubbing in opposite directions with the bag between. This works in the market, too, for opening plastic produce bags.
By syd (Guest Post)
January 8, 2005
0

found this helpful
Perhaps you are not cutting far enough from the vacuum seal. When you cut the bag air will immediately enter the bag.
I have never had this problem,

January 8, 2005
0

found this helpful
What brand did you use? If you use the food saver brand it is very easy. They are a little more expensive but can be reused.
By Maureen (Guest Post)
January 13, 2005
0

found this helpful
WHat we do with ours is take 2 small pieces of scotch tape (about 1" ea.) put them on opposite sides of the bag and pull apart

May 19, 2009
0

found this helpful
I want to buy a food vac sealer but don't know what is best brand. Price isn't an issue.

May 26, 2009
0

found this helpful
I like Foodsaver brand the best, they don't have the two layer thing.

May 7, 2011
0

found this helpful
Hi, I had the same problem. put scotch tape on the outer sides of the bag (about 1 inch apart) then just pull & they come right apart. Works for me all the time. Dorothy
Answer

this Question

Holly
Silver Post Medal for All Time! 364 Posts
How do I cut a straight line to make bags using the foodsaver roll or any other vacuum bag roll? I have the roll cutter in the machine, but don't want to have to swap rolls in and out every time I need a different size.
Holly
Answers
By janet (Guest Post)
September 10, 2005
0

found this helpful
Buy a personal paper trimmer.It even has a ruler on it .Works great!!You can usually buy them wherever you buy scrapbooking supplies.

Holly
Silver Post Medal for All Time! 364 Posts
September 11, 2005
0

found this helpful
Clever idea! Why didn't I think of that?

April 22, 2010
0

found this helpful
Fold the roll back on itself to the size bag you need. Do this on the table. Take a sharp knife and slice at the fold.
By the time you do this the machine is hot enough to seal the bottom. Put in food and seal the top.

September 13, 2010
0

found this helpful
Paper trimmers are great if you are trying to cut a large quantity of bags out of rolls. I've been selling vacuum packaging equipment for years now and I usually just tell people to seal the roll where you want it first and then perforate the edges. Let me know if you have any questions, I'd be happy to help!

May 21, 2017
0

found this helpful
Folding the roll of bags back on its self is what I've done for years! Be sure that sides are lined up then cut it with a letter opener the kind that has a blade at the bottom of the V.
I also use the letter opener to open a bag (same as above) fold the sealed end back over its self) then open with the letter cutter!! WORKS AWSOMELY!
Answer

this Question