May 1, 2009
0

found this helpful
I bought my 1st 1 in 88 for $300 and that was horribly expensive but it sound like a good idea and it did started paying for itself right off the bat, I am just 1 person and recipes are hard to make for just 1. After getting the food saver I was making family size meals and breaking them down to single servings.
I eventually wore that 1 out and the next 1 was less than half price. I was not going to replace it until I found I was having to throw food away from the freezer because of freezer burn and cheese was getting moldy long before I was coming close to using it up.
I am now on my 3rd one I deftly cannot live without it in fact I just had baby back ribs that were over 5 years old and they were delicious, as long as the vacuum seal is unbroken the food will last for years and I like it for aging meat with that also.

May 8, 2009
0

found this helpful
I agree ! I buy food in bulk from BJs/Costo and freeze them in smaller portions - like hamburgers and chicken. I have even cooked off a whole family pack of chicken breasts then froze them using my vacuum packers. Now I just take one cooked chicken breast the night before I want to use it and I can make chicken salad or sliced chicken for a sandwich the next day - or even throw it into a soup.
The only thing that gets expensive is the specialty bags - they can cost quite a bit if you don't shop around !

May 9, 2009
0

found this helpful
I couldn't afford to buy the more expensive models, but I did buy a Reynold's Handi-Vac for about $9.99. It does not work quite as well as I remember my mother's Seal a Meal working many years ago, but it does work and it is worth every penny and then some. You can buy them in grocery stores and probably Walmart.

May 9, 2009
0

found this helpful
DorothyNYC
I had always reused all of my bags even the ones that have had raw chicken or beef.
After I take the food out of the bag I put the dirty bag straight in the freezer and after I have a good dozen to clean I wash them inside and out with hot soapy water, I rinse them once and I put 1 drop of bleach in each bag and kind of mush them around in the empty sink fill the sink up with hot water and open and rinse each bag thoroughly, hang them open on a lingerie dryer which looks like an upside-down umbrella with clothes pins on the end of each arm.
I get several uses out of each bag, if for some reason the seal is broken in the freezer those I just throw away; I don't try to salvage them. One thing I do is before I use each used bag I smell them and if for some reason they have an odor I will toss them.
crazyliblady
Did you know if you contact the food saver repair department they sell rebuilt one's at a really reduced prices?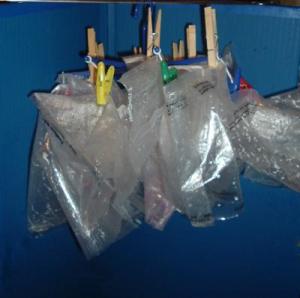 May 19, 2009
0

found this helpful
I have the Reynolds HandiVac and love it! We buy ground beef in bulk (the extra lean) and, since I got a hamburger press (got a gift certificate for it) I make our own hamburger patties. I put about 4 per bag and that is a meal. If company comes, no big deal, they can be cooked from a frozen state.
I got a really good deal on some colorful bell peppers and washed them and seeded them, sliced them up and stored in the vaccuum bags. Now when I am ready for fajitas, I have my bell peppers already to go. I also sealed some creamed corn that we made. Just like my Grandmother used to make, only sealed in a vaccuum bag.
Debbie-Jenn

May 19, 2009
0

found this helpful
I reuse my bags too except those that have had meat in them. I cook extra macaroni and freeze it in 1 quart bags then when I want to make soup I can just grap a bag and throw it in. I buy berries in bulk in the summer and freeze them in pint and quart size packs and then we can eat them all winter long.
Same with corn or anything else I can get in bulk. Very often I freeze leftovers for a quick meal later on. The trick with vacuum sealing things that are juicy, is to freeze it first then vacuum seal it, no mess that way. Also cake or pie, freeze it first and it won't get skished by the vacuum.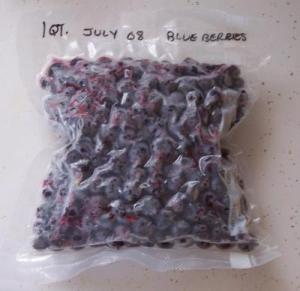 May 19, 2009
0

found this helpful
While recently on vacation, after doing too much shopping, we used the "food" vacuum sealer to help shrink some of my clothing items, to make more room in the suitcase. This really helped me to get everything home and avoid having to pay for extra luggage or to us the mail to send stuff home.