If your truck's heater is not working, your defroster usually doesn't work either. This guide is about Ford ranger heater not working.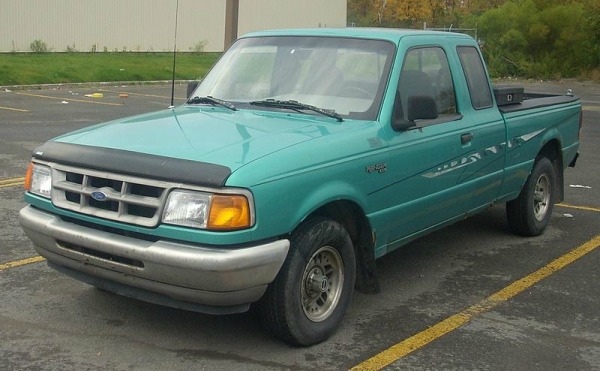 Filter

: All Articles
Sort

: Relevance
My 94 Ranger has a heater problem that I can not figure out. First off the the temp gauge does the windshield wiper thing, up and down, up and down. To make matters worse, often there is no heat. I have changed the thermostat and that didn't help. The top hose from the radiator does get warm, sometimes the heater hose gets hot. I've flushed the system once already. Any ideas?

Richard from Waterford, CT
By guest (Guest Post)
Flag
December 1, 2008
0

found this helpful
Best Answer
You could check for a broken head gasket. Check the oil on the dip stick and see if there is any water mixing with the oil. Or take it to your mechanic and he will check the oil.
By guest (Guest Post)
Flag
December 20, 2008
0

found this helpful
Best Answer
My husband had the same problem with our 93 Ranger. Several years ago, after driving for 2 Chicago winters with no heat (he tried all the usual stuff), I suggested he SOAK the heater core in CLR over night. Then he flushed it SEVERAL times with clear water, reinstalled it and it still works fine! He is toasty warm...of course NOW the Air Conditioner does not work...but his window does!
Read More Answers...
I own a 2005 Ford ranger. How do I tell which is screwed up, the temp control switch or the blend door actuator?
September 17, 2015
0

found this helpful
Have you checked the fuses? Mine are on the firewall on the driver's side. Easy to access.
I have a 2009 Ford F-150. My heater does not blow hot air when the heater is on. The blower is working fine. Air comes out both sides. The driver side is just a little warmer than the passenger side.
By Allen B.
February 18, 2015
0

found this helpful
You might be able to get an answer at this site:
I replaced the unit under the hood and the button on dash and the heater still does not work.
By Mike from Diamond Bar, CA
December 26, 2014
0

found this helpful
You do not provide the truck make, year, model, etc. so difficult to offer an answer. All brands are different with specific designs and parts. You can search online for the truck brand website and request help from customer service. Or, of course, try a mechanic experienced in repairing your truck type.
My truck heater will only blow cold air. Why?
By Martin S from Reno, NV
December 22, 2014
0

found this helpful
Bad Control Module, $5 - part; $100/hour for repair ande there is no guarantee that it will do it again. My solution: I have a 1998 Ford Ranger Truck that the Heater Module Switch went bad. A/C works fine but it doesn't do much good as a defroster. The 12 volt Defroster that are sold are about 12 Watts and don't do anything, don't waste your money.
What I did was buy a 400/800 Peak Watt Inverter (Harbor Freight), an extension cord and a 200 Watt Lashko Heater (War-Mart), total cost $60. Hook Inverter cables to battery posts, secure Inverter with zip ties away from engine heat, zip tie extension cord so it doesn't get caught in moving parts, run cord into cab is easiest and hook up Heater. I place the heater on the dash on a rubber mat so it doesn't slide (Velcro will work too) and turn on the heater and use the blower on low to distribute the heat. It dried up the moisture and defrosted my windshield just fine. My girl friend placed it on the floor boards and heated up the cab in no time. It was made to handle a office cubicle so a truck cab is no problem. There is no tip over switch on the heater so care must be used. It's only 200 Watts and the Inverter handled it with no problem. When I shut down, I shut off the Inverter so it doesn't drain my battery. Only problem it scrambles the AM radio signals but not FM, I can live with that when its freezing C-O-L-D. You get instant heat without having to wait for engine to warm up.
I have a '97 Ford Ranger truck. The blower works on high, but doesn't blow heat. The a/c works fine. I replaced the thermostat; that didn't work. Any ideas would be a help. Thank you.
By Jason
October 26, 2014
0

found this helpful
It sounds like your heater core is clogged.. It's usually very expensive and time consuming to repair a clogged heater core. It usually involves taking your dashboard off on the passenger side to get to the core... I would recommend getting a flush kit from your auto parts store (I usually get two) and where the hoses go to the heater core in the engine compartment, hook the flush kit up to both hoses coming from the heater core and flush it in both directions.
I usually try to hook my hose up to hot water to help break any gunk loose. You might also try pouring some coolant flush in prior and let sit to break up any gunk before flushing.
My 2004 Ford Ranger heating doesn't work. The coil does not leak. I have opened and closes the damper door manually. I have opened and closed the bypass valve under the hood, at different times while opening and closing the damper door. It still doesn't work. Any suggestions?
By firedog658 from Cleveland, GA
December 2, 2010
0

found this helpful
I think this is a question for your mechanic?
December 3, 2010
0

found this helpful
My husband has to remove the hoses and flush them out as trash accumaltes in them. When he does and fills the radiator back up my heater works great again. Hope this helps.
Read More Answers...
How do I back flush a heater core for 99 Ford Ranger? Can I do damage, if I do it wrong?
By Mike H. from Boston, MA
October 26, 2014
1

found this helpful
What I normally do is buy two flush kits that you can normally get at walmart or you auto parts store. I hook the "T" connector to both hoses going to the heater core in the engine compartment. I personally try to hook my Jose up to a hot water source, I also like to pour coolant flush into the core prior to flushing to help break up any gunk.
Also you want to punch off the hose on opposite side of "T" connector to force the water towards the heater core and not the toward the engine as this can mess up the thermostat and make sure that the second hose coming from core can dump into a container and is not attached towards motor or the gunk that will break free can go into motor and cause damage.
I've done this a hundred times and have saved tons of money from having to replace heater core. Total cost with new antifreeze and two flush kits should be around $30 rather than $400 for new heater core and $1500 for labor. It's definitely worth doing. You can also find videos YouTube and other sources (some prefer to use compressed air rather than water).
The only time you really need to replace heater core, is if it is leaking which in this case, your passenger side floor will most likely be wet).
The block won't even heat up. I replaced the thermostat today and the old one was in pieces so I thought that was it but it still won't heat up. Any advice?
By Greg
February 10, 2014
0

found this helpful
Mine has had so many heater problem, when I had that particular issue I for me it was as simple as a flush ... But a intense long flush. I got a hose and filled up a (Metal bucket) then boiled water wile that was cookin I opened the drain valve and radiator cap. Let it drain and filled up with distilled water and drained again and again.
Slightly closed drain to just a slow stream and poured in the boiling water turned on the car and let cycle. But remember the drain is still open so keep adding water when it starts to get really clean looking open can of sea foam pour 1/3 of bottle in radiator close drain and cap let cycle after a few min open drain (be careful under pressure and very hot) once drain valve is open for a few seconds, enough pressure should be gone to open cap add more regular distilled water till clean water continuously drains.
Shut drain cap and fill up radiator but add a little more of that sea foam to it and drive car around for 15-20 alternating speeds to make motor work and cycle have heater on high fan and heat throughout entire proses then check fluid level it should be low top off and wait 2 days and re-do proses u will prolly think this is re-donkulace Lol, but it really made mine work great once the car heats up.
You will need:
A can of sea foam
Found at most auto parts stores it's a white bottle red writing.
Remember 1/3 in with boiling water then drive hard or so! Then add another splash when filling coolant put remainder in gas tank I use it every other fill up :;
At least 4 gallons of distilled water depending on times you plan to flush and rinse
And finally what ever choice of coolant you choose.
Now my new problem is my thermo gauge never goes above cold line and also cold air is coming from some where in high speeds heater is amazing till I hit about 65 and up then cold It's like it can't keep up with the air entering system. Well it's up to you to try it or not but no mater my tips or anyone else do your home work on every thing you are informed about hope u get if fixed!
My 1996 Ford Ranger heater will not blow hot air. Any suggestions?
By AR
November 5, 2011
0

found this helpful
Hubby says heater core is probably stopped up and heater needs to be replaced.
November 5, 2011
0

found this helpful
I would check the thermostat. You should always replace the thermostat when changing the coolant with a high temperature thermostat. Sometimes people have the coolant changed and replace the thermostat with a low temperature unit and that will blow cooler air. My car was blowing cooler air but the reason was my coolant was down little over a half a gallon.
How do I fix a 2007 Ford Ranger heater? It has been to the shop and they said there was no problem with the heater core, but only a leak. It still does not work.
By Brenda
November 17, 2011
0

found this helpful
The key is you said it does work once in a while and you arent looking for a short or a switch problem and maybe you should. In the dash because it will work sometime and it wouldn't if the thermostat was closed. Think simple I would buy manual for the year of your truck and start reading. Being a female it was the way I had to learn how to fix my own vehicle. I think you'll find a simple small fix. Shucks guys I have fixed a radiator with a potato before.
March 6, 2013
0

found this helpful
Turn your cold to hot mixture knob back and forth and listen for it to open and/or close. Mine puts out either cold or luke warm air. I was pulling a uhaul trailer and the temp never went above low on the guage. When I stopped because I thought I was low on coolant I was able to actually remove the cap and see it was full also put my finger in coolant and it's luke warm. I've changed out the door on a ford RV that one wouldn't move so you wouldn't hear it close. I flushed my system and I will be replacing the thermostat.
I have a 1997 Ford Ranger and I can't shut off the heat. Do you know how I can fix this?
By Ethel
November 23, 2013
0

found this helpful
Check to see if the switch is connected correctly, the thermostat could be stuck in the closed position causing heat to come through vents, or blower motor may need checked for faulty wiring/or replaced.
The AC will not shut off to get heat in my Ranger.
By D.B
October 5, 2012
0

found this helpful
Have it checked or do it yourself, to see if something is wrong with the compressor. Also have them check the thermostat. Hope this helps.
My 1993 Ranger won't heat up. I've put in 3 different thermometers, drained and flushed the radiator, new heater core, new temperature sending unit and still no heat. The temperature gauge won't rise above the "C" and the heater blows cold air. Any suggestions?
By TG from Mcdonough, GA
December 29, 2009
0

found this helpful
The thermostat may be stuck open.
December 30, 2009
0

found this helpful
Most vehicles have some sort of valve in the heater hose to allow water to pass through the heater core , it can be not working. Then there is the mixing door for the heater and AC. It could be stuck in the AC position (either works by vacuum or electric). It also could be the controls in the dash.