This is close up of a beautiful honeysuckle plant my Mom has.

Source: My Mom's Garden

By Mythi from Poulsbo WA
Answers:
Garden: Honeysuckle
Very pretty honeysuckle plant That's my first. I did not know of this plant. Thanks, good luck. (07/30/2009)

By kffrmw88
Garden: Honeysuckle
Wow thats really pretty.I have a Variegated Honeysuckle vine,totally different look.the flowers are half pink/orange/yellow,the Hummingbirds love it. Here's mine.Hope you enjoy.
God Bless
Betsy 5b/n.e IN (08/03/2009)
By Bet_H_58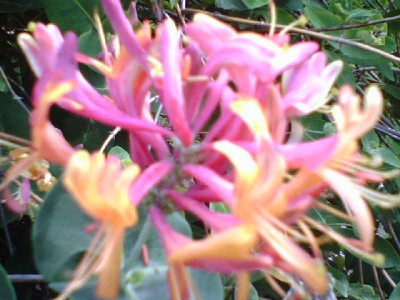 Garden: Honeysuckle
Mythi do you know what the name of the honeysuckle is because it looks an awful lot like columbine. (08/03/2009)

By lindybell
Garden: Honeysuckle
It is a columbine I know I used to live in Colorado. It is the state flower I think. Check it out on the net. It is pretty. (08/03/2009)

By rasta
Garden: Honeysuckle
Maybe they are different in WA but here in NC the honeysuckle flower is white. Either way, the aroma from it is one of my favorite first signs of summer! (08/03/2009)

By Cricketnc
Garden: Honeysuckle
That flower looks just like a columbine that I grew in my shade garden this year. Is it vining or a bush honeysuckle? (08/03/2009)

By ncgardener
Garden: Honeysuckle
That is columbine. No doubt about it. My daughter has honeysuckle and it's a vine with white flowers that smell wonderful. Columbine has no scent. (08/03/2009)

By c t
Garden: Honeysuckle
Very pretty photo of this flower, regardless of what it is. Thank you for sharing such a gorgeous flower. (10/26/2009)

By meoowmom