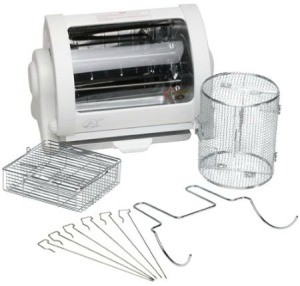 Whether you lost the manual or purchased the rotisserie without one, you probably want to find a replacement. This is a guide about finding a George Foreman Jr. Rotisserie manual.
Solutions
Share a solution for this guide today!
Questions
Here are questions related to George Foreman Jr. Rotisserie Manual.
Where can I find a manual for my George Foreman Baby rotisserie #GR59A? I got it from a yard sale, but the paper work didn't come with it.
By Brenda from Eufaula, AL
---
Best Answer

By Linda Kennedy09/25/2010
You can start here:
http://safemanuals.com/user-guide-i ... ner-manual/GEORGE%20FOREMAN/GR59A-_E
I have a George Foreman (baby George rotisserie) and need a timer control knob. Salton Inc. is no longer in business. Any suggestions?
By Deborah
---
Most Recent Answer

By Lizzyanny05/13/2011
I see George Forman products constantly at the Goodwill. I am sure you could find a part there.
I need George Foreman Baby Rotisserie Manual # GR59A.
By Linda
---
Most Recent Answer

By anne11/07/2009
go here:

http://kitchen.manualsonline.com/manuals/mfg/george_foreman/gr59a.html

How can I get a paper manual for my George Foreman Junior rotisserie?
By Connie
---
Most Recent Answer

By Frugal Sunnie02/04/2012
You can also Google the manufacturer's website, and once there use their search feature to find the manual for your specific model. They will charge you, of course, to send you a replacement, but it will be the exact one for your model.

You might be able to download it free, and print it at home, or the library, though, which will save you some money. I've downloaded and printed off free at the library and found it to be a considerable savings even with the per page costs.