Getting Rid of Mockingbirds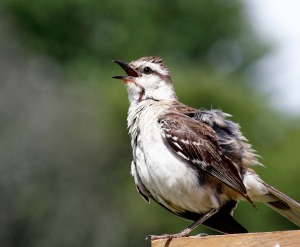 While some people enjoy the varied song and antics of the mockingbird, others view them as too noisy and territorial. If you are part of the second camp then you may be looking for a way to encourage them to move on. This is a guide about
getting rid of mockingbirds.
Solutions
Share on ThriftyFunThis guide contains the following solutions. Have something to add? Please share your solution!
Mockingbirds, among other species, are protected under the Migratory Bird Treaty Act. It is illegal to interfere with wild and nesting birds. For this reason, it is inadvisable to remove or heavily prune trees and hedges during nesting season. To avoid being targeted by an aggressive mockingbird, September - February are more suitable times to make significant landscaping changes.



Mockingbirds are attracted to forest edges, parks, small trees, freshly-cut lawns and to the tops of utility poles in suburban areas. They often nest in dense, low shrubs. If Mockingbirds are attracted to your property, it may be a consequence of the food sources it provides. Consider covering berry bushes with netting or add an additional bird feeder to a different area of the property to allow other species to get in on the action.

Mockingbirds may behave aggressively toward some species of birds, such as crows and hawks. Songbirds that mockingbirds tolerate within their territories may benefit from mockers' efforts to protect the area from mutual threats, however. Predation may occur from squirrels and snakes. The most common threat to wild and nesting birds, however, are ordinary house cats. If your area has a feral cat problem, please report the problem to animal control. If you are a pet owner, keep your cat indoors, particularly from dusk to dawn. Doing so protects cats and birds alike. Just as birds are common victims of cats, outdoor cats may fall victim to coyotes and raccoons, among other nocturnal threats.

Studies have shown that mockingbirds have the capacity to recognize individuals. They are capable of distinguishing between people and pets they view as threats and those they do not. Dive-bomb attacks by mockingbirds are most likely to occur during nesting season, which may begin as early as March and extend as late as August. To avoid being targeted by an over-protective mockingbird, keep your distance. Do not disturb a nesting site or approach their young during the fledgling stage (up to three weeks after leaving the nest).

Mockingbirds in search of a mate may sing night and day. If a lonely male mockingbird is causing you to lose sleep on a spring or summer night, make use of earplugs and/or a white-noise generator (an air purifier, for example). If a mockingbird fails to attract a mate, he will abandon the territory.

Mockingbirds consume grasshoppers and other garden pests. They are not believed to represent a significant agricultural threat.

Mockingbirds that reside where winters are harsh may migrate South.

Mockingbirds do not flock. A single individual or mated pair may occupy a 1-2-acre territory, and that territory may shift in the fall/winter vs. spring/summer.
Source: http://txtbba.tamu.edu/species-accounts/northern-mockingbird/ Book: "The Mockingbird" by Robin W. Doughty
Questions
Ask a QuestionHere are the questions asked by community members. Read on to see the answers provided by the ThriftyFun community or ask a new question.
We have a Mocking bird that rules our property. We enjoy the red birds, blue birds and beautiful yellow finches, but this Mocking bird will not allow them to feed at the feeders we have provided for them. He doesn't want to eat, just doesn't want any other birds in the yard. Our kitty has to walk along side of the house under bushes. What can we do?
By Littleredcheeks from Winchester, TN
March 19, 2017
0

found this helpful
Where do you find hawk sounds?
April 23, 2017
0

found this helpful
red tailed hawk - sound, call, and screech
April 23, 2017
1

found this helpful
I used a plastic owl and it kept away for a day or two but ti came back and started attacking the f*** en owl again.
June 3, 2017
0

found this helpful
Cornell Lab of Ornathology webpage. They have calls for all kinds of different birds. Used the hawk sounds to scare away Towhees that chirped all through my first pregnancy!!
Read More Answers
Related Content