Paint odors can linger in your home after you've finished your project. This guide is about removing paint odors.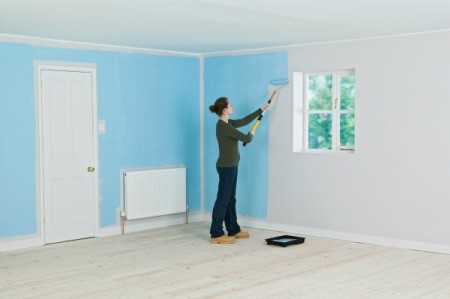 I just finished painting my son's bathroom and was wondering if there was anyway to expedite the removal of the paint smell? I tried a bowl of vinegar but that didn't help. I've been running the air cleaner to help expedite. It's kind of tough to leave the windows open due to it being frigid out this time of year.

Thanks!

Kelly from Bensalem, PA
---
Most Recent Answer
By Kyle Semaj 1 Flag
May 7, 2009
Hi, Some older interior latex house paints contain the preservative phenylmercury propionate. Indeed, a small child suffered brain injury after helping his mother paint his room.
The most effective mitigation technique would be to use activated charcoal and pass the vapor through it using a fan etc. The activated charcoal adsorbs the organic vapor. Good Luck!
---
There are a few items you can use that greatly help to mask or neutralize the smell of fresh paint. You also need to have good ventilation during, and for at least a couple of days after painting for health safety sake. Please keep in mind that these items only either mask or neutralize odor and that the VOCs (volatile organic compounds) in the paint will still be released into the air as the paint dries. For that reason if anyone has respiratory problems it would be best if they stay elsewhere for one night at the very least.
Here are the suggestions of what works for either odor masking or neutralizing:
Bioworld Odor Neutralizer Commercial Concentrate (Bon-Cc-41):
Is an odor neutralizer that can be ordered online. It's a tiny bit expensive, but it's concentrated:
http://store.bioworldusa.com/BioWorld-Odor-Neutralizer-Commercial-Concentrate/

Essential Peppermint Oil:
Peppermint oil is clear so it can be used even in white or cream tone paint colors to mask paint odor. Mix in 1 teaspoon to 1 tablespoon per gallon of paint.
Lemon Extract:
Lemon extract can also be used even in white or cream tone paint colors to mask paint odor. Mix only 1 to 2 drops per gallon of paint.
Pure Vanilla Extract:
Use only clear vanilla extract for white or cream tone paint colors to mask paint odor. You can use light colored vanilla extract for all other paint colors. Mix in 1 teaspoon to 1 tablespoon per gallon of paint.
Onions:
Cut a large peeled onion into quarters, place each in a separate saucer (one cut side facing down), add some water and place the saucers in different locations in the room.
Vinegar:
Place small bowls or small glasses filled part way with vinegar around the room.
Happy painting ;-)

**Bonus Note: The BioWorld Bon-Cc-41 can also be used to eliminate odors in carpets, hardwood floors, walls, and even laundry that are caused by smoke, skunk, pets, garbage, and urine.

By Deeli from Richland, WA
How do I remove paint odors in new paint before painting my walls?

Lynn from Florida
---
Most Recent Answer
---
By George 1
I recently painted a new wall with a 5 year old latex primer followed by 2 coats of paint. A very disagreeable odor emanates from the wall. I have never had this problem with "old" paint before. Where is the odor coming from?
By George from Port St Lucie, FL
---
Best Answers
By Cyinda 214 1,287 Flag
April 12, 2010
It could be your sheet-rock. Since 1997, many houses were built with Chinese sheet rock and they emit a "rotten egg" smell from the sulfur. This sheet-rock was recently recalled because it causes the wiring to tarnish and corrode quickly. If this is your problem, you will have to remove the sheet-rock! The sheetrock has been a real problem in Florida and the South due to the high humidity. The moisture in the paint also could have made the sheet-rock smell.
If it's just the paint, you can cover the wall with one or 2 coats of Zinsser shellac and alcohol based primer (read the back of all the Zinsser primers) it's one of the lower cost primers that Zinsser makes. They use this to prime and seal hospitals, kitchens and schools. They use it because it's low odor. This primer will help seal in the odor of the paint, but won't help if bad sheet rock is your problem.
Google: "Chinese sheetrock" or "Chineese wallboard" for more info.
---
April 14, 2010
If the smell is really disagreeable you may have to remove the wall entirely and sheet rock a new one. Maybe an animal like a squirrel or mouse died in between the walls. I sure wouldn't work hard to try to remove it or cover it up. I'd make a clean sweep. It doesn't sound good.
---
I am allergic to paint odour, my bedroom was recently painted. How am I to use this method (vinegar to remove paint odors) to get rid of the smell? Does anyone have any other methods? Please let me know. Thanks.
Rajamannar
---
Most Recent Answer
By Mary Ross 5 30 Flag
August 25, 2009
Using vinegar or scents only cover up the odor, fine if it isn't an allergy but rather that you hate the smell. The problem, if it is allergies or sensitivities is the volatile organic compounds (VOC). Covering them up does not make them go away. Some plants are noted for their ability to remove VOCs from the air, spider plants being one of the best. The next time you paint, get a low VOC paint, some now available have very little emissions. Or you can try making your own milk paint, unless of course you have dairy allergies.
---
By cj jones 4 15
How do I get rid of paint smell? I have bedroom that was painted with miller paint. It was 3 weeks ago and still has an odor and was water based. I have tried an Odor Genie with an open window and a fan - it is better but still quite noticeable. The rest of interior was done in Behr - no odor from day one. Any help would be appreciated.

Thanks,
CJ from Camas, WA
---
Most Recent Answer
By guest (Guest Post) Flag
October 13, 2008
I used a product called BON-CC-41 from BioWorld Products the last time I had my house painted. It works great. I had the painter add a little to paint. I came home that day and only smelt a very faint paint smell. By the next day, it was gone completely! I even slept in the same room that was painted the day before and didn't have any problems. In the past, I would have the paint smell linger for as long as a month. It was very nice not having to live with the headache of the paint fumes!
http://www.adbio.com/odor/uses/odor-control-paint-2.htm
---
I used a paint made for timber and metal in my bathroom by mistake. What can I do to get rid of the strong paint smell?
By Marie C. from Limerick
---
Most Recent Answer
December 31, 2014
And of course, leave the window open as much as possible.
Marg.
---
I'm getting the whole inside of my house painted. The paint smell is a little heavy. How can I remove the smell?

Rachel from Houston, TX
---
Most Recent Answer
By suzanne 277 750 Flag
August 13, 2008
fans will speed up the drying process. open all windows possible
ozone machines are really good. don't know the cost of renting one though
---
By Ngangi 1
How to get rid of paint odor in a newly painted house?
By Ngangi
---
Most Recent Answer
By Catherine 7 153 Flag
November 5, 2014
Put plates in the painted room with either
. slides of raw onions
. baker yeast (not chemical yeast)
. charcoal
You can also burn a candle and use a ventilator with the windows opened.
Hope this helps!
Catherine
I used the wrong kind of paint in my bathroom. I used paint for the outside of your house. How do I get rid of the smell fast?
By twin
---
Most Recent Answer
August 24, 2013
There are many kinds of paint. There are some that are indoor or outdoor paint. My personal choice inside is to use oil. New paints have very little odor to them. Adding a few drops of colorless baking vanilla and stirring in does well in LATEX only. Ask the supplier of your paint. They will have other things to recommend.
How do I get rid of paint smell?
By Cynthia from GA
I just had the doors painted with QDE enamel paint; the odor is so strong. I like the color but to get rid of the smell is my problem now. Can you help? Thanks.
By Fely C.A. from Manila, Philippines