You may need a litter box of a different design than you can find to buy. This guide contains homemade cat litter box ideas.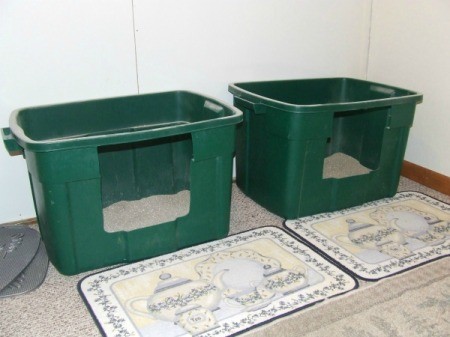 I have a large Rubbermaid-type storage container covering my kitty's litter box in my storage room. She used to kick litter all over the place. Now I have much less to sweep up, plus it looks much more pleasant for company.
Turn the container upside-down and cut a doghouse-style opening in either the broad side or the end. Having the opening on the end will make an even more enclosed and private litter box. Use either a box cutter or strong shears, but be careful the plastic can be very tough.
Once you've cut the opening, lay the lid on the floor. Place the box on top of it and snap the inverted container back on the lid. It only takes a few dollars and a few minutes to make a piece of furniture that is completely washable and will last practically forever.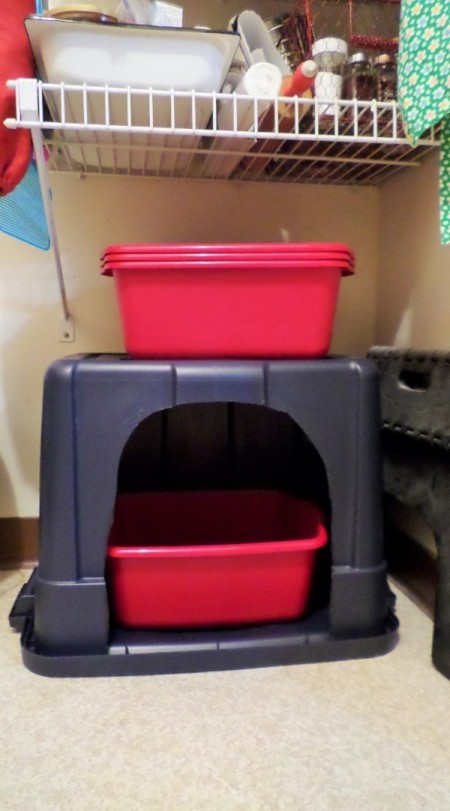 By emily 7
I have found a great idea for a hidden kitty litter box! Go to the nearest thrift store find a decent sized two drawer night stand. Take top drawer out and cut the face of the drawer off.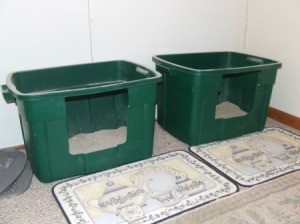 I always had a hard time finding a litter box that was deep enough for my cats. They kicked loads of litter out the side with traditional boxes. Then I tried a covered box and it just made them stinky when they came out. So I made my own litter box.

I simply bought two deep Rubbermaid containers (I think Rubbermaid would be better than Sterilite since Rubbermaid is a little more flexible) and cut two openings in the front of the containers. I had my dad actually cut the openings with a saw, but I think a sharp box cutter (and a little safety precaution) would work, too. This has been the "perfect" solution for my cats because they only spill litter out the front, and even then it's not very much.

I hope someone finds this tip useful!

By Kathy from SD
While shopping in a department store, I noticed that basic litter boxes for cats cost more than a dishpan. The litter boxes were priced at over $6.00 each. The dishpans were priced at $1.29 each.
By ArthurNewYork from Bronx, NY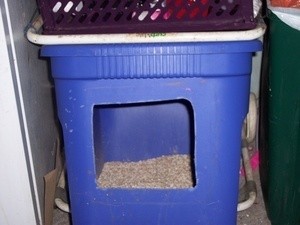 We made this litterbox out of a $4.00 tub. We used a dremel to cut the hole, It is bigger than the normal box and easier to open and clean.

By Karen
By julrobs 11 2
I have a multi-cat household. After years of using covered litter boxes, which help keep litter in, but are time consuming to clean, I realized maybe a long and deep storage box would work. I now have several long, somewhat deep, not too deep, some of my cats are elderly, boxes. I save a lot of time when I clean them.
You can also use the lids that come with the boxes, to put between the wall and the box, as a splash guard! Since they are not called pet boxes, they are cheaper, too!
By julrobs from North Augusta, SC
Covered cat litter boxes are ridiculously expensive, however they certainly do help contain cat odors. Since we are a multi-cat family I found the best way to cut the cost and still reap the benefit was to use plastic storage containers.
You can purchase a nice size storage container for around $5. The storage containers now come in a variety of designer colors so designing your own cat condo by stacking them expands the possibilities.
Using a box blade knife, carefully cut out a hole on one side of the container large enough to accommodate your cat. You will want to leave several inches at the bottom to provide a lip to contain the cat litter inside the box.
Fill your new cat litter box with litter and if you choose, you can even attach air fresheners to the bottom of the lid before popping it on the container. For additional convenience you may apply adhesive hooks to the back to store the litter scoop and disposable bags.
When it is time to clean the litter box just remove the lid and scoop the waste as usual.
As I mentioned before you can expand your cat litter box into a condo by stacking a second box filled with a comfy pillow for kitty to use as a "hiding" cubby.
By Lyricfaerie from Norman, OK
By mreynolds 1
After seeing a nifty cat box with a high price tag, I decided to make my own. It is a tote with a hole cut in the top of the lid. I had empty totes already so that didn't cost me anything. The litter does not get kicked out at all. Occasionally some is tracked, but it is way better than it being kicked out. My cats love it too.
Additionally, I did buy a cat pan set that has two pans and a sifter for like $18 at one of the big box stores. The solid pan fits perfectly in my tote. I still have to disinfect the big tote, but not as often as I do the inside pans. Overall, it is less cumbersome.