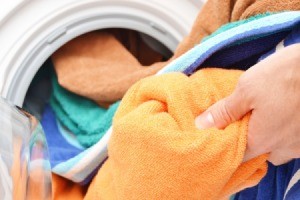 Homemade laundry detergent can be just as effective as store bought brands as well. This page contains recipes for homemade laundry detergent.
Ad
---
Solutions: Homemade Laundry Detergent Recipes
Read and rate the best solutions below by giving them a "thumbs up".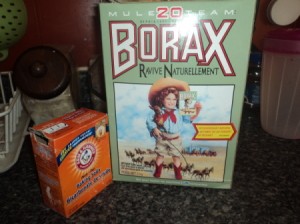 Buy these ingredients at the dollar store. You will only need 2 tablespoons per load of laundry.
Materials
3 bars of Fels Naptha soap
1 box of borax
1 box of washing soda
2 cups of baking soda
2 containers of Oxiclean
Instructions
First grate your soap, then mix all ingredients together. I used two garbage bags doubled up. Tie well and shake all your ingredients around a few times. Put into a container with a lid.
You can add 1-2 containers of fabric softener crystals into the mix for a nice smell.
By coville123 from Brockville, Ontario
This is a super simple way to save a ton of money that goes down the drain for everyone. This also reduces some of the chemical toxicity in the water. For a little work (less than a half an hour) you can make 20 gallons for less than $5!
Ingredients:
2 (5 gallon) buckets,
long wooden or durable spoon,
stick blender if you have one, or just stir
a food processor, grater, or the hand type grater
a funnel for pouring into cleaned out laundry soap containers.
2 bars of Fels Naptha Soap
4 cups of Washing Soda (not baking soda)
4 cups borax
1 cup of Bluette or other brand Bluing
2 cups liquid Oxi Clean (generic from the $ store)
4 cups of Fabric softener (optional, but, you don'tsp. need to worry about dryer sheets this way)
Directions:
You can find most of these ingredients at WalMart in the same general area, like on a bottom shelf.
First get 2 quarts of water boiling, stir in grated bar soap until dissolved, then remove from heat and stir in dry ingredients. Divide between 2 buckets.
To each bucket add have the bluing and Oxiclean plus the fabric softener (if you use it). Stir these until well mixed or use the stick blender. Add water to bring buckets to 3/4 full. Let sit overnight.
Next morning, stir again. It will be a gel like substance, stir very well until thoroughly blended. Pour into soap into containers 3/4 full (use funnel). Shake very well when going to use it.
I get detergent containers from recycling boxes, friends, family members. I like the big ones with the spigot on the end. You can shake it and set on shelf then measure half the cap. If you have others doing laundry, take a permanent marker and mark where half is at on the cap. Make sure they only use half. This is concentrated.
I only wash in cold water and if I have stains to pre-treat, I have an extra bar of Fels Naptha that I get the garment wet and scrub with the bar. It washes out well in the machine.
Try this! You have nothing but a half hour of time to lose and you will see how well this does and how far it goes. I was amazed when I first tried it. I added the bluing, Oxiclean, and fabric softener to the main recipe you can find anywhere. The bluing brightens whites. I don't like bleach. The Oxiclean is a little extra insurance that it will get really clean, and I use the fabric softener (like national brands do now), to not use softener sheets that clog the filter and cause problems on the life of the dryer. Happy laundry day!
By Suedobbins from Davenport, IA
I only now finally went to the website of the Duggar Family, the family from the "20 Kids and Counting" TV show, and found a treasure trove indeed! Below are 2 laundry tips that really impressed me and gave me a wake-up call with the "recipe cost." Approximately $2 per batch! The Fabric Softener Recipe sounds especially wonderful.
Homemade Liquid Laundry Soap
Front or top load machine - best value
4 cups hot tap water
1 Fels-Naptha soap bar
1 cup Arm & Hammer Super Washing Soda
1/2 cup Borax
Directions:
Grate bar of soap and add to saucepan with water. Stir continually over medium-low heat until soap dissolves and is melted. Fill a 5 gallon bucket half full of hot tap water. Add melted soap, washing soda, and Borax. Stir well until all powder is dissolved. Fill bucket to top with more hot water. Stir, cover, and let sit overnight to thicken. Stir and fill a used, clean, laundry soap dispenser half full with soap and then fill rest of way with water. Shake before each use. (will gel).
Optional: You can add 10-15 drops of essential oil per 2 gallons. Add once soap has cooled. Ideas: lavender, rosemary, tea tree oil.
Yield: Liquid soap recipe makes 10 gallons. Top Load Machine- 5/8 cup per load (approximately.180 loads). Front Load Machines- 1/4 cup per load (approximately 640 loads).
Arm & Hammer "Super Washing Soda" - in some stores or may be purchased online here (at Meijer.com). Baking Soda will not work, nor will Arm & Hammer Detergent - It must be sodium carbonate! Recipe cost approx. $2 per batch.
Fabric Softener Tip:
Add vinegar to rinse cycle instead of using fabric softener. Works great. Removes residue and odors. Also helps to keep washing machine and hoses fresh and clean too.
Source: http://www.duggarfamily.com/recipes.html
By Erin813 from Seffner, FL
Make your own soap. So easy and economical.
Buy a bar of Fels-Naptha soap (found at most grocery stores). Shave it or run through a food chopper, until very fine. Then melt it on a stove in a sturdy pan with 4 cups of hot water. Stir and melt until totally dissolved. Then pour into a 5 gallon bucket and add one cup of Arm and Hammer washing soda, one half cup of borax, and fill the bucket to the top with very hot water. Stir real good.
Let set overnight. It will be thick and gelled, that's OK. Stir up real good again, and fill empty soap containers with half of this concoction and fill the rest of the container with hot water. Then shake and store or use right away. Shake each time before using.
When doing wash, use about 1/2 cup per load. It works terrific! Really terrific! I have been using this for over two years now and the clothes are washed to perfection. And it's so cheap!
If you run out of fabric softener, add a cup of white vinegar to the rinse cycle, and your clothes will be super soft.
By Sondra from AZ
Making your own powdered detergent is a lot easier, less mess, and doesn't take up all the space. Here is the recipe I found online and now use.
Ingredients:
1 bar Ivory soap (or 2/3 bar Fels Naptha)
1/2 cup borax
1/2 cup washing soda (found in the laundry aisle)
Directions
Grate 1 bar of Ivory soap (or other not strongly scented bar soap). Add 1/2 cup of borax. Add 1/2 cup washing soda. Mix together and store in air tight container. Use 1-2 tablespoons per load.
This recipe is for a low-sudsing detergent and works especially well in high efficiency washing machines.
Source: homemadelaundrysoap.net
By Alice from Poteau, OK
Using dish soap for laundry soap is cheaper, but making your own from Ivory soap bars, washing soda (not baking soda), and borax, is extremely cheap and very easy to make. Melt the soap in the water, add the washing soda and borax, then dilute it with more water and you're done. Look for the recipe on the internet. You may not find all the ingredients at your store, but they are available online
By P.L. from Navarre, OH
I use Ajax, Dawn or Joy dish soap to wash my clothes. It's cheaper than Tide. Mix it 7 to 1 (Water to dish soap) in your empty laundry detergent bottle. I use the bottle cap to measure just like the Tide.

I also fill my Downey ball about half full of white vinegar and toss that in. It removes soap build up and softens too. For whites I use 1/2 cup of All Fabric Bleach from the Dollar Store. Really thrifty and it doesn't bother my husbands sensitive skin.

By K
Many years ago when I was a student, I first found a homemade laundry detergent recipe on ThirftyFun (so long ago it wasn't even called TF yet!) and have used a variant of it for years and years. Such that, I ALWAYS have both Borax and Washing Soda on-hand -- in fact, I use neither for any other purpose, and the mix for laundry is 1:1, so I simply mix the two boxes together when I purchase them.
Here's the refined recipe, bigger and less complicated, tweaked for maximum cleaning power and maximum thrift, along with maximum convenience. Every step rooted in basic science. It is totally non-toxic, so follow the directions closely or experiment/tweak it if that's your style:
Laundry Gel Soap (Use 1/4 cup per load)
Melt 1/2 bar grated Ivory (or ANY) soap (or 1/2 cup Castille soap)
in 1 quart of hot water. Dump mixture in an approx. 2 gallon bucket. Add 1/2 cup washing soda and 1/2 cup borax, 10 drops e-oil (for scent). Add 2 gallon of water. Mix, let sit overnight before use.
Tips:
Double ingredients for a 5 gal bucket full.
If you use a liquid soap instead of bar, no stove required, just mix all.
Best if mixture is stirred/shaken before each use, so
Pour into old laundry bottle or gallon jug (repurposed vinegar, milk)
I would like to give everyone the recipe for homemade laundry soap. This will cost you only around $7 a year to make your own soap!
You will need:
Bar of Ivory soap
1 cup of washing soda (Arm and Hammer for example)
Water
Directions:
Fill large bucket or container with 3 gallons of hot tap water.
Grate the bar of soap into a saucepan. Add just enough water to cover the soap, and heat, stirring constantly until soap is dissolved.
Add soap/water mixture to the hot water in the bucket. Stir to combine.
Add 1 cup of washing soda and stir (do not mix up these steps).
As this cools, it will turn into a white gelatinous soap. Thickness depends on the size of bucket used.
Use 1 1/2 to 2 cups per load of laundry. You can add 1/2 cup of baking soda to the load as well. Use 1/2 cup vinegar in a downy ball as a softener (the vinegar smell does not stay in your clothes).
Marsha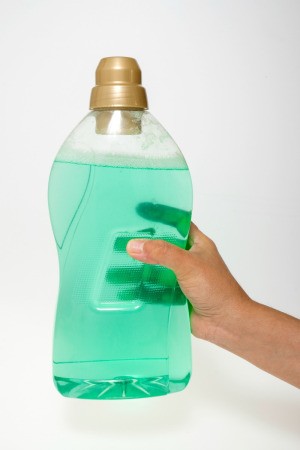 There are many different recipes to help save you money and clean your laundry. This is a guide about making homemade laundry detergent.
This is a recipe that my grandmother used to make (as did her mother) and she always said it's good for an all purpose type soap, meaning laundry, housecleaning, etc.
Ingredients:
2 cans Lewis Lye, or any good lye
1 cup Borax (20 Mule Team Borax) dissolved in 12 cups water
Directions:
Let stand 1 hour. Measure the dishpan or other large container. Pour water (with dissolved lye and Borax) into:
18 cups warm (all melted) grease (clean strained).
Add 1 Tbsp. ammonia after stirring for a while, and stir constantly, for 10 minutes. Use standard measuring cup for grease and water. Should be getting stiff after 10 minutes stirring. Just before it stiffens, stir in contents of a box or Dreft.
By Robin