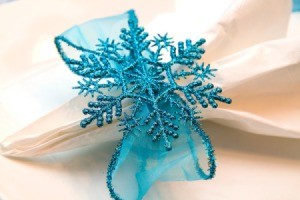 Napkin rings are often used to set a formal or festive table. Although you can certainly buy a wide variety of napkin rings, you can also make simple to elegant ones yourself. This is a guide about homemade napkin ring ideas.
Ad
---
Solutions: Homemade Napkin Ring Ideas
Read and rate the best solutions below by giving them a "thumbs up".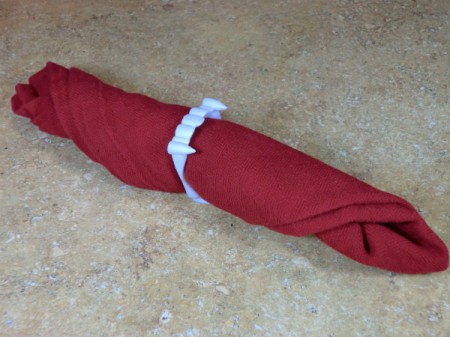 These napkin rings are perfect for your Halloween party. Simply roll up a napkin and slip a pair of plastic vampire teeth onto the napkin.
Directions:
Make some budget-friendly decorations (placemats, napkin rings, a paper garland, and heart-shaped confetti) for a special Valentine's dinner with your loved one, using red, white, and pink, with a dash of gold, as the colors of choice. Add a few beads and candles, and voila! the perfect setting for a romantic dinner-for-two.
Approximate Time: 60 minutes
Supplies:
three A4-sized pink marbled cardboard sheets
three A4-sized sheets of red paper
one sheet of white ordinary printer paper
pictures of roses
I used four roses cut from an old piece of wallpaper.
three paper lace tray liners
See http://www.partyatlewis.com/ for a possible supplier.
clear Contact paper
quick-drying rich gold spray paint
pair of standard scissors
eraser
pencil
quick-drying glue
a few sheets of old newspaper to protect the working area
heart-shaped cookie cutter
heart-shaped paper punch
optional: candles and beads to complete the setting
Instructions:
Placemats:

Position one of the paper lace tray liners over the long side of a cardboard sheet, so that the lace of the liner will be close to the edge of the cardboard.
Spray a layer of the rich gold paint over the tray liner. This means that the tray liner serves as a stencil.
Carefully lift the tray liner (stencil), so as not to disturb the pattern that has been sprayed onto the cardboard.
Repeat the process on the other long side of the cardboard.
Do the same with a second cardboard, so that you will have made two placemats.
Cut out the roses and decide how they will be placed on the placemats, and glue them in place.
Allow to dry thoroughly.
Cover the placemats front and back with the clear Contact paper: ~ see: Craft Project: Christmas Coasters for advice on how to do this.
Napkin rings:
To make the napkin rings:

Cut two pieces size 2.3 inches x 8.2 inches from the third marbled cardboard.
Place a tray liner on a sheet of newspaper.
Spray the tray liner with a layer of the rich gold paint and let it dry thoroughly.
Cut two strips from the tray liner and glue each of these onto one of the 2.3 inches x 8.2 inches cardboard.
Fold each cardboard into a tube to make a napkin ring and glue together where it overlaps.
Paper garland:
Place the cookie cutter on a sheet of red paper and trace around the edges.
Move the cookie cutter to a different position on the paper and trace around the edges again.
Continue until you have traced as many hearts as possible onto the paper. You should get approximately 12 hearts on a sheet of paper.
Fill the second sheet of red paper with traced hearts too.
Cut out all the hearts and erase any pencil marks.
Use a long tacking stitch on your sewing machine to sew the hearts two-two together to make a garland.
Once you have sewn over the first set of hearts, continue stitching for 10 stitches, so that you will make a string from the thread, and then sew over the second set of hearts. Stitch 10 stitches again, before adding the third set of hearts, then the fourth set, etc.
Continue until all the sets of hearts have been added.
Fold the hearts slightly open to create a three-dimensional effect.
Heart Confetti:
Use the heart-shaped punch to punch red and white hearts from white and red paper.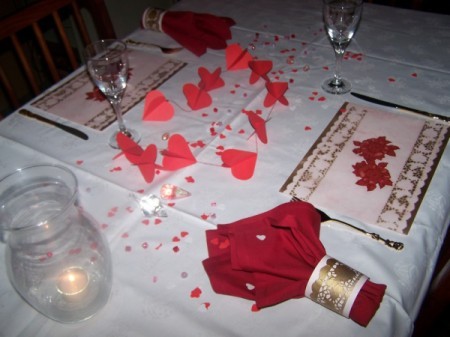 By BessieBessie from Pretoria, Gauteng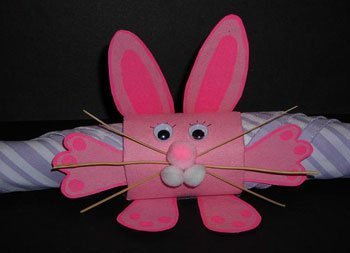 This project is sure to put a smile on the face of each and every dinner guest.
Crafting Time: about 20 minutes
What You Need:
paper towel tube
scissors
pink construction paper
pink marker
glue
wiggle eyes
three strands from a broom
three pom-poms, two white, one pink
pen
cotton ball
Directions:
Cut a two and a half inch piece of cardboard tube. Cover this with pink construction paper.
Draw and cut paws and ears from pink paper. Decorate these with pink marker. Glue one pair of paws to the bottom of the pink cylinder. Glue the second pair of paws to the inside of the pink tube. Glue the ears to the back of the tube.
Glue wiggle eyes to the front of the tube. Glue three broom strands below the eyes for whiskers. Glue the pink and white pom-poms over the whiskers as indicated on photo. Add eyelashes above the eyes and a tiny mouth below the pom-poms with a pen.
Glue a cotton ball to the back of the tube for the tail.
By Marie from West Dundee, IL
Festive table napkin rings with a knitted flower embellishment.
Approximate Time: 10 minutes each one
Supplies:
cardboard tube
oddments of wools (yarn)
PVA glue
buttons
craft knife/scissors
Instructions:
Napkin Ring
Cut tube into 1.5" wide rings. Toilet or kitchen rolls are ideal.
Glue or tape one end of wool to secure to card tube.
Wind wool around to cover card. I used double wool for speed.
When the tube is completely covered glue or tape end to secure.
Glue a button on to decorate.
I also knitted a small flower for some. See flower directions below.
Flower:
Cast on 7st with dk using 3mm needles.
1st row: inc into every stitch - 14sts.
Purl 1 row.
Next row: inc into every stitch - 28sts.
Beginning with a purl row, st.st 7 rows.
*Next row: k2tog to end - 14sts.
Purl 1 row.
K2tog to end - 7sts.
Leaving a long end, thread through sts and fasten off loosely.
Gather cast on sts tightly and join row ends.
Stuff lightly and pull up length tightly and fasten off.
Take wool around edge of flower and pass needle through middle to make petals.
Work a few stitches in centre.
If you want to knit a 2 coloured flower st.st 4 rows at *, change colour and st.st 3rows.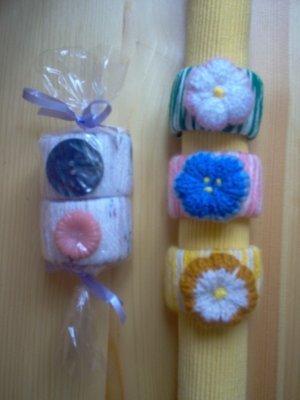 These would make great Christmas gifts or be perfect to use for that special dinner party. I gift wrap in cellophane for an extra special touch. I've made 100s of these over the years for my childrens' school fairs.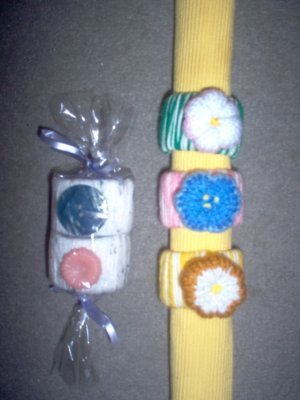 By Sue from Bristol, UK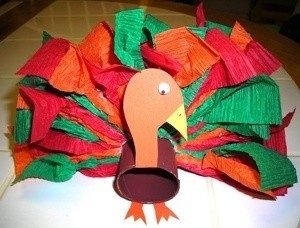 A cute little turkey idea you and your kids can make together to add a little fun to your Thanksgiving table.
Approximate Time: 45 minutes
Supplies:
cardboard tube
brown paint and paint brush
cardboard
pencil
scissors
crepe paper streamer in red, orange, and green
glue
orange and yellow construction paper or card stock
wiggle/google eye
Instructions:
Cut a 1 - 1 1/2 inch piece of cardboard. Paint it brown and set it aside to dry. This will be the body of your turkey and also the part that holds the napkin.
Cut a half circle from cardboard, then cut a smaller half circle from the bottom of it so it will fit over the cardboard tube.
Cut 6 to 8 inch pieces of streamer from all colors. Twist these together in the middle. Then, starting at the inside half circle of your cardboard piece, glue the twisted section over the cardboard so the untwisted parts of the streamer will fan out at the top and create a turkey tail. Continue until you cover the cardboard.
Color reference the photo for drawing and cutting out the turkey head, beak, and feet.
Fold the bottom of the turkey neck backwards and glue this little tab inside the cardboard tube to attach the head.
Glue the feet to the underside of the cardboard tube.
Use glue to attach the tail over the back of the cardboard tube section.
Glue a wiggle/google eye onto your turkey's head.
By Marie from West Dundee, IL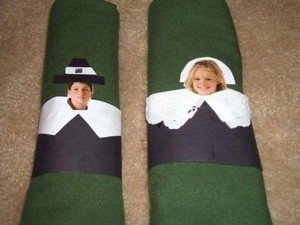 Kids will enjoy making these fun photo napkin rings that can double as place cards.
Approximate Time: about 1 hour
Supplies:
black paper or card stock
white paper
white paper doily
craft glue
tape
photos
Instructions:
Cut a 2x7 inch strip of black paper or card stock for each ring.
Cut a white paper collar, as shown in the photo, and glue into place. For lady pilgrims, glue a section of white paper doily over the collar, then glue in place.
Create a hat from black and white paper or a bonnet from a half circle of white paper.
Glue or tape a photo of a guest to the hat or bonnet and then to a strip of the black paper/card stock.
Wrap the strip around a napkin and secure with tape at the back.
By Angela from Wilkesboro, NC
Make these cute napkin rings to add some festive cheer to your Christmas table!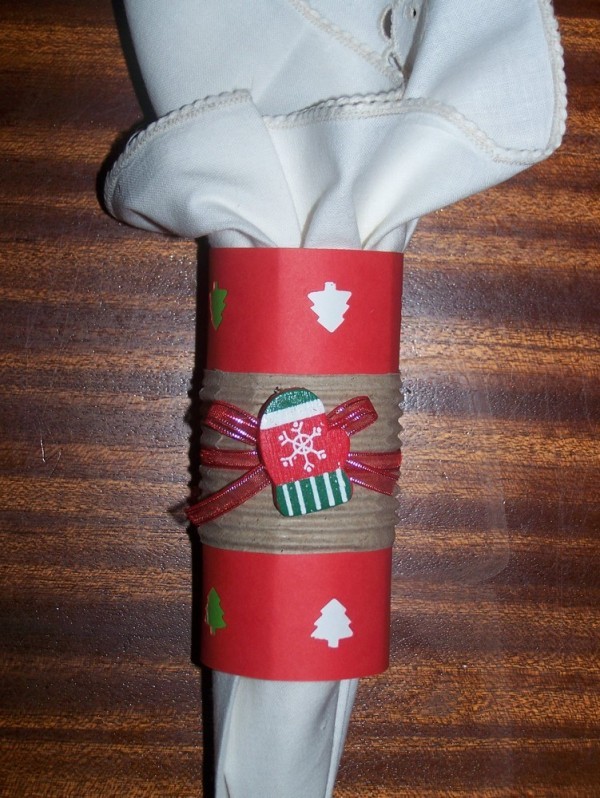 Approximate Time: 15 minutes per napkin ring
Supplies:
red cardboard
green paper
white paper
brown riffled cardboard
small wooden Christmas ornament (approximate size 1 inch x 1 inch)
2/8-inch wide red silver edged organza ribbon
tree-shaped paper punch
pencil
ruler
pair of standard scissors
quick-drying glue
Instructions:
From the red cardboard, cut a piece sized 6.3 inches x 3.7 inches.
From one short end of this red piece of cardboard, draw a line 0.6 inches from the side. This line will indicate the end of the overlap, once the napkin ring has been folded into a tube.
Punch an evenly spread row of Christmas trees on both of the longer sides, as indicated on the pattern sheet.
From the white and green paper, cut squares sized 1.1 inches x 1.1 inches.
At the back of the red cardboard, glue the white and green squares in place over the punched Christmas trees. Remember to alternate between white and green squares.
Cut the riffled cardboard to the correct size (5.5 inches x 1.4 inches) and glue it in place, as indicated on the pattern sheet.
Fold the napkin ring into a tube and glue together where it overlaps.*
Tie the ribbon around the napkin ring and make a bow. Add a drop of glue to the knot of the bow, so that the bow won't come loose.
Glue the Christmas ornament in place and voila!
*Tip: Folding the tube around an object, such as a Pritt Stick, will help you to form a neater tube.
By BessieBessie from Pretoria, Gauteng
This is a fun craft to involve the kids in and they can let their imaginations run wild. It is also a great way to use up some of those old spices you don't use anymore.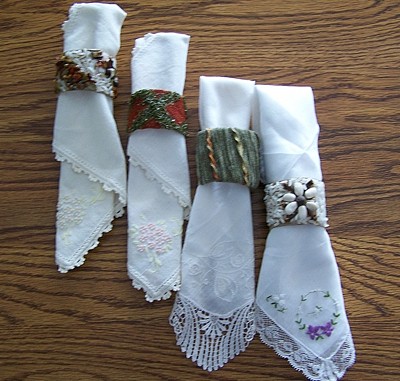 Approximate Time: 30 minutes
Supplies:
cardboard tubes
spices or seeds
tacky glue
craft knife
craft paint and brush
paper towels
yarn optional
Instructions:
Please read through the instructions before you start any pattern.
Cut your cardboard tubes into approximately 1½" lengths.
If you are using large seeds such as beans you might want to paint the tube or plan on sprinkling around the seeds with a ground spice to conceal the tube.
Before I started I poured the seeds I wanted to use, or spices into small bowls.
When using larger items such as beans be sure to use ample glue. Spread your glue over the entire area you are going to cover in small areas at a time so it stays tacky.
To make designs such as the red and green triangles make X patterns with masking tape (I cut my ½" tape in half lengthwise); apply your glue on the bare tube in several places then sprinkle your spice or small seeds on, or you can roll your tube in the seeds. Then, lightly tap the excess off over your container.
If you are using seeds lightly roll your tube on your work surface to secure them into the glue or tap them with your finger.
When you have finished filling all of your spaces remove the tape carefully and apply glue liberally where the tape was and fill in with your other choice of filler.
You will see in the photo below, I simply followed the line the wrap on the tube made with three pieces of tape. I then removed the middle one and used this method for a pattern. It does not come out even this way using 1" tape however. You need to measure around your tube and divide for accurate stripes.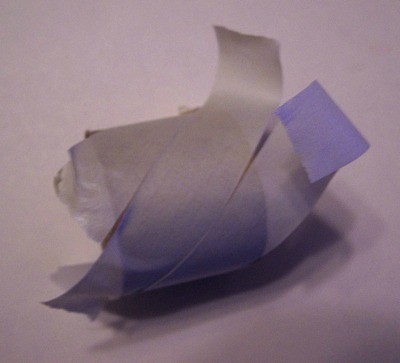 After you get them done spray them several times with a spray varnish to help secure the spices or apply several layers of your tacky glue making sure to cover every seed; they will still be fragile.
Think of the variety you could make, every holiday could be included with the wide array of spices and seeds available to us today. Don't stop with seeds let the kids wrap them in yarns or torn fabric with the raw edges for a country look.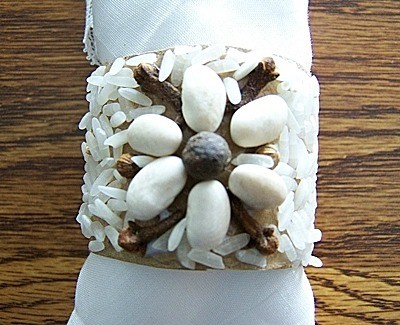 Enjoy!
By Ann from Loup City, NE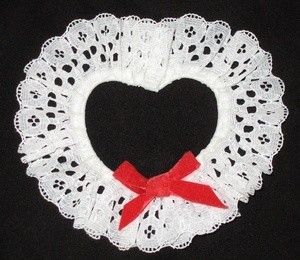 Frilly, romantic, inexpensive, simple to make, and so versatile!
Materials
white flexible wire or white pipe cleaners
lace trim
narrow velveteen ribbon
Instructions
You can make these any size or shape you want. For Valentine's Day, of course, you will want to make heart shapes. Experiment with the wire getting the shape and size you want. Cut the wire leaving an extra fourth of an inch to use in bending the ends together when you complete the project. Thread the wire/pipe cleaner through the "channel" which forms the upper edge of the lace trim. As you thread the wire through, push it together to get the desired fullness (generally 2 times the length of the wire is sufficient). Bend the two ends of the wire together. Shape the wire to form a heart with the connection at the bottom. Make a tiny red bow from the ribbon and glue it onto the ruffled heart at the bottom where you joined the ends of the wire.
There are so many ways to use these: as candle rings, napking rings, place card markers with a small piece of paper looped through the heart, etc. They are also pretty scattered on a red tablecloth for a Valentine's celebration.
By using different colored shapes and bows, these can be adapted for many different holidays. They are very pretty as little wreaths to place on the Christmas tree.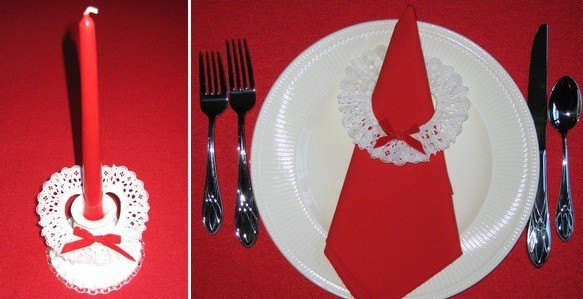 By Sandy from Elon, NC
Supplies
1 length of 3/4 inch PVC pipe
1 or 2 bags of flattened marbles colors of your choice
1 tube of silicone caulk (outdoor kind)
one hack saw or fine blade on your circular saw
Directions
Cut PVC pipe into how ever many napkin rings you want, they need to be cut about 1 inch wide. Glue flattened marbles to PVC. With all of the beautiful colors they have now days you can make these for any holiday or occasion, for a more rustic look you can use polished stones.
By Debra in CO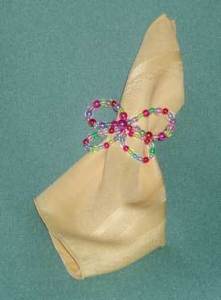 Use this beaded napkin ring at your next meal to add a special touch to your place settings.
Supplies:
24 inches of 24 gauge bead wire for each napkin ring
colorful beads - small, medium, and large
Directions:
Cut a 24 inch length of bead wire.
Leaving 2 inches of wire at the end, place 17 beads on the wire for the large wing. Alternate small and medium size beads.
Bend into the shape of a wing.
Repeat steps 3 and 4 for the other large wing.
Place 16 small beads on the wire for a small wing.
Bend into the shape of a smaller wing below one of the large wings.
Repeat steps 5 and 6 for the other small wing.
Shape butterfly and wrap the 2 inches of wire from the beginning around the center of the butterfly 2-3 times to stabilize it.
Connect the ends of the wire by twisting, leaving a loop large enough to fit a napkin in.
Using your glue gun, glue one large bead to the center of the butterfly to cover the wire wrap.
Use these at your next meal to add a special touch to your place settings.
You can even make extras and add them to your centerpiece for a coordinated look.
By Connie Decker Brown
Cut 12 inch pieces of raffia to make napkin rings. Soak the pieces in water or colored RIT dye, then wrap them around cardboard paper towel insert. When dried, they make decorative napkin rings for any occasion.

By Palma
Inexpensive cookie cutters make cute seasonal napkin rings.

By Linda
Give a "thumbs up" to the solution that worked the best! Do you have a better solution? Click here to share it!
Questions
Here are questions related to Homemade Napkin Ring Ideas.
How can I make cheap napkin rings for a wedding?
By Bonnie from Lynchburg, VA
Ad
---
---
Most Recent Answer

By Al10/22/2010
You can try making them like this http://charmingbeadz.blogspot.com/2 ... -to-make-your-own-cheap-wedding.html