Napkin rings are often used to set a formal or festive table. Although you can certainly buy a wide variety of napkin rings, you can also make simple to elegant ones yourself. This is a guide about homemade napkin ring ideas.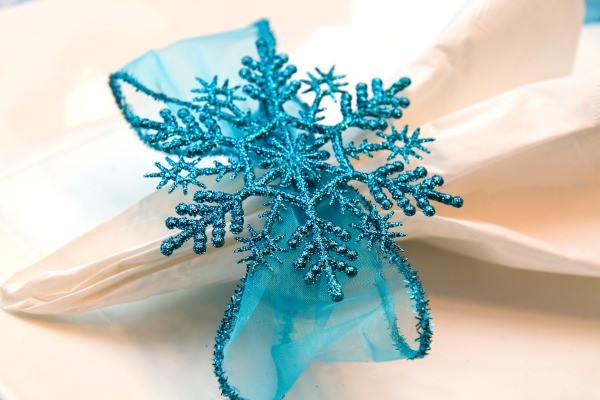 Filter

: All Articles
Sort

: Relevance
Give your table setting a classy touch with these easy and quick to make serviette ties as an alternative to serviette rings. You can add embellishments if you wish, but I think they look much neater left plain.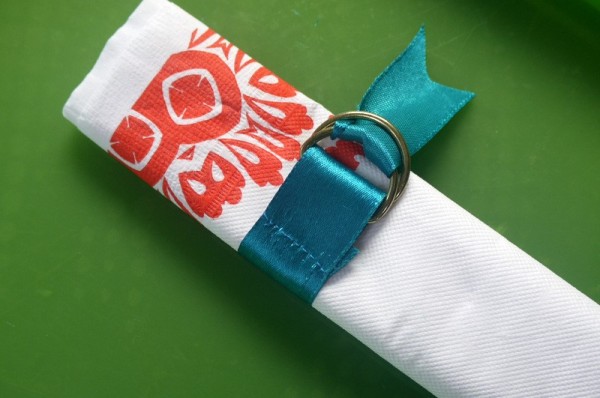 Comment
Was this helpful?
Helpful?
Yes
These napkin rings are perfect for your Halloween party. Simply roll up a napkin and slip a pair of plastic vampire teeth onto the napkin.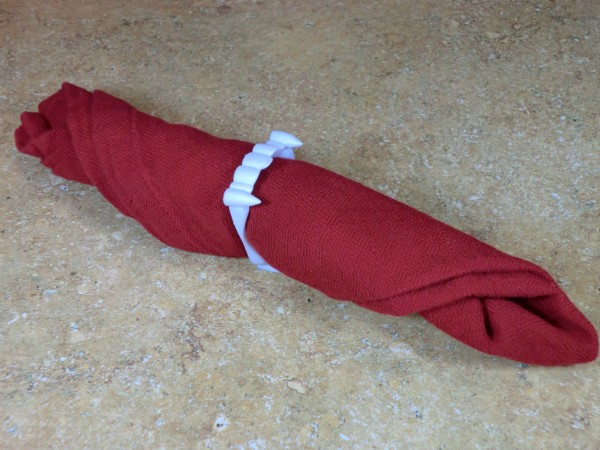 Kids will enjoy making these fun photo napkin rings that can double as place cards.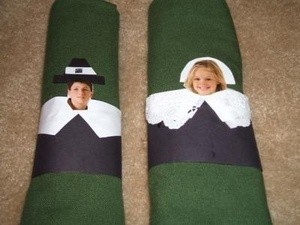 This is a fun craft to involve the kids in and they can let their imaginations run wild. It is also a great way to use up some of those old spices you don't use anymore.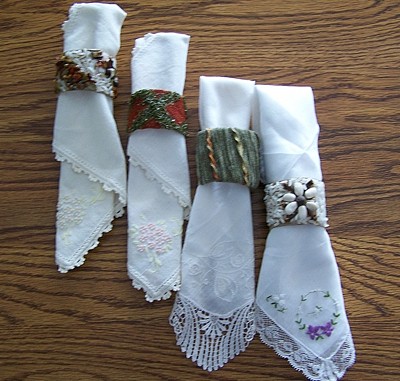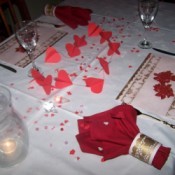 Make some budget-friendly decorations (placemats, napkin rings, a paper garland, and heart-shaped confetti) for a special Valentine's dinner with your loved one, using red, white, and pink, with a dash of gold, as the colors of choice. Add a few beads and candles, and voila! the perfect setting for a romantic dinner-for-two.
Approximate Time: 60 minutes
Supplies:
three A4-sized pink marbled cardboard sheets
three A4-sized sheets of red paper
one sheet of white ordinary printer paper
pictures of roses
I used four roses cut from an old piece of wallpaper.
three paper lace tray liners
See http://www.partyatlewis.com/ for a possible supplier.
clear Contact paper
quick-drying rich gold spray paint
pair of standard scissors
eraser
pencil
quick-drying glue
a few sheets of old newspaper to protect the working area
heart-shaped cookie cutter
heart-shaped paper punch
optional: candles and beads to complete the setting
Instructions:
Placemats:

Position one of the paper lace tray liners over the long side of a cardboard sheet, so that the lace of the liner will be close to the edge of the cardboard.
Spray a layer of the rich gold paint over the tray liner. This means that the tray liner serves as a stencil.
Carefully lift the tray liner (stencil), so as not to disturb the pattern that has been sprayed onto the cardboard.
Repeat the process on the other long side of the cardboard.
Do the same with a second cardboard, so that you will have made two placemats.
Cut out the roses and decide how they will be placed on the placemats, and glue them in place.
Allow to dry thoroughly.
Cover the placemats front and back with the clear Contact paper: ~ see: Craft Project: Christmas Coasters for advice on how to do this.
Napkin rings:
To make the napkin rings:

Cut two pieces size 2.3 inches x 8.2 inches from the third marbled cardboard.
Place a tray liner on a sheet of newspaper.
Spray the tray liner with a layer of the rich gold paint and let it dry thoroughly.
Cut two strips from the tray liner and glue each of these onto one of the 2.3 inches x 8.2 inches cardboard.
Fold each cardboard into a tube to make a napkin ring and glue together where it overlaps.
Paper garland:
Place the cookie cutter on a sheet of red paper and trace around the edges.
Move the cookie cutter to a different position on the paper and trace around the edges again.
Continue until you have traced as many hearts as possible onto the paper. You should get approximately 12 hearts on a sheet of paper.
Fill the second sheet of red paper with traced hearts too.
Cut out all the hearts and erase any pencil marks.
Use a long tacking stitch on your sewing machine to sew the hearts two-two together to make a garland.
Once you have sewn over the first set of hearts, continue stitching for 10 stitches, so that you will make a string from the thread, and then sew over the second set of hearts. Stitch 10 stitches again, before adding the third set of hearts, then the fourth set, etc.
Continue until all the sets of hearts have been added.
Fold the hearts slightly open to create a three-dimensional effect.
Heart Confetti:
Use the heart-shaped punch to punch red and white hearts from white and red paper.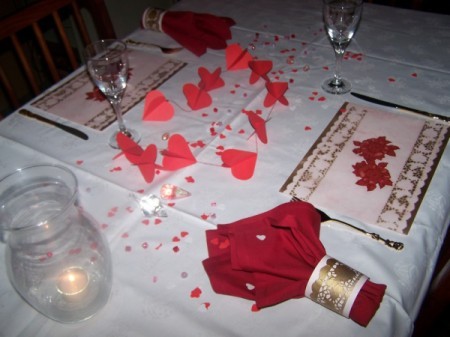 By BessieBessie from Pretoria, Gauteng
Comment
Was this helpful?
Helpful?
Yes
A cute little turkey idea you and your kids can make together to add a little fun to your Thanksgiving table.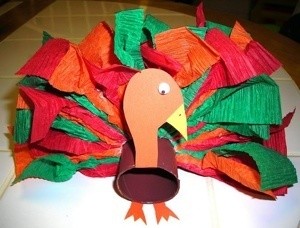 How can I make cheap napkin rings for a wedding?
By Bonnie from Lynchburg, VA
Answer
Was this helpful?
Helpful?
Yes
Read More Answers...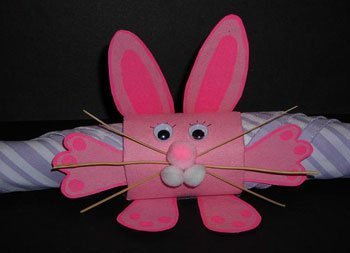 This project is sure to put a smile on the face of each and every dinner guest.
Crafting Time: about 20 minutes
What You Need:
paper towel tube
scissors
pink construction paper
pink marker
glue
wiggle eyes
three strands from a broom
three pom-poms, two white, one pink
pen
cotton ball
Directions:
Cut a two and a half inch piece of cardboard tube. Cover this with pink construction paper.
Draw and cut paws and ears from pink paper. Decorate these with pink marker. Glue one pair of paws to the bottom of the pink cylinder. Glue the second pair of paws to the inside of the pink tube. Glue the ears to the back of the tube.
Glue wiggle eyes to the front of the tube. Glue three broom strands below the eyes for whiskers. Glue the pink and white pom-poms over the whiskers as indicated on photo. Add eyelashes above the eyes and a tiny mouth below the pom-poms with a pen.
Glue a cotton ball to the back of the tube for the tail.
By Marie from West Dundee, IL
Comment
Was this helpful?
Helpful?
Yes
Festive table napkin rings with a knitted flower embellishment.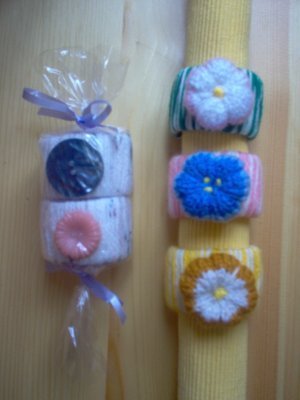 Comment
Was this helpful?
Helpful?
Yes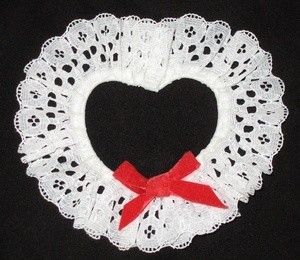 Frilly, romantic, inexpensive, simple to make, and so versatile!
Materials
white flexible wire or white pipe cleaners
lace trim
narrow velveteen ribbon
Instructions
You can make these any size or shape you want. For Valentine's Day, of course, you will want to make heart shapes. Experiment with the wire getting the shape and size you want. Cut the wire leaving an extra fourth of an inch to use in bending the ends together when you complete the project. Thread the wire/pipe cleaner through the "channel" which forms the upper edge of the lace trim. As you thread the wire through, push it together to get the desired fullness (generally 2 times the length of the wire is sufficient). Bend the two ends of the wire together. Shape the wire to form a heart with the connection at the bottom. Make a tiny red bow from the ribbon and glue it onto the ruffled heart at the bottom where you joined the ends of the wire.
There are so many ways to use these: as candle rings, napking rings, place card markers with a small piece of paper looped through the heart, etc. They are also pretty scattered on a red tablecloth for a Valentine's celebration.
By using different colored shapes and bows, these can be adapted for many different holidays. They are very pretty as little wreaths to place on the Christmas tree.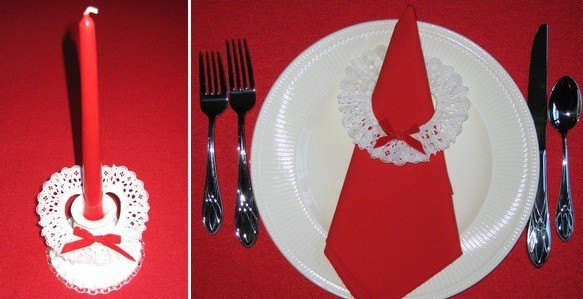 By Sandy from Elon, NC
Supplies
1 length of 3/4 inch PVC pipe
1 or 2 bags of flattened marbles colors of your choice
1 tube of silicone caulk (outdoor kind)
one hack saw or fine blade on your circular saw
Directions
Cut PVC pipe into how ever many napkin rings you want, they need to be cut about 1 inch wide. Glue flattened marbles to PVC. With all of the beautiful colors they have now days you can make these for any holiday or occasion, for a more rustic look you can use polished stones.
By Debra in CO
Make these cute napkin rings to add some festive cheer to your Christmas table!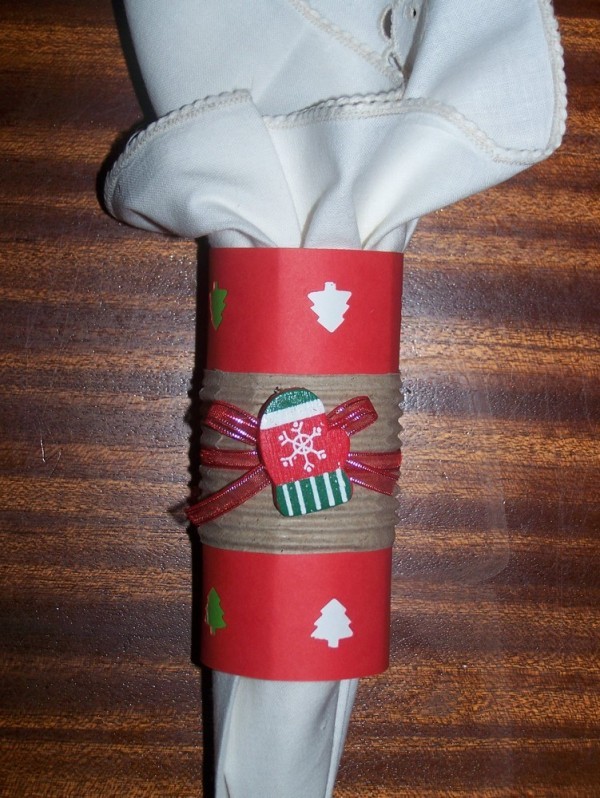 Comment
Was this helpful?
Helpful?
Yes
Inexpensive cookie cutters make cute seasonal napkin rings.

By Linda
Cut 12 inch pieces of raffia to make napkin rings. Soak the pieces in water or colored RIT dye, then wrap them around cardboard paper towel insert. When dried, they make decorative napkin rings for any occasion.

By Palma
Comment
Was this helpful?
Helpful?
Yes