A walk down the framing aisle of a department store reinforces the known expense of designer frames. Some small but beautiful frames costs $16 or more. However, they are easily made by both adults and children for minimal prices. The basic layout of the frame is tricky to make from scratch, but luckily plain frames are sold for $2. Purchase a basic frame at the store or a flea market and use its frame, hanger, and glass as the base for your new designer frame.
Naturally Beautiful
Try to bring some nature into your home with a frame. Children can collect non-perishable findings from the woods or yard, and with the help of a parent they can glue it to their frames.
Collect pieces of bark from a fallen tree and, using either hot glue or a thick craft glue, line the entire frame with it. Try either breaking it into smaller pieces or using larger ones to create two different looks. Then, add some other findings to a corner of the frame, making a corsage-like appearance. Add acorns and walnut shells, a small thick twig, or some pinecones to the collection.
Whether you're walking on the beach or rolling your pants up to walk in the stream, collect some small, smooth pebbles or small seashells. Then, create an entire frame of the stones and shells or decorate a plain frame with only a few of them. If you coat the frame in glue and then press it into some play sand, you'll have a nice beach scene on your frame.
After the spring storms have broken branches and scattered them around your yard, collect them while keeping an eye open for the perfect twigs to make a new picture frame. Break the twigs into the perfect length for your frame and glue them, side by side, over the entire frame. Either make the twigs follow the path of the frame or break them into tinier pieces and place them horizontally across the frame in an atomic clock style.
Feathery Fashion
With a bag of exotic bird feathers, a plain frame can become a fashion statement. Glue the feathers in an attractive pattern on your frame, following its original shape. Another option is to glue small feathers along the side and bottom of the frame and then add longer feathers to the top of the frame. Arrange them so they stick up like the fancy masks seen in costume stores and create an arched top to your frame.
Rag-Tag
Create a quilt pattern on your frame. First, cut some leftover fabrics into small one inch squares. Then, glue them onto the frame, overlapping them along the way. Try a formulated quilt pattern or a random crazy quilt pattern.
Nautically Knotted
Have an extra few feet of thick rope? Glue the rope in various fashions to the frame. Either follow the square path of the frame or swirl it around the edge. Add a few creative knots to the corners or at the base for visual interest.
If rope isn't your choice and ribbons give a more glamorous look that you love, try the same approach with scraps of satin ribbon.
July 10, 2010
0

found this helpful
I love these ideas, but some pictures of the frames described in the article would have been very helpful.
July 10, 2010
0

found this helpful
This is a great idea, I love it! I really enjoy Home made 'crafty' ideas such as this, and the picture inspires me to try it.
Thanks,
Darlene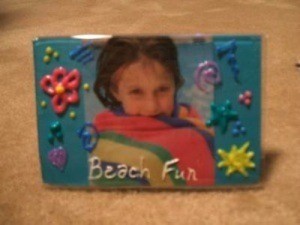 Kids and grown-ups alike will enjoy receiving these fun photo frames crafted from inexpensive acrylic frames and dimensional t-shirt paints.
Approximate Time: About an hour
Supplies:
acrylic photo frame (size of your choice)
photo to fit frame
dimensional t-shirt paints
card stock
scissors
craft glue
Instructions:
For a mat border, cut a piece of card stock the size of the frame. Center and glue the photo to the card stock. Before you being painting, practice by using a pencil to draw designs and print lettering on scrap paper.
Slip the photo into the frame. Be sure your painted design does not cover too much of the photo. Remember, dimensional paints will be thicker than pencil lines.
Position edge of nozzle on frame surface and slowly squeeze the paint, creating your design. Draw flowers, stars, hearts, and squiggles. When finished, set aside to allow paint to dry completely.
By Rachel's Mom from Wilkesboro, NC
October 25, 2012
0

found this helpful
This is a great idea, Thank you for sharing! For those that don't feel they are good at trying to free-hand paint on the frame (even with practicing before hand there are some of us that just mess it up no matter how we try not too!).
Slide a piece of scrap paper in the frame, trim the paper to the size of the frame. Remove the scrap paper, center your picture on the scrap paper, trace around the picture on the scrap paper, remove the picture and set it aside, find design's you like and with (maybe from a coloring book or magazine etc.) a pencil. Trace them onto the scrap paper being sure not to trace any on the space that you out-lined for the photo, (after tracing the designs you like, if you go over the lines with a marker it will help you see the lines better once the scrap paper is back in the frame, or even outlining the design's with the same color marker you want them to be painted will help you see if you like the colors and designs you have chosen).
rSlide the scrap paper back into the frame, paint on the frame by following the lines of the design's you traced onto the scrap paper. When the paint is dry, remove the scrap paper and replace it with the photo you have fit to the cardstock and frame and you have a frame to be proud of!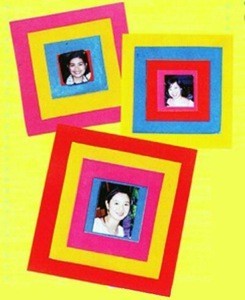 Groovy frames for your groovy buddies.
Approximate Time: 10-30 minutes
Supplies:
small Styrofoam squares
felt paper (different colors)
glue
double-sided adhesive
scissors
Instructions:
Cut out felt paper squares of different sizes.
Glue them onto the Styrofoam squares in alternating colors.
Glue 1x1 inch ID pictures of you and your friends at the center of each square.
Tape these to the wall using double-sided adhesives and you have a groovy gallery of your best buds.
By Jacklyn from Chula Vista, CA
June 5, 2009
0

found this helpful
Thank you for sharing. So simple and quick. I will have to do this with my 8yr old so she can display some of her pics in fun ways.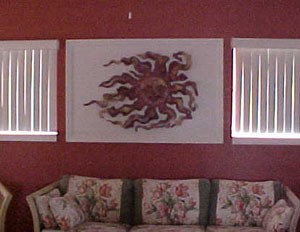 I had a big bare spot between two windows in my family room. I went to Home Depot and purchased a packaged door frame kit which is much cheaper than buying framing at 2 or 3 dollars per foot.
I took the door frame and mitered the wood to make a picture frame. I then nailed and glued the picture frame to the bare wall, painted the wall red and left the picture frame antique white and then hung my wall art inside the new permanent frame.
By Florida Gal from Spring Hill, FL
By guest (Guest Post)
Flag
February 24, 2009
0

found this helpful
Wow, you are so clever! That looks great.