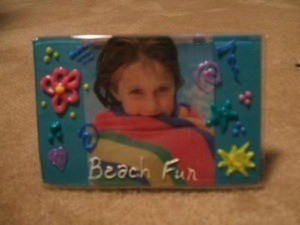 You can save money and personalize picture frames by making your own. This guide is about homemade picture frames.
Solutions: Homemade Picture Frames
Read and rate the best solutions below by giving them a "thumbs up".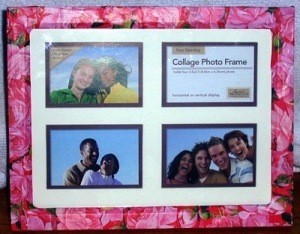 Transform an inexpensive picture frame into a beautiful handmade frame for a personal gift that is sure to please everyone.
Approximate Time: 1 hour plus drying time.
Supplies:
30 x 6 inch flowered wrapping paper
wooden picture frame
white glue
varnish (gloss or matte)
scissors
medium sized foam brush
Instructions:
Take the frame apart and set the glass where it won't get broken. Cut out small sections of the wrapping paper trying to capture each individual flower. Place all in a pile.
Put some white glue on a newspaper, paper plate, or palette. With the foam brush dip into it and lightly cover the back of one of the cut out roses. I started with larger ones and filled the spaces with smaller ones. Begin to fill the front of the frame with the roses. Miter the edges of the frame so that it looks like one continuous piece. Add roses as described above until the whole front is covered.
Move to the inside and the outside of the frame next. Lastly cover the back of the frame. If you have an area that needs a strip cut a small strip to put there and glue into place. Be sure you do not have any air bubbles under the roses. After the whole frame is covered allow to dry overnight.
Be sure to wash your foam brush completely so you can use it with the varnish. Check the frame and see if any areas need extra glue. Add it now if they do. Check the varnish to see if it needs to be shaken or stirred. If so you will need to do this. Gently add the varnish to the front of the frame with small amounts on the foam brush. Cover the entire front and sides and allow to dry.
After it has dried cover the back and allow to dry.
Add your favorite picture, artwork, hand work, or leave for the new owner to add their picture. Put the glass back into the frame and viola you have a very inexpensive handmade frame for a wonderful gift.
By Glenda from VA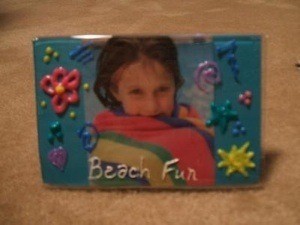 Kids and grown-ups alike will enjoy receiving these fun photo frames crafted from inexpensive acrylic frames and dimensional t-shirt paints.
Approximate Time: About an hour
Supplies:
acrylic photo frame (size of your choice)
photo to fit frame
dimensional t-shirt paints
card stock
scissors
craft glue
Instructions:
For a mat border, cut a piece of card stock the size of the frame. Center and glue the photo to the card stock. Before you being painting, practice by using a pencil to draw designs and print lettering on scrap paper.
Slip the photo into the frame. Be sure your painted design does not cover too much of the photo. Remember, dimensional paints will be thicker than pencil lines.
Position edge of nozzle on frame surface and slowly squeeze the paint, creating your design. Draw flowers, stars, hearts, and squiggles. When finished, set aside to allow paint to dry completely.
By Rachel's Mom from Wilkesboro, NC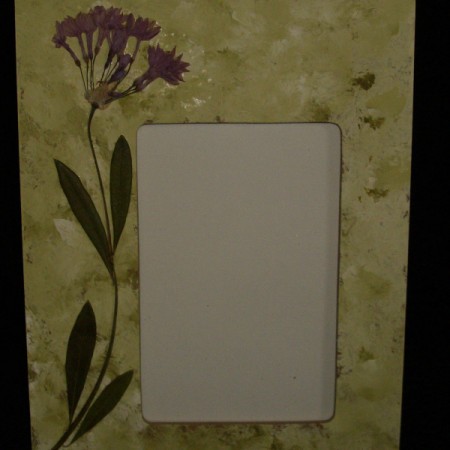 Table wood frame with glass cover, picture size 4 X 6, hand painted and decorated with dry nature from my garden.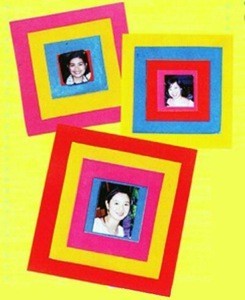 Groovy frames for your groovy buddies.
Approximate Time: 10-30 minutes
Supplies:
small Styrofoam squares
felt paper (different colors)
glue
double-sided adhesive
scissors
Instructions:
Cut out felt paper squares of different sizes.
Glue them onto the Styrofoam squares in alternating colors.
Glue 1x1 inch ID pictures of you and your friends at the center of each square.
Tape these to the wall using double-sided adhesives and you have a groovy gallery of your best buds.
By Jacklyn from Chula Vista, CA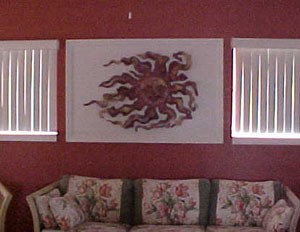 I had a big bare spot between two windows in my family room. I went to Home Depot and purchased a packaged door frame kit which is much cheaper than buying framing at 2 or 3 dollars per foot.

I took the door frame and mitered the wood to make a picture frame. I then nailed and glued the picture frame to the bare wall, painted the wall red and left the picture frame antique white and then hung my wall art inside the new permanent frame.

By Florida Gal from Spring Hill, FL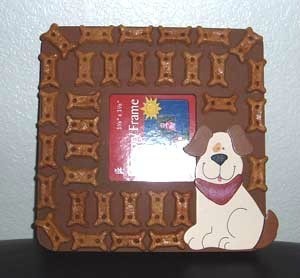 This is a fun photo frame to display your dog's picture, but keep it out of reach of any canine companion. My dogs have a liking for this frame, and I have caught them on occasion coveting the bones on the front. Still, it is a lot of fun to give as gifts to your fellow dog lovers, plus you can give your dog a treat while you are making it!
Supplies:
wooden photo frame
small dog-bone shaped treats
wooden dog (pre-painted)
sanding pad
acrylic paint: brown
paintbrush
hot glue gun
hot glue
Instructions:
Sand the wooden frame until it is smooth. Using a slightly damp rag, wipe off any dust.
Paint the picture frame with the brown paint.
Let the frame dry for 24 hours.
Glue the dog to the bottom, right corner of the frame. Make sure the base of the dog is even with the bottom of the frame.
Determine the placement of your dog treats on the frame, and then hot glue each one on individually.
Place a photo in the frame, and then place out of reach of any dogs!
By Kelli Mahoney
Give a "thumbs up" to the solution that worked the best! Do you have a better solution? Click here to share it!