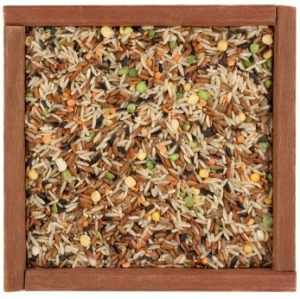 Create your own homemade rice mixes similar to Rice a Roni. This page contains homemade rice mix recipes.
Ad
---
Solutions: Homemade Rice Mix Recipes
Read and rate the best solutions below by giving them a "thumbs up".
This is handy to have and is much cheaper than buying the pre-made mixes.
Ingredients:
3 cups uncooked long grain rice
2 Tbsp. instant chicken bouillon granules
1/4 cup dried parsley flakes
2 tsp. onion powder
1/2 tsp. garlic powder
1/4 tsp. dried thyme
2 Tbsp. of butter (add when cooking)
Directions:
Combine all in storage container with a tight fitting lid.
To prepare:
Combine 2 cups water and 1 Tablespoon of butter in a saucepan. Bring to boil. Stir in 1 cup of the rice mix. Simmer 15 to 20 minutes till done, or use your rice cooker if you have one.
Cooking Time:
15 to 20 Minutes
Source: I do not know where I got this. I have had it a long time.
By Elaine from Belle Plaine, IA
A cheaper version of the classic Rice-a-Roni mix. I hate paying high prices for the foods my family loves and try to recreate as many as possible.
Ingredients:
1 pkg. angel hair pasta or any skinny spaghetti
rice
bouillon cubes, any flavor you like
butter
onion
mushrooms (fresh or canned)
Directions:
Put pasta into food processor and cut into about 1/4 inch pieces. Add equal parts of rice to the mix.
To cook, determine how much mix you need for the meal. Add butter or oil to saute pan, add onion and pasta mix, heat mixture until the pasta turns golden brown. Add water and your choice of bouillon Add mushrooms and simmer until tender.
By Michelle from Lanett, AL
This is a big time saver!
Approximate Time: 20 minutes
Ingredients:
3 cups uncooked rice
2 Tbsp chicken bouillon
1/4 cup parsley
2 tsp onion powder
1/4 tsp thyme
Add to Mix
To cook:
1 Tbsp butter
2 cups water
Ad
---
Steps:
Combine all the first set of ingredients. Store in bowl with lid.
To Cook: In saucepan bring the water and butter to a boil.
Source: My Files
Inspired by reading about Rice-a-Roni. We don't have it here, I made my own version. Result: a lovely smoky-tasting mix, very unusual.
Ingredients:
Brown rice
Wholewheat spaghetti
Buckwheat grains
Pot barley
Directions:
Mix equal quantities together, and store in an airtight container. Boil as for rice or spaghetti, BUT add 3 times the volume of water, as this mix is very thirsty. Pre-soaking might cut down the cooking time, but I haven't tried it yet.
When cooked, add powdered cumin, if liked, to enhance the smoky flavour. Other spices according to taste: chilli, cayenne pepper, smoked paprika.
This mix is for rice dishes where rice is the main ingredient. It is too flavourful for curries, etc.
Suggested uses: rice salads, rice-cakes, adding flavour to bean-burgers and, if you are a good bread-baker, to home-made bread-dough.
Prep Time:
Pre-soak for a few hours, if liked. Minutes
Cooking Time:
30 - 40 mins. Minutes
By Helen from Northern Ireland, UK
Ingredients
4 cups uncooked long grain rice
4 Tbsp. dry instant chicken bouillon
1 tsp. salt
2 tsp. dried tarragon leaves
2 tsp. dried parsley flakes
1/4 tsp. white pepper
1 tsp. dried minced onions
1/2 tsp. sugar
Directions
Combine all ingredients in a large bowl and stir until evenly distributed. Put about 1 1/3 cups into three 1-pint containers and label as "Chicken Flavored Rice Mix". Store in a cool, dry place and use within 6 to 8 months. Makes about 4 cups of mix.
To use: Mix 1 1/3 cups Chicken Flavored Rice Mix with 2 cups cold water and 1 Tbsp. butter or margarine in a medium saucepan. Bring to a boil over high heat. Cover pan and reduce the heat to low. Cook for 15 to 25 minutes, or until liquid is absorbed and rice is tender. 4 to 6 servings
By Christi from Paducah, KY
Ingredients
2 cups uncooked rice (not instant)
1 cup vermicelli pasta -broken into pieces
1/4 cup dried parsley flakes
6 Tbsp. instant chicken or beef bouillon powder or granules
2 tsp. onion powder
1/2 tsp. garlic powder
1/4 tsp. dried thyme
Directions
Mix all ingredients and store in air tight container.
To use:
Shake or stir dry mixture well.
Place 1 cup mix and 2 Tbsp. butter in a skillet. Cook until vermicelli is browned.
Add 2 1/4 cups water.
Bring to a boil, cover and reduce heat. Simmer for 15 minutes or until rice is tender.
By imaqt1962 from Illinois
This curried rice mix is an interesting complement for plain chicken or pork.
1 cup long-grain rice
1 chicken bouillon cube, crumbled
2 Tbsp. dried minced onion
1/4 cup raisins
1/2 tsp. curry powder
Layer the ingredients in the order given in a 1 1/2-cup jar.
Attach this to the Jar:
Curried Rice
Serves 6
2 1/2 cups water
1 package Curried Rice Mix
In a medium saucepan bring the water to a boil. Add the rice mix. Cover and reduce the heat to a simmer for 20 minutes.
By Kathy
Give a "thumbs up" to the solution that worked the best! Do you have a better solution? Click here to share it!
Questions
Here are questions related to Homemade Rice Mix Recipes.
Does anyone have a homemade recipe for the herbs in Rice a Roni? I would like to use brown rice instead of the white rice in most of their boxes.
By Derotha
AnswerWas this interesting? Yes No
Ad
---
---
Most Recent Answer