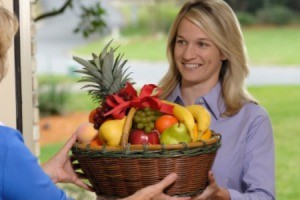 It is traditional to present new homeowners with a housewarming gift, especially if they have a party. This is a guide about housewarming gift ideas.
Ad
---
Solutions: Housewarming Gift Ideas
Read and rate the best solutions below by giving them a "thumbs up".
I needed a housewarming present for my cousin's daughters and I didn't have any money. But I do have a lot of plants, so I've started taking cuttings and rooting them in water for about two months now. They're now ready for transplanting and make a nice, thrifty gift to give the new homeowners.

By springmaid5
Give a "thumbs up" to the solution that worked the best! Do you have a better solution? Click here to share it!
Questions
Here are questions related to Housewarming Gift Ideas.
Do you give a housewarming gift when a person is renting or when they are purchasing a home?

Carol from Abingdon, MD
AnswerWas this interesting? Yes No
Ad
---
---
Most Recent Answer
By LRP (Guest Post) 09/13/20060 people found this helpful
my opinion on the matter is if it's the person's 1st apt, fine. but after that wait for the house.
---
I need ideas for a house warming gift. I don't want to give the usual such as kitchen towel, etc. I want something really different and useful. This is for a work acquaintance, not a close friend. My budget is no more than $25.00, preferably less. Thank you.
By chef4u from Sylvania, OH
AnswerWas this interesting? Yes No
Ad
---
---
Most Recent Answer
By Laura 154 06/20/20090 people found this helpful
A different tactic to take and its fun!

The Italian and a lot of the old countries had customs like these. We always gave bread, salt, and a broom. Mom would make a little gift basket and put in a loaf of Italian bread (readily available in NY), a box of salt, and a little hand held broom and dust pan. With a little card and she would write out the meanings of each item. Most people loved it and it was something unexpected from the normal house warming gift. I do it up with a pretty printed statement on fancy paper or on a scroll in the basket.

Here is what I found in a search.
This custom and tradition is not just something that Italians did. In fact there are various cultures that also give gifts to a person who purchased a new home. I can remember that when someone bought a new home you would give that person a broom, salt and bread as a gift, but as you can see below these are not the only items that one can give.

Significance
Bread You will never go hungry
Broom Sweep away the evil; Your house will always be clean
Candle You will always have light
Coin Bring good fortune for the year
Honey Represents the sweetness of life
Salt Represents life's tears; You can also place a pinch of salt at the threshold of each door and window for good luck; Mend all wounds
Wine Never go thirsty; Your home brings you happiness and joy
Wood Your life/home will always have stability, harmony and peace
---
I would like to give a little gift to neighbors who just erected a new garage...ideas?
By Jan L.
AnswerWas this interesting? Yes No
---
Most Recent Answer
By karenlynn 3 32 08/24/20150 people found this helpful
Take picture of garage, enlarge and frame it.
---
I wish to give a housewarming gift prior to completion of the new home. Is that considered acceptable?
By wilden from Huntsville, ON
AnswerWas this interesting? Yes No
---
Most Recent Answer
By Coreen Hart 78 376 07/07/20090 people found this helpful
I have to wonder why you want to do it now? Is it something they can use immediately?
---