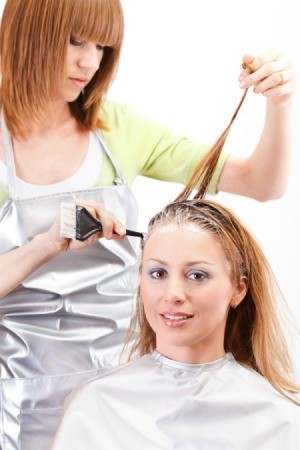 Maintaining the health of your hair when using hair dyes keeps it looking good. This guide is about how long should you wait before re-dyeing hair?
Questions
Here are questions related to How Long Should You Wait Before Re-dyeing Hair?.
I want to dye my hair a red and then do my tips black. I had a salon just do my tips bleached then red last year and I have a friend that is willing to do both if I just buy the product. I want it permanent. So after I dye my entire head red, how long before I can do my tips?
By Melissa B
I dyed my hair a dark auburn color, but I only got tints of it here and there and I hate it. I'd like to try going a dark blonde, but I'm not sure whether I need to strip the other color out or if I can just dye the blonde over it.
By B.A
I dyed my hair from medium/light brown to honey butter blonde. The top and bangs look great, but some of the sides still look the same and it's a little patchy. I have very long hair.
I used Garnier Nutrisse permanent dye. How long do I have to wait to and make the ends match the top?
By Liz G.
I recently colored my hair at home and it's not the color I wanted. I'm very anxious to get it to the color I want so I'm wondering how long I should wait to re-color it.
By Emily
Recently I dyed my hair to red, but I don't seem to like it very much. How long do I have to wait to re-dye my hair? Will the result be good?
By Jaime
---
Most Recent Answer

By Deb S. [3]12/22/2011
First a lot depends on the type of hair color you used , permanent or semi-permanent? also did you just go too bright? dark? or it's just not your color? If it's too dark, mix a little peroxide (20 volume) with your shampoo and that will take some of the color out. Afterwards use a good conditioner.

If the color is wrong and you want to go lighter your going to have to do the above but let it sit on your hair for 10 to 15 minutes and then rinse, dry, and you can re-dye the same day if necessary:) Always use a heavy conditioner and do the final rinse (after the creme rinse is rinsed out) in cool water.
I just recently went to the salon and got black stripped out of my hair and had them dye it back to a light brown. How long should I wait to dye my hair again? I was wanting to dye it Burgundy with blonde underneath.
By PandaKiwi from Bedford, TX
---
Most Recent Answer

By Maryeileen [76]06/30/2010
Call the salon and ask.
I colored my hair and thought it would come out dark auburn, but it just looks dark brown. Can I color it again with a red to make it more auburn? Can I do it right away or do I have to wait?
My sister kept coloring her hair different color browns every few days because she didn't like the shade and it turned green! I definitely don't want green! Thanks to anyone who can help me!
By Scubalover from Orange, CA
---
Most Recent Answer

By Brigette06/25/2009
Wait! Too much dye can make your hair brittle and fragile. Just wear it up for two weeks. You'll be fine- I've had worse :/
Solutions: How Long Should You Wait Before Re-dyeing Hair?
Do you have knowledge about this guide topic? Feel free to share a solution!