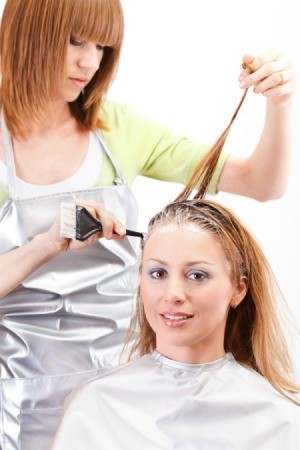 Maintaining the health of your hair when using hair dyes keeps it looking good. This guide is about how long should you wait before re-dyeing hair?
Ad
---
Questions
Here are questions related to How Long Should You Wait Before Re-dyeing Hair?.
Recently I dyed my hair to red, but I don't seem to like it very much. How long do I have to wait to re-dye my hair? Will the result be good?
By Jaime
Ad
---
---
Most Recent Answer

By Deb S. [3]12/22/2011
First a lot depends on the type of hair color you used , permanent or semi-permanent? also did you just go too bright? dark? or it's just not your color? If it's too dark, mix a little peroxide (20 volume) with your shampoo and that will take some of the color out. Afterwards use a good conditioner.

If the color is wrong and you want to go lighter your going to have to do the above but let it sit on your hair for 10 to 15 minutes and then rinse, dry, and you can re-dye the same day if necessary:) Always use a heavy conditioner and do the final rinse (after the creme rinse is rinsed out) in cool water.
I just recently went to the salon and got black stripped out of my hair and had them dye it back to a light brown. How long should I wait to dye my hair again? I was wanting to dye it Burgundy with blonde underneath.
By PandaKiwi from Bedford, TX
Ad
---
---
Most Recent Answer

By Maryeileen [76]06/30/2010
Call the salon and ask.
I colored my hair and thought it would come out dark auburn, but it just looks dark brown. Can I color it again with a red to make it more auburn? Can I do it right away or do I have to wait?
My sister kept coloring her hair different color browns every few days because she didn't like the shade and it turned green! I definitely don't want green! Thanks to anyone who can help me!
By Scubalover from Orange, CA
---
Most Recent Answer

By Brigette06/25/2009
Wait! Too much dye can make your hair brittle and fragile. Just wear it up for two weeks. You'll be fine- I've had worse :/
It has been about 3 months since I dyed my hair dark brown. Now I really want to get highlights or go blonde. The dark brown color has faded to a bit lighter shade over time. I want to know if this is enough time to wait to re-dye it. Will it be safe if I do it now or should I wait longer?
By Emily M.
---
Most Recent Answer

By Louise B. [5]12/21/2014
If it was my hair, I would say yes. However, everyone's is different. By three months, I would have roots showing that were at least 1 1/2 inches and then I have no qualms about re-dying. If in doubt, go to a good salon. Or wait another month.
I just dyed my hair, and the box shows a very light (almost platinum blonde) which is the color I want, but it turned out more strawberry blonde, a color I do not want. Would it be safe to dye again with a non- bleach lightener, a product called Super Blonde in 24-36 hours?
By Kati D. from Grove City, OH
---
Most Recent Answer

By Gale Silveira01/17/2015
First of all if you were wanting to make your hair "platinum" blonde
I would think your hair was darker to begin with, thus you were not dying your hair, you were bleaching your hair. The product you spoke of in your question is also a hair lightener, (bleach). I would think twice about re-bleaching so soon unless you want to damage your hair. Call a salon and ask for advice.
I have dyed my hair a dark purple, but it is lighter at the roots. I don't like it. What colour can I put on it to get rid of the purple? Thanks.
By Lisa
I dyed my hair about a month ago, but it didn't take the way I wanted it to. I decided to go out and buy some Splat and used it, but did not bleach my hair. I want to re-dye it with a different Splat color. Would it be safe to bleach 1st?

By Wanda from KY
I wanted my hair to be blonde on top and black underneath. The blonde I picked didn't take. So I waited a month to redo it. I just dyed my hair with a very light blonde (bleach). I am not good with bleach and I have very long hair. Plus, the bottom was still black. So now I have black underneath my hair, bleached blonde in the circle of the top of my head and the rest didn't take the same so it was like orangish, with a strip of light brown that refused to bleach for some reason.
Anyway, that was last night. This morning I tried to even it out. I was afraid to re-bleach, so I dyed it with a dark ash blonde. Now it is a total mess. It is still black underneath, still blonde in the middle of the back, with some great ash areas that took where the bleach didn't, but there is a grayish look in the middle.
My goal at this point cause I didn't like the black anyways is to have light ash brown hair, which is close to my natural color. I dont know how to even out the top and I don't know how to get the black out. I deep conditioned after both dye jobs and I have leave in oil in it too. My scalp seems fine. I don't think I damaged it. My hair is light so I guess it is weaker, but it is really soft, not fried.
I am not going to the salon. My hair is really long and they charge way too much money for the lenghth. Plus, I don't want to. I want to do it myself. I was thinking of bleach in shampoo which I read about. Will that even out my hair? Can I get rid of black with that?
Please give advice, not just go to a salon, cause if I was going to the salon, I would not have gone online. Trial and error is how you learn.
Thanks.
By stellaB
I have just dyed my hair from natural mousey brown. I used Garnier Olia permanent color with no ammonia, 9.0 light blonde, 60% oils, but it has gone gingerish. How long do I have to wait before I can redo it? Thank you.
By Deborah
How long do I need to wait to bleach my hair after using the hair color removal product?
By Laurie C.
I want to dye my hair a red and then do my tips black. I had a salon just do my tips bleached then red last year and I have a friend that is willing to do both if I just buy the product. I want it permanent. So after I dye my entire head red, how long before I can do my tips?
By Melissa B
I dyed my hair a dark auburn color, but I only got tints of it here and there and I hate it. I'd like to try going a dark blonde, but I'm not sure whether I need to strip the other color out or if I can just dye the blonde over it.
By B.A
I dyed my hair from medium/light brown to honey butter blonde. The top and bangs look great, but some of the sides still look the same and it's a little patchy. I have very long hair.
I used Garnier Nutrisse permanent dye. How long do I have to wait to and make the ends match the top?
By Liz G.
I recently colored my hair at home and it's not the color I wanted. I'm very anxious to get it to the color I want so I'm wondering how long I should wait to re-color it.
By Emily
Solutions: How Long Should You Wait Before Re-dyeing Hair?
Do you have knowledge about this guide topic? Feel free to share a solution!