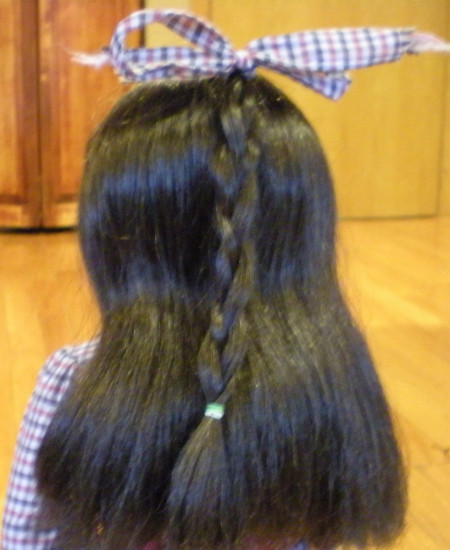 This is an easy and inexpensive way to repair American Girl Dolls' hair using household items.
Approximate Time: 4 hours (approx.)
Supplies:
1 tsp wig shampoo
6 fl oz liquid fabric softener
3 cups water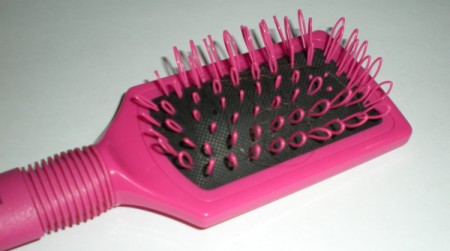 Ad
---
Steps:
First, you wash the doll's hair using directions on wig shampoo container. Rinse completely using lukewarm water, then pat dry gently.
Pour water and fabric softener into large container, or a sink.
Gently massage water/fabric softener mixture into doll's hair and let soak for approx. 1 1/2 to 2 hours in the mixture.
After soaking, rinse doll's hair in lukewarm water until mixture is completely removed.
Gently brush doll's hair with wig brush. If you have the American Girl brush, feel free to use it. But if not, you can find a wig brush at your local beauty supply store.
After brushing, pull hair into three sections and braid. If the ends are really frizzy and you can't braid them at the ends, spray with a hair detangling spray and wrap a hair tie around it.
Allow to dry for about 2 hours then take out of the braid(s). Gently brush the hair, and then leave to completely dry overnight, and then brush again. Enjoy your American Girl Doll's defrizzy hair!
By Debbie A [1]
You may need to do this multiple times to get full effect, but remember to space treatments apart.
Ad
---
By melody 1 6 01/23/20130 people found this helpful
You can also just use shampoo and conditioner. Someone gave me a doll with frizzy hair (it had been sitting in a damp basement with water for several years). I washed the doll's hair with shampoo then used a general hair conditioner after. Tangles and hair went smooth immediately. I brushed gently with a wide toothed hairbrush to separate strands and used a blow dryer to dry (no brushing needed). I also used a 1 1/2" barrel large curling iron to straighten bangs. It took about 15 minutes altogether.