I bought 2 used American Girl dolls for my daughter, they both have slightly frizzy hair. Does anyone know of a way to improve the hair so it will be less frizzy?
Thanks in advance for any help!
Jennifer from Bend, Oregon
Answers

Janice C.
Silver Feedback Medal for All Time! 418 Feedbacks
December 9, 2006
0

found this helpful
Try AmericanGirl.com. They have a Doll Hospital and tips.
By joyann@psnw.com (Guest Post)
December 10, 2006
0

found this helpful
Wash the dolls hair with a shampoo made for color treated/damaged hair. Then saturate the hair with a heavy conditioner like Infusium or Pantene. Carefuly comb through the hair with a large tooth comb or hair pick.
Let the conditioner sit for an hour or so and then gently rinse. Don't rinse all the conditioner out, leave a little in so the hair feels slick. Comb out straight and let dry. This works well for Barbie hair.
By Natalie (Guest Post)
December 14, 2006
0

found this helpful
Look up a local doll hospital. Most of them can do it for a low cost. They use specialty products, like Twin Pines:
www.twinpines.com
Their things are a little expensive, but well worth it to care for dolls that are collectable or will be played with for a long time, and a little bit goes a long lng way. They also offer free advice and are super nice, just email them! HTH!
By Paula (Guest Post)
December 27, 2006
0

found this helpful
justmagicdolls.com has tips for washing and they do a downy dunk---for frizzy hair they reccommend using a steamer--check it out--I found it trying to restore some of my older daughters dolls for my younger one.
By Jennifer (Guest Post)
December 27, 2006
0

found this helpful
I contacted american girl originally. They have the doll hospital, for $25 they will brush the hair, for $40 they replace the head. You have to pay initial shipping plus $7 or $8 return shipping.
I did the color treated hair conditioner suggested above. That did pretty good for one doll but the other is beyond help but better than it was.
The other suggestion above has some great tips that I will try soon, www.justmagicdolls.com/.../AdvancedHair.htm
Thanks for all your help!

January 9, 2007
0

found this helpful
I use Crisco baking lard it truly works the best; once the lard has sat for at least one hour I then microwave just the head (if possible) due to metal parts that maybe on the inside. Just for 60 seconds on high!!! when its done use a glove just in case and comb the hair.. works the best.. You can clean the excess lard out if desired though if left in; it gives a beautiful sheen.. not too much of an odor.
By Amanda (Guest Post)
July 22, 2007
0

found this helpful
Also, try fabric softner. It does wonders for tangles as well as frizz in doll hair.
By Laurie (Guest Post)
December 24, 2007
0

found this helpful
Look at this site...has some great advice!
Special Tips For Restoration of Barbie® and Other Plastic Dolls
collectdolls.about.com/.../aa081800e.htm
By Sara (Guest Post)
December 30, 2008
0

found this helpful
You can either take baby shampoo and mix it with baking powder with water or use wig shampoo.

June 14, 2010
0

found this helpful
Easy! I just discovered this on a website last night. Fixing frizzy, tangled, matted Barbie doll and Bratz doll hair. Steam!
I boiled a pot of water and held the doll over it upside down, then immediately began to comb, repeat 1-4 times as necessary. I did 12 dolls with great results.
Some I wrapped the hair around a pencil, held over the steam, then clipped with clothespins till this morning. Curls! I was able to save a baby doll with crazy hair - steamed then twisted into little curls and fluffed. I can't believe how easy this is!

June 8, 2011
0

found this helpful
Yes, send them to the American girl doll hospital. You will need to admit them. Here is a link to the form. Print two of them one for each doll. But ship them in the same box to save money on shipping. store.americangirl.com/.../dollHospital.jsp
Here is the admittance form.
store.americangirl.com/.../doll_hospital.pdf
Answer

this Question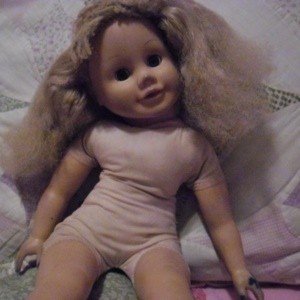 How do you fix your doll's hair when it is burnt? It is not a Barbie doll?
By Zar from Fresno, CA

Answers

January 15, 2015
1

found this helpful
Sadly, when it's burnt like that, there isn't much you can do. If it's synthetic, it might have melted, but if it's natural, it's ruined, too. The doll looks like an American Girl. I suggest sending her to a doll hospital or doll restoration expert.
It might be a shade expensive, but they're trained in putting in new hair and can probably teach you how to keep it from being burned in the future while still styling it.

April 23, 2017
0

found this helpful
If it is a ceramic doll you can find replacement wig type hair to put on the doll. you can use a small amount of hot glue and stick it on. I have replaced the hair on my daughters doll three times now, once after a bad hair cut, once after burns from a curling iron, and the last time she wanted the doll hair to match hers.
Answer

this Question
I recently purchased a Build-a-Bear Pinkie Pie plush pony that I adore! One issue is that her hair is already frizzing some. I tried to brush it, but it made the frizz worse. Is there a way to de-frizz and clean her hair safely? It is doll hair on a plushie. And if I do wash and condition it (if that is safe) is there a safe way to put the curls back in? Please let me know if you know anything about this.
By Heather
Answers
May 19, 2014
0

found this helpful
Isn't that odd! I just spent the morning combing out my oldest daughter's Pinkie Pie. I honestly thought it was a lost cause but I tried anyway. I used undiluted Downey fabric softener, just poured it on my hands and worked it into the mane and tail, gently working out tangles with my fingers as I could. I then used a detangling brush and brushed the ends out first, working my way back to the body.
It took a very long time, and some mats were too far gone and had to be cut out with tiny nail scissors, but she looks fabulous now. I rinsed out the fabric softener and rolled up sections with pipe cleaners. Next day, I took the pipe cleaners out and she looked lovely. Thanks for the tips, everyone!
Answer

this Question